University of Silesia in Katowice, together with its partners from Transform4Europe: The European University for Knowledge Entrepreneurs alliance, has obtained co-funding for the project "Transform 4 European Research and Innovation" (T4ERI) in Horizon 2020 (H2020) call for proposals. The grant amount is almost EUR 2 million.
The project leader is the Saarland University (Germany), whereas the project coordinator on the part of the University of Silesia is Damian Guzek, PhD, DLitt.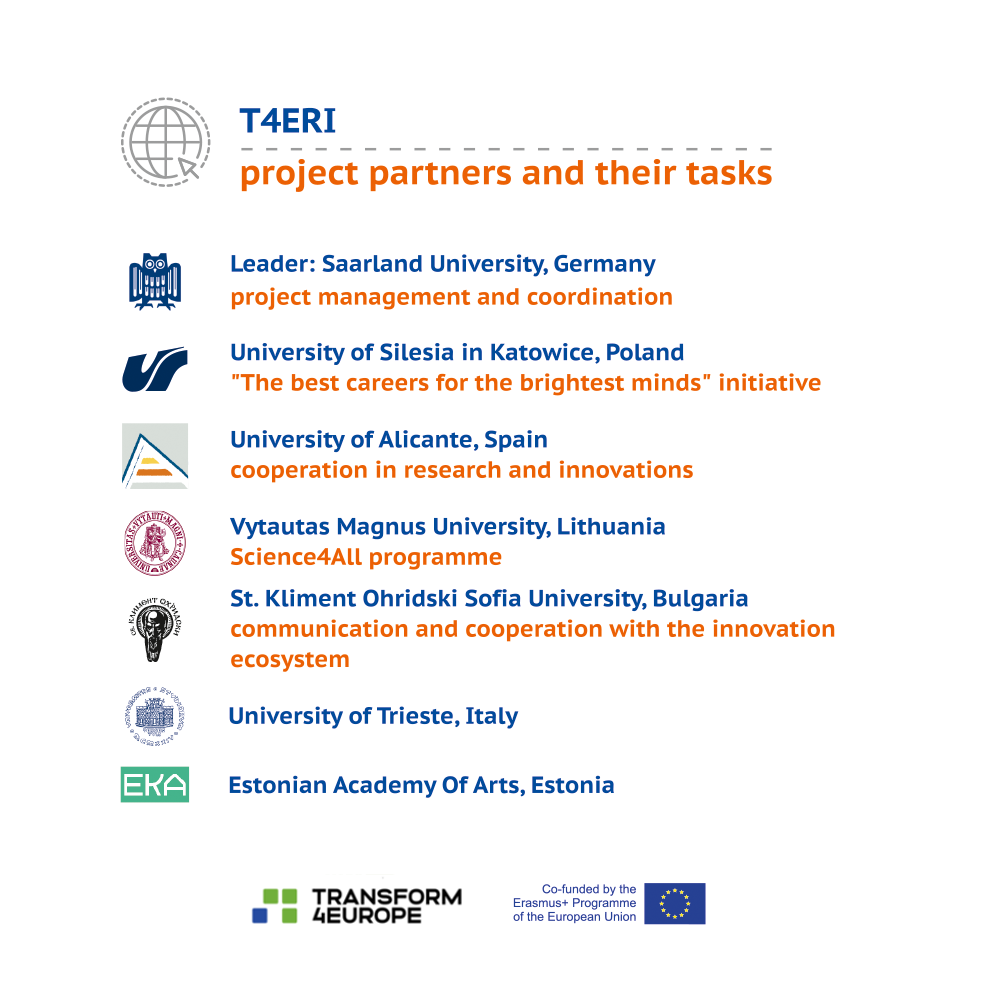 Strengthening European scientific cooperation
Cooperation between the universities is to support Transform4Europe alliance actions connected with the use and transformation of the research potential of the member universities for creating the European ecosystem of research and innovation. Gaining the status of European university opened new possibilities of international academic cooperation, including in the field of scientific activity. The diversity of Transform4Europe partners increases the potential of their joint scientific capital. It also provides conditions for mutual development of skills in the field of scientific excellence, breakthrough research and creation of innovations, which have impact on sustainable and smart development of regions.
"Transform 4 European Research and Innovation" (T4ERI) project
T4ERI Initiative supports the main goal of Transform4Europe alliance, which is sustainable and smart development of regions that fosters social inclusion. The activities under the project include development and implementation common Transform4Europe agenda for research and innovation, preparation of European standards for development of scientific potential of researchers at every stage of their career, implementation of mechanisms to search for and retain young scientific talents and science leaders at their home universities. Moreover, an open science strategy will be prepared for all Transform4Europe members.
The implementation of these objectives assumes partnership between the universities and their environments, both on the national and international level. It also provides for cooperation with regional, domestic and European business, industrial, cultural, political and civil society entities.
By 2024, T4ERI partners want to increase cooperation in the field of research and innovations in all scientific disciplines through access to key research infrastructure within the entire alliance and development of the plan for establishing joint virtual research centres, implementing activities associated with Transform4Europe mission. Strategies, standards and infrastructure will also be designed to increase the attractiveness of member universities for young talents and outstanding scientists from both EU and non-EU member states. An effect of the implemented project will be significantly increased involvement of non-governmental organizations in research and innovations.
University of Silesia in T4ERI project
The main task of our University under T4ERI is to implement "The best careers for the brightest minds" component, which is designed to develop the staff potential and increase the attractiveness of Transform4Europe partner universities for excellent researchers from outside the alliance.