Our journeys | Our stories
---
JULIA BIGEWSKA
---
Erasmus+ | Spain | Madrid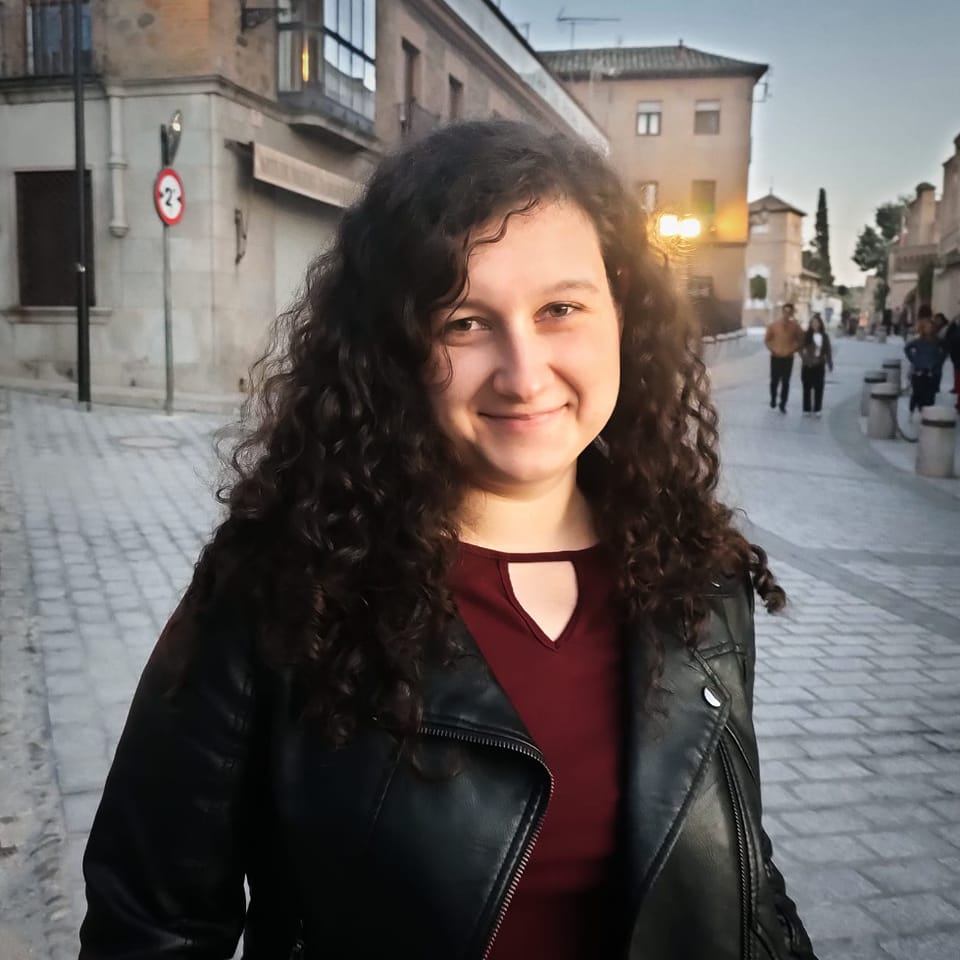 Fot. private archive

Erasmus – the craziest adventure of my life…
|Julia Bigewska | Computer Science student | CEU San Pablo, Madrid, Spain 09.2022-01.2023\
I am a person who loves to travel and explore the world. Whenever I can, I grab a backpack and go on an adventure. However, my Erasmus trip was a bit different… On the one hand, I was terrified of the unknown, the prospect of studying several thousand kilometres from home, a foreign culture and language, and on the other, there was an extraordinary curiosity in me to learn about a completely different life. I hesitated for a long time about making this decision, but finally my boyfriend persuaded me that we would go together. And it was the best decision I could have made…
A bit of formalities
After submitting the documents and passing all the exams, I got the green light to go. Being a bit of a crazy person, I decided to travel to my destination by train. There would be nothing strange about it, if not for the fact that the place I was going to was Spain, and more precisely Madrid. The journey lasted about 48 hours, on the way we missed the train many times, we experienced a strike in France and an unplanned coach ride from Barcelona to Madrid, because there was no room for us on the train. Fortunately, we finally arrived safe and sound and had some time to make up for a bit of the lost sleep before the beginning of the academic year.
First impressions
The first couple of days in a foreign country were very stressful for me. I didn't know the city, I had problems with the language and I was afraid of what my student life would be like. However, on the first day when I arrived at my university, I saw a crowd of smiling people, a beautiful campus and a real Spanish fiesta – even the welcome day was full of live music and good food! I was very happy to see a whole group of Erasmus students who also came to study at the CEU San Pablo university. Any fears related to the lack of friends, a different way of teaching or differences in the study programme disappeared after the first couple of days. Both students and professors turned out to be very king and open. They really made me feel that I am welcome here and I can say that they have become a second family to me.
Of course, going on Erasmus is not only studying, but also getting to know a foreign culture. Spain is a country that differs from Poland in many respects. Siesta, no public transport timetables, not paying attention to the time, different traffic regulations or calling everyone by their first name, regardless of the age difference or academic degree, is only a fraction of it. Spending a few months in a foreign country allows you to get to know completely different aspects of it than during a two-week vacation. More attention is paid to the small, everyday things. It is a big lesson that cannot be learned through books or travel agencies.
The most amazing adventure
In the breaks between projects, we had time to explore at least a fraction of this beautiful country. We visited not only Madrid but also Toledo, Segovia and Valencia, among others. We even managed to go to the mountains and see the snow! We also had a lot of time to try the local cuisine, which will definitely stay on our menu forever. Many things that have happened to me over the last year would never have happened if I hadn't decided to go. I left for Spain terrified, lost and bored with everyday life, and I come back with a lot of great memories, with lots of new contacts on my phone, my fiancé and new energy. Going on Erasmus was definitely the biggest, but also the most amazing adventure of my life. If you are hesitating whether Erasmus is for you, take a chance! You are afraid of going alone? So get a friend to go with you! I went with a boy who not only studies at a different university, but also in a different country. It is worth overcoming this fear and taking a risk. I guarantee you won't regret it.