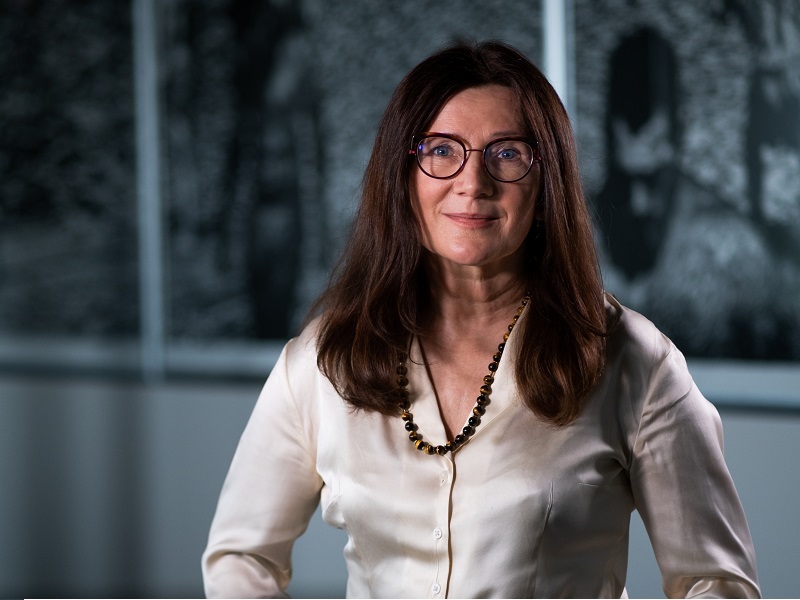 Anna Węgrzyn | HR manager | ICRK | photo by Piotr Tkacz
| | | |
| --- | --- | --- |
| |   | "There is no universal competency model. If something is for everything, it doesn't really serve any purpose. Being aware of this, together with the excellent ICRK team, we decided to design the first competency model dedicated to employees of Polish universities." |
"Nothing better could have happened to us," says Anna Węgrzyn, a manager with over 20 years of experience in the HR industry, when she talks about the first competency model for employees of Polish universities. The expert belongs to the team of the Interdisciplinary Centre for Staff Development of the University of Silesia (ICRK), which creates a unique tool for people associated with the higher education sector. Many outstanding experts representing the University of Silesia, Polish research universities and several foreign research centres are involved in its preparation.
Scientists have developed the theoretical foundations of the competency management model. For many years, they have been used by project and team managers to effectively combine job scopes with employees' talents. Such a tool also allows you to rationally plan the career path of people associated with a given organisation or enterprise.
"There is a well-known Polish proverb that perfectly illustrates our situation. Everything points to the fact that Polish universities are like a shoemaker without shoes. Until now, the tool which was designed by scientists, has not been used to prepare a university development strategy as a workplace that employs even several thousand people," says Anna Węgrzyn.
First of all, the model in question allows to indicate a list of competences needed for a given position or necessary to perform a specific role, so that the work performed is on the one hand effective and, on the other hand, it gives the employee a sense of satisfaction. It also allows you to get to know your own list of competences and their level. Thanks to this, the supervisor not only can assign tasks to his employees more precisely but also properly plan the program of development of individual competences so that in the future this scope can be more flexible.
As always, the devil is in the details. "There is no universal model of competences. If something is for everything, it doesn't really serve any purpose. Being aware of this, together with the excellent ICRK team, we decided to design the first competency model dedicated to employees of Polish universities," explains the HR specialist.
The solution is created with all groups of employees in mind. Each of them will have dedicated sets of competences depending on their role or belonging to a specific team.
Obviously, the theoretical foundations take into account the specificity of the Polish higher education system, which is the key point of reference.
The work on building the model began with the analysis of four basic processes: obtaining financing, conducting scientific research, publishing the results and their commercialization.
It is worth adding that the model is created in cooperation with practitioners, experts representing both scientific, didactic and administrative activities, who have been successfully fulfilling their functions and carrying out the most ambitious tasks for many years. They are mainly employees of Polish research universities, selected foreign research units and representatives of the staff of the University of Silesia.
Moreover, also this model of competences will not be universal, because the whole system in which we are rooted is not so. The tool must be kept up to date and adapted to any changes made.
When university employees hear about such a solution, they often ask the question: what can it be useful for?
The competency model will allow us to name the processes in which we all participate. "Although it sounds strange, it means well-known areas of operation. Some popularize science, others conduct scientific research, others teach students or commercialise the effects of scientists' work. To each of these processes a list of competencies can be assigned, which is one of our goals. To categorise them, one needs to name and define them beforehand, so that we understand each other well – regardless of the university, its profile or the unit in the structure in which we work," comments Anna Węgrzyn. 
All employees can use it, regardless of their seniority and experience. "I think that at every stage of our professional development it is good to know what competences we have and which we can strengthen in order to achieve our goals," says an expert cooperating with ICRK.
In turn, employers, managers and team leaders can get to know their employees better. Perhaps it will turn out that someone's talent is being wasted, that they should be offered a job in another team or the scope of duties should be modified.
Experts identified over thirty competences, which then they thoroughly analysed and described. In the next stages of the project, model people for each role in the university and models of positive behaviour were proposed. On this basis, each of us will be able to see our employee profile showing not only what competencies we have, but also at what level they are. It is worth comparing them with the key competences in a given position or in a specific process to see what our strengths are and what we should also pay attention to. Currently, the process of testing the competency model is starting in selected Polish research universities.
Anna Węgrzyn emphasizes that the results of the first analysis cannot entail any personnel changes. Rather, it is a tool that allows you to learn about the competences of employees and management, and the results of the research should become an opportunity for a supervisor to talk to employees. They also give the opportunity to describe a given job and plan activities tailored to the needs of individual employees. "Subsequent studies, of course repeated after some time, may already provide information on the suggested changes within team members or modification of the scope of duties of individual employees, tailored to the profile of their competences," says the expert.
Such a model will certainly make it possible to rationally plan the development path of people associated with Polish universities, in such a way that they will understand better where the actions taken are leading to. It will certainly facilitate the recruitment of new employees as well.
"So far, the reactions of experts have been very positive. People representing the best universities in the country are not only heavily involved in the preparation of the model, but also keenly interested in its implementation," sums up Anna Węgrzyn. Up-to-date information on the competency model is published on the website of the Interdisciplinary Centre for Staff Development.