First edition of
Postgraduate studies Brand Management – Employer Brand Management – Personal Brand Management
starts in October this year.
The new programme focuses on three areas of management: brand image, employer branding and personal branding.
The studies are addressed to managers (including Brand Manager, Junior/Senior Brand Manager, Personal Branding Specialist, Brand Management Manager, Personal Brand Management Specialist, Spokesperson, Marketing Manager, Marketing Director). The studies will provide knowledge about brand management in the context of brand, employer and employees. Thanks to practical classes, workshops and trainings, you will be able to learn how to professionally create communication strategy and brand image.
If you want to gain skills needed to work as an employer brand manager or personal brand manager –sign up for the studies.
Graduates of the studies will gain knowledge in the field of, among others:
brand communication strategy;
Building brand awareness and recognition;
Brand crisis communication management;
Content marketing;
Media cultures
A photographic workshop to create graphics in social media;
The arts of public speaking;
Employer Branding.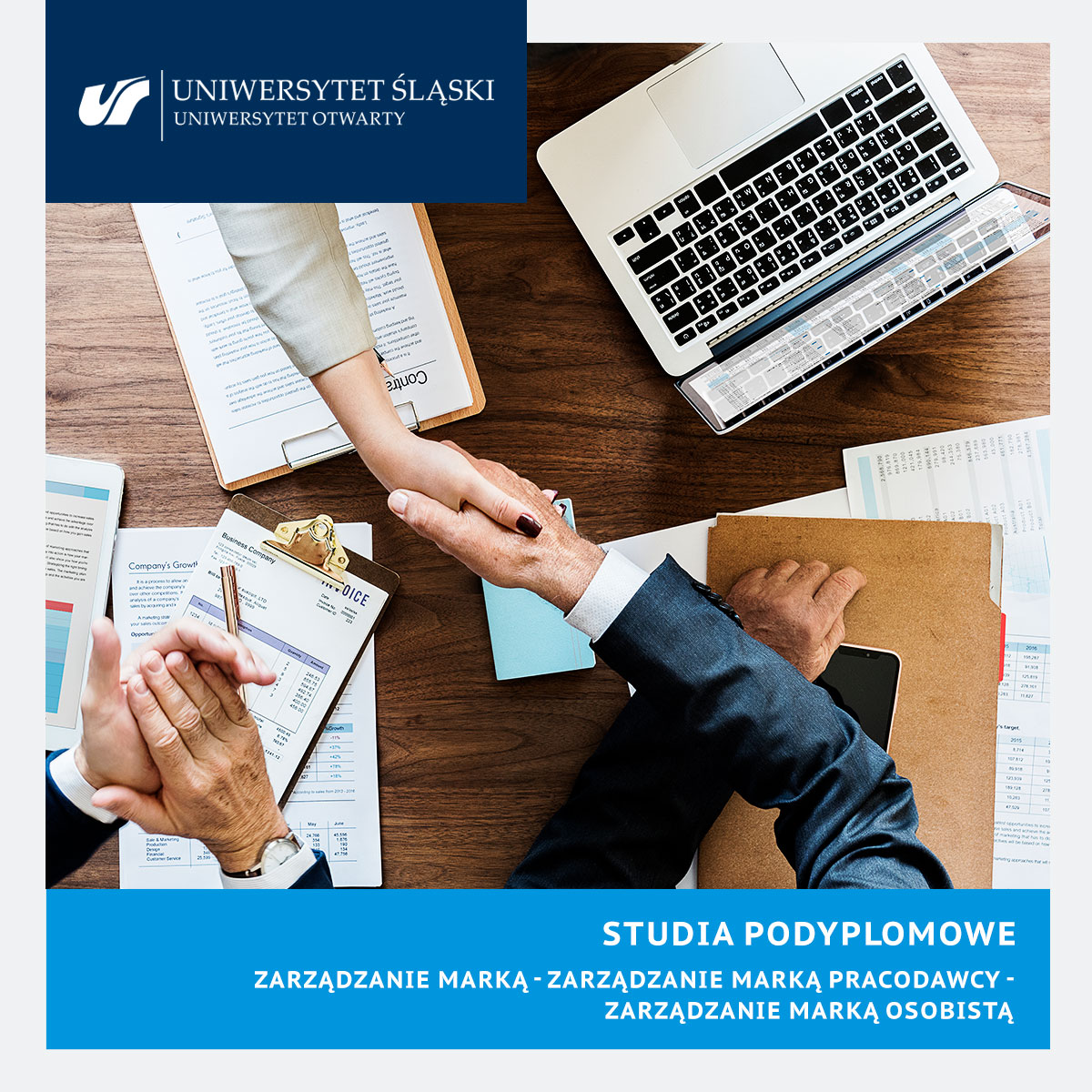 The classes are conducted by highly qualified scientific and didactic staff of the University of Silesia: lecturers, authors of numerous publications, experts with knowledge and experience in the field of modern academic didactics, as well as practitioners.
One of them is Paweł Tkaczyk, marketing and brand building expert. For 20 years he has been working with companies such as SONY, HBO, and Orange. Patryk Stępień, specialising in the field of life coaching will conduct the classes related to coaching. The teaching staff also includes Piotr Dębiński, an active member of the Polish Public Relations Association, with skills in the field of media work and internal communication, who has cooperated with brands such as Saint Gobain, Tauron, or Valeo.
Duration: 2 semesters (176 hours)
Dates: Classes will be held depending on the selected form of classes, either on-site, in modern interiors of the University of Silesia in Katowice, or online on the MS Teams platform.
Group 1 – Saturdays or Sundays, every two weeks on-site.
Group 2 – Saturdays or Sundays, every two weeks on-line.
Payment: price starting from PLN 1354 – 1st instalment for 1st semester*
The classes start in October 2023.
Admission for postgraduate studies is held on-line in the Online Application System (IRK) (https://irk2.us.edu.pl/en-gb/offer/POD-2023/programme/52-NPZM23/)
Detailed information can be found on our website: https://www.studiapodyplomowe.us.edu.pl/doskonalace-studia-podyplomowe-zarzadzanie-marka-zarzadzanie-marka-pracodawcy-zarzadzanie-marka-osobista/
Centre for Postgraduate Studies
Ul. Bankowa 14, 40-007 Katowice
e-mail: studiapodyplomowe@us.edu.pl
Tel. 32 359 23 47