Last 100 free Grammarly app accounts to share
Over 1,000 employees and doctoral students of the University of Silesia are already using Grammarly – proofreading app for texts written in English, which highlights errors and suggests corrections in real time.
Due to the increasingly frequent questions about the next edition of sharing accounts, we are opening the last stage of registration, addressed to all members of the community of the University of Silesia.
There are 100 accounts left to share with students, doctoral students and employees of the University of Silesia.
The suggestions in Grammarly is something else than the use of popular machine translation services – it is mainly the art of correct writing. The app will highlight the wrong expressions in the created text and suggest the correct grammatical and stylistic form, as well as select the proper words. Additionally, synonym suggestions will definitely help enrich the vocabulary used. What is more, the app adjusts to the style of the written text, so it will be useful both for writing formal texts and loose notes.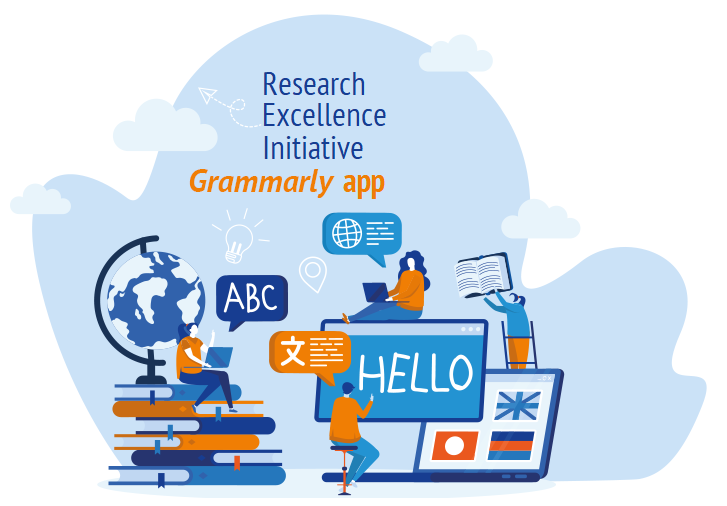 How to obtain a free license for Grammarly premium?
STEP 1

Register via online form – the link is available at: www.formularze.us.edu.pl.

---

STEP 2

You have to state the university e-mail address (in us.edu.pl or o365.us.edu.pl domain) in the registration form.

---

STEP 3

Confirm your registration with the activation link you receive via e-mail.

---

STEP 4

Grammarly will soon send a link to the stated e-mail address to create the account. Check your spam – unfortunately, the message may be sent there.

---

STEP 5

Log in and use Grammarly.

---

STEP 6

You should definitely install the app on your computer and mobile to use all software functions.

---
DO YOU KNOW THAT…

…thanks to Grammarly spelling, stylistic, grammar and punctuation errors are no longer a problem?

The tool will make it easier for employees and doctoral students:

to write linguistically correct scientific articles and grant applications,
to communicate with scientists and academic centres from all over the world,
to check texts for plagiarism.

It will also help students:

write class assignments,
prepare a perfect CV in English for the future employer,
improve daily communication in social media, including posts on Facebook, Twitter and Instagram, or prepare a professional profile on LinkedIn for English-speaking recipients,
contact their friends from abroad.

The purchase of licenses for Grammarly app is funded under Research Excellence Initiative.