Akademickie Mistrzostwa Polski we wspinaczce sportowej organizowane przez Akademicki Związek Sportowy w Katowicach odbywały się od 7 do 9 kwietnia 2017 roku. Przez trzy dni w obiektach sportowych BloKatowice i Sport Poziom 450 w Sosnowcu rywalizowało 223 zawodników i 133 zawodniczki z całego kraju.
Pierwszego dnia sportowcy mogli sprawdzić swe umiejętności w boulderingu – konkurencji wspinaczkowej, która po raz pierwszy znalazł się w programie Akademickich Mistrzostw Polski. Jest to jedna z najbardziej popularnych odmian wspinaczki po 4–5 metrowej ścianie, która najczęściej jest w znacznym przewieszeniu. Osoba wspinająca się nie korzysta z asekuracji liną, a przy upadku chronią ją jedynie materace rozłożone pod ścianką wspinaczkową. W tej konkurencji zostało sklasyfikowanych 206 zawodników oraz 123 zawodniczki. W kategorii uniwersytety sportowcy reprezentujący Uniwersytet Śląski zdobyli srebrny (Sebastian Haratyk) oraz brązowy (Kajetan Koperwas) medal.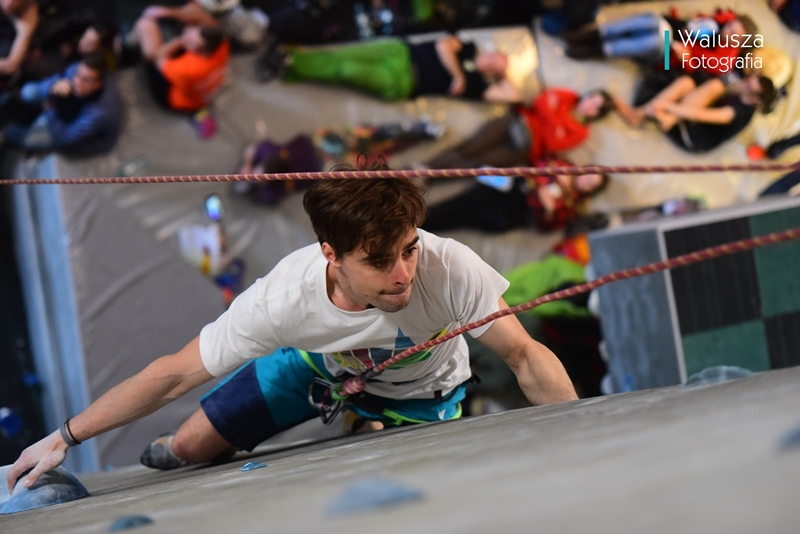 Na zdjęciu Kajetan Koperwas (fot. Michał Walusza)
Drugi dzień rywalizacji to konkurencja na trudność. W klasyfikacji generalnej mężczyzn zwyciężyli reprezentanci Akademii Górniczo-Hutniczej w Krakowie oraz przedstawicielki Politechniki Lubelskiej – w klasyfikacji generalnej kobiet. Pod względem kategorii uczelni na podium stanęli reprezentanci Uniwersytetu Śląskiego, Kajetan Koperwas uzyskał złoty medal a Sebastian Haratyk – brązowy.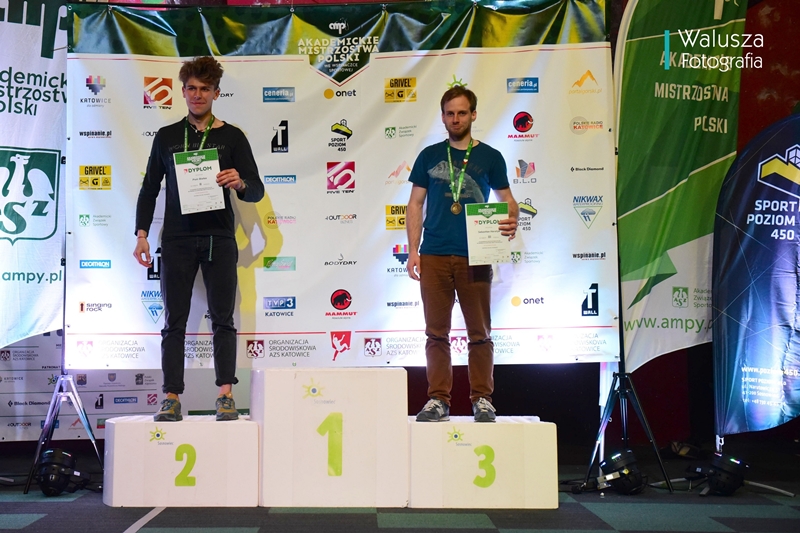 (fot. Michał Walusza)
Trzeci dzień rywalizacji to wspinaczka na czas – najbardziej widowiskowa konkurencja polegająca na równoczesnym wspinaniu się dwóch zawodników. Wyścig odbywa się na dwóch równoległych trasach, a o jego wyniku decyduje szybkość pokonania dziesięciometrowej drogi wspinaczkowej. W tej konkurencji reprezentanci UŚ wywalczyli cztery medale w kategorii uniwersytetów: Aleksandra Filipek oraz Mateusz Strączek zajęli drugie miejsce, natomiast Kinga Mundała i Maciej Swędzioł – trzecie.
Zwieńczeniem mistrzostw była dekoracja zwycięzców Z. Zawodniczki UŚ ukończyły mistrzostwa na czwartym miejscu w klasyfikacji generalnej (na 37 sklasyfikowanych reprezentacji) oraz na drugim miejscu wśród uniwersytetów. Męska reprezentacja zdobyła złoty medal w kategorii uczelni, plasując się ostatecznie na siódmym miejscu wśród 36 reprezentacji.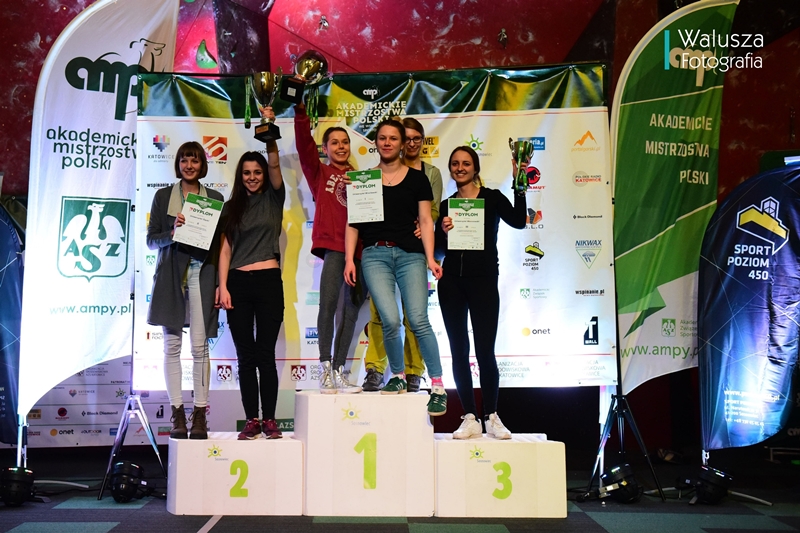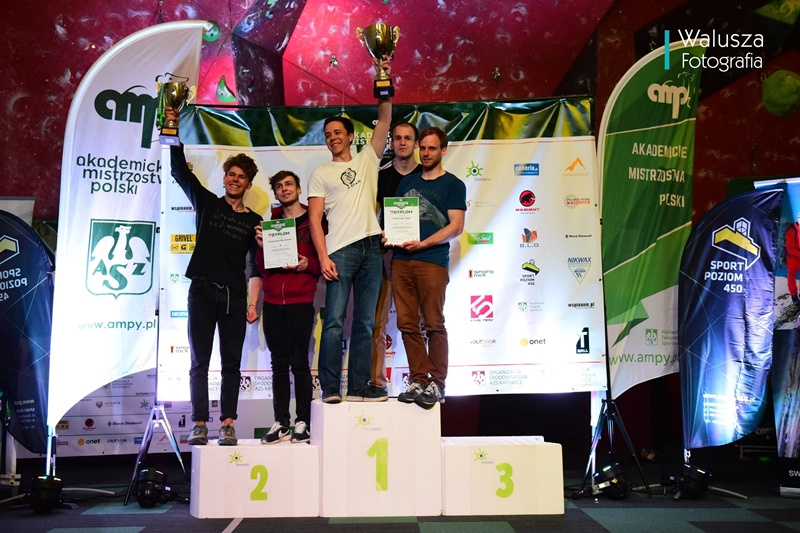 Zawodniczki i zawodnicy klasyfikacji drużynowej
(fot. Michał Walusza)
Zawodnicy AZS Uniwersytetu Śląskiego podczas mistrzostw we wspinaczce zdobyli dziesięć medali w typach uczelni: drużynowe złoto mężczyzn, drużynowe srebro kobiet, złoty i brązowy medal Kajetana Koperwasa, srebrny i brązowy medal Sebastiana Haratyka, srebro Aleksandry Filipek i Mateusza Strączka, a także brązowe medale Kingi Mundały i Macieja Swędzioła.