On 20th October 2019 the University of Silesia hosted representatives from the province of Liaoning in China: Lu Ke – Vice President of the Province Senate, Wang Da'nan – Director General for Scientific and Technological Development, Tian Dongquan – Director General for Innovation, Wu Shikun – Deputy Foreign Relations Advisor, Liu Jia – Director of the Department for Technological Development. The meeting provided an opportunity to discuss Polish-Chinese cooperation.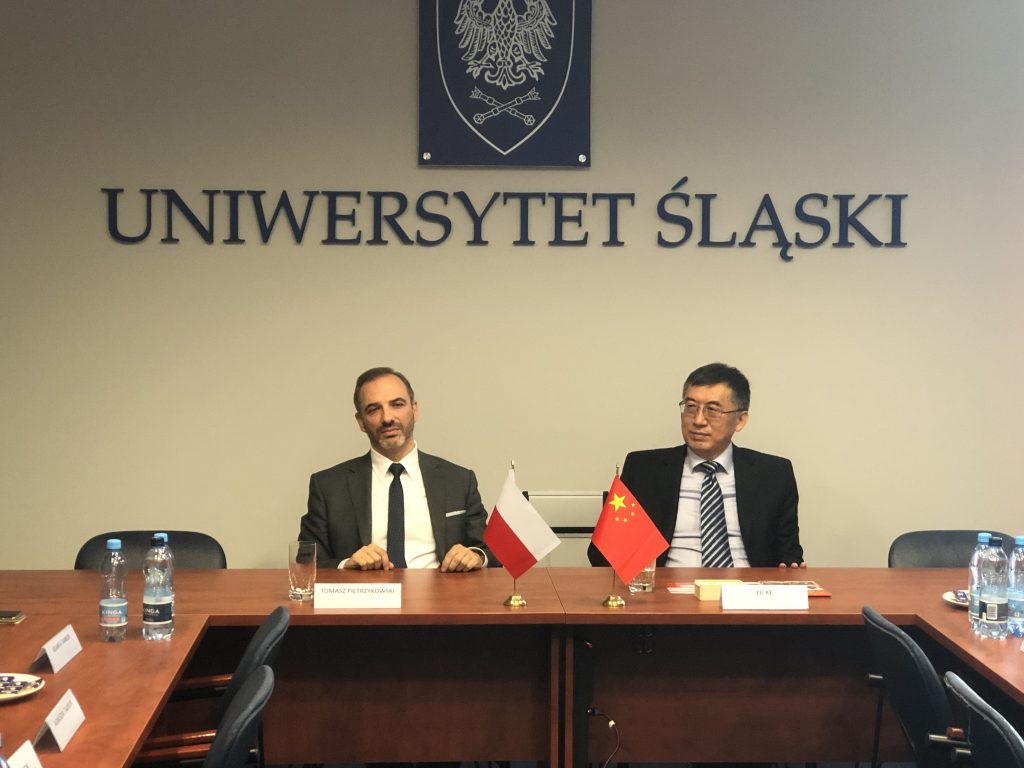 fot. Agnieszka Tambor
Foreign guests were welcomed by Assoc. Prof. Tomasz Pietrzykowski, Professor of the University of Silesia – Vice-Rector for  Domestic and International Cooperation. The meeting was also attended by Prof. Jolanta Tambor, the Plenipotentiary of the Rector for Foreign Students Affairs, the director of the School of Polish Language and Culture, Dr Agnieszka Tambor, the head of the Centre for Chinese Language and Culture, and Agata Wójcik, the head of the International Relations Department.
The meeting was also joined by the students from China attending International Polish Studies at the University of Silesia: Jun Wang (Ela) – second year MA student, Liu Zixuan (Lucyna) – second year MA student, JuanJuan Wang (Emilia) – first year MA student who had completed BA studies with a double diploma under the agreement between the University of Silesia and NEU in Shenyang, and Emilie Szwajnoch – a doctoral student and a graduate of English studies, translation programme with Chinese.
In addition, the program of the visit included a meeting with Patryk Białas, Director of the Innovation and Competence Centre in the Euro-Center Science and Technology Park, and a visit to the Industrial Development Agency – ARP Games, with the participation of the President of the company, Dr Remigiusz Kopoczek, an employee of the Institute of Culture Studies of the University of Silesia. The delegates had also a meeting with the group of Chinese students from the Northeastern University of Shenyang, the capital of the province of Liaoning, who are currently studying at the Faculty of Humanities of the University of Silesia.