Mgr inż. Michał Pielka, doktorant z Wydziału Informatyki i Nauki o Materiałach Uniwersytetu Śląskiego, został laureatem IX edycji konkursu "Student-Wynalazca" organizowanego przez Politechnikę Świętokrzyską. Komisja konkursowa doceniła układ do monitorowania funkcji lokomotorycznych organizmu, czynności oddechowych oraz pulsu wraz z powiązanymi rozwiązaniami, na które składają się 2 opatentowane wynalazki i 2 wzory przemysłowe. Jednym z rozwiązań jest opracowany sposób transmisji danych pozwalający na przesłanie większej ilości informacji i uproszczenie procedury ich odbioru. – Laureaci konkursu będą mieli m.in. możliwość prezentacji opracowanych przez siebie rozwiązań podczas Międzynarodowej Wystawy Wynalazków w Genewie. Uczestnictwo w tym prestiżowym wydarzeniu pozwala nie tylko pokazać nasze prace na arenie międzynarodowej, lecz jest też promocją Uniwersytetu Śląskiego – komentuje mgr inż. Michał Pielka. Współtwórcami nagrodzonego wynalazku są dr Paweł Janik i dr Małgorzata Janik z Zakładu Komputerowych Systemów Biomedycznych UŚ.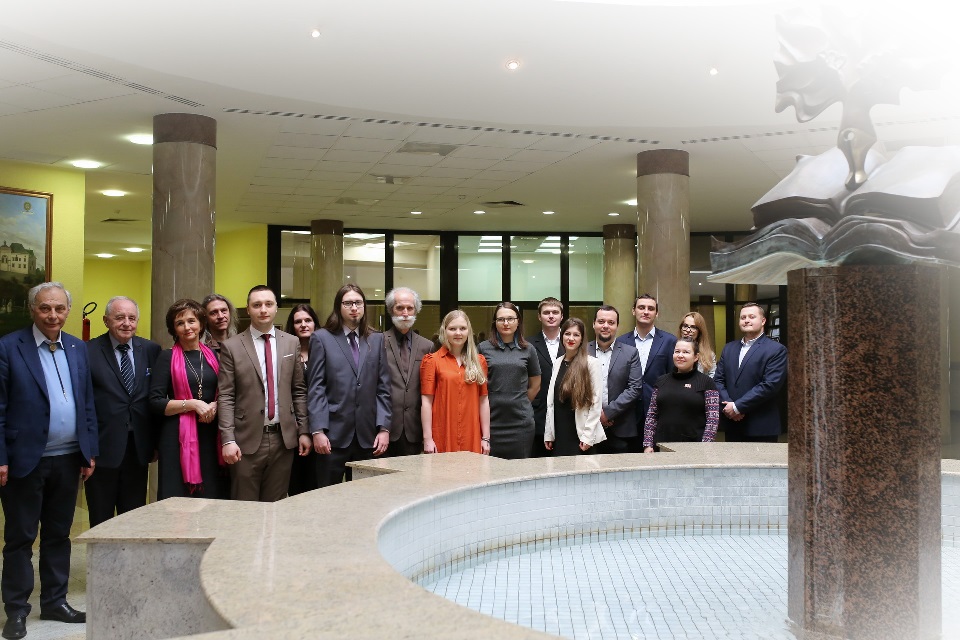 Laureaci konkursu "Student-Wynalazca"
fot. Miłosz Pindur

Do tegorocznej edycji konkursu 361 twórców (w tym 157 studentów) z 20 uczelni z całej Polski nadesłało 139 rozwiązań. Zgłoszone wynalazki to rezultat pracy badawczo-rozwojowej zespołów, w skład których wchodzą zarówno studenci, nauczyciele akademiccy, jak i przedsiębiorcy. Komisja konkursowa przyznała 5 równorzędnych nagród głównych oraz 5 wyróżnień, a także 9 nagród specjalnych ufundowanych przez: prezesa Urzędu Patentowego RP, marszałka województwa świętokrzyskiego, wojewodę świętokrzyskiego, prezesa Jednostki Innowacyjno-Wdrożeniowej INWEX, przewodniczącego Komitetu Inżynierii Produkcji Polskiej Akademii Nauk oraz rektora Politechniki Świętokrzyskiej.
Celem konkursu jest aktywizacja studentów w działalność badawczo-rozwojową, upowszechnianie wiedzy na temat ochrony własności przemysłowej, promocja i wsparcie w komercjalizacji wyników prac badawczo-rozwojowych chronionych prawami wyłącznymi lub zgłoszonych do ochrony oraz zwiększenie zainteresowania studentów poszukiwaniem innowacyjnych rozwiązań na rzecz własnej działalności gospodarczej.
Laureaci konkursu zaprezentują swoje rozwiązania w Szwajcarii podczas 47. International Exhibition of Inventions of Geneva, wezmą także udział w towarzyszących wydarzeniu seminariach organizowanych przez Światową Organizację Własności Intelektualnej oraz Europejską Organizację Badań Jądrowych. Rozwiązania laureatów oraz osób wyróżnionych zostaną zaprezentowane również podczas 13. Międzynarodowej Warszawskiej Wystawy Wynalazków IWIS 2019.
Szczegółowe informacje na temat konkursu oraz lista laureatów dostępne są na stronie Politechniki Świętokrzyskiej.
---
Mgr inż. Michał Pielka jest absolwentem studiów inżynierskich i magisterskich na kierunku informatyka na Wydziale Informatyki i Nauki o Materiałach UŚ. Obecnie jest doktorantem w Instytucie Informatyki UŚ, gdzie pracuje jako starszy technik. Zajmuje się opracowywaniem i wdrażaniem technologii z zakresu ICT. Jest współautorem kilku zgłoszeń patentowych, artykułów naukowych o zasięgu międzynarodowym oraz wielokrotnym stypendystą rektora Uniwersytetu Śląskiego. W 2018 roku został laureatem X edycji konkursu Wyróżnień JM Rektora UŚ. W 2017 i 2018 roku był wykonawcą dwóch projektów w ramach grantu realizowanego pod kątem wdrożeniowym w programie Inkubator Innowacyjności+. W IX edycji konkursu Polskiego Towarzystwa Inżynierii Biomedycznej na najlepszą pracę magisterską w 2017 roku otrzymał trzecią nagrodę. Aktywnie współpracuje ze spółką celową Uniwersytetu Śląskiego – SPIN-US sp. z o.o. W ubiegłym roku uzyskał wyróżnienie w VIII edycji konkursu "Student-Wynalazca".
Na temat opracowanych rozwiązań szerzej pisaliśmy w artykule pt. "Naukowcy z UŚ zaprojektowali monitor oddechu" dostępnym pod adresem: www.us.edu.pl.