In October 2023, Artur Madaliński, PhD — language studies expert, culture manager, and lecturer associated with the University of Silesia — became the new director of the Silesian Library in Katowice. Following a relevant regulation of the Board of the Silesian Voivodeship, he will serve as the director for 3 years – until 30 September 2026.
The new library director holds a doctorate degree in humanities and is a literary studies expert, as well as a literary critic and reading activist. He has cooperated with the following journals: Znak, Tygodnik Powszechny, Dwutygodnik, Nowe Książki, and Więzi. He has supervised the works of the Social Communication Department of the Marshal Office of the Silesian Voivodeship, Mysłowice Culture Centre, and the Museum 'Upper Silesian Ethnographic Park'.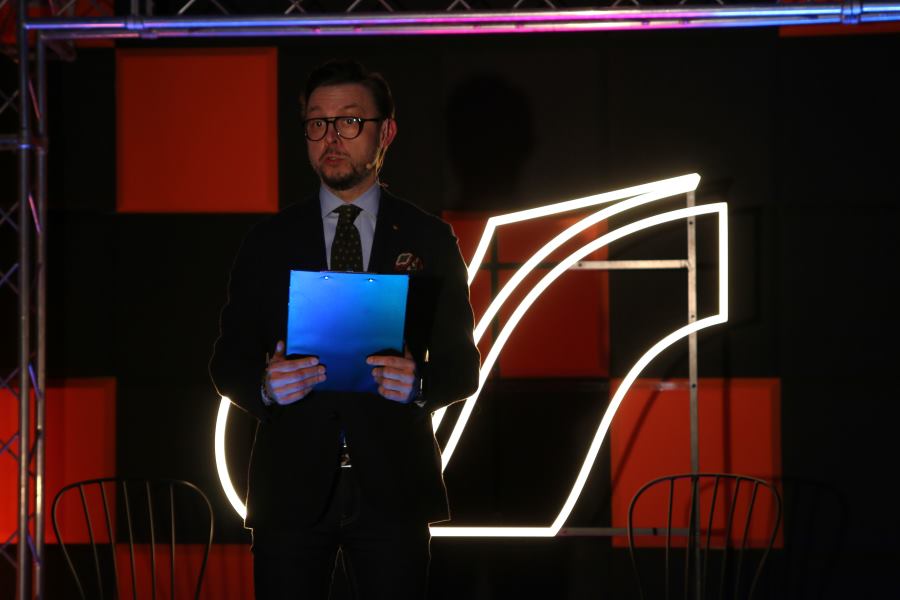 Artur Madaliński, PhD, during the third season of the Scientific Premiere Stage: Science Talk Show of the University of Silesia. Photo by Aleksandra Kiernas
Silesian Library is the oldest institution of this kind in Upper Silesia. It was established at the end of 1922/beginning of 1923. It first operated as a Library of the Silesian Sejm and received its scientific profile in the 1930s. The main headquarters are located at plac Rady Europy 1 since 1998. It boasts a rich collection in every field of knowledge, including old prints, incunables, manuscripts, iconographic and cartographic materials.
To date, the institution was headed by Prof. Jan Malicki and Zbigniew Kadłubek, PhD, DLitt, Assoc. Prof. — scientists from the USil Faculty of Humanities.