Miesięcznik "Forum Akademickie" ogłosił wyniki konkursu na artykuł popularnonaukowy pod hasłem "Skomplikowane i proste. Młodzi uczeni o swoich badaniach". Konkurs adresowany był do młodych badaczy, doktorantów i pracowników naukowych, którzy nie ukończyli 35. roku życia i nie uzyskali jeszcze tytułu doktora habilitowanego.
Do konkursu zgłoszono 134 prace, artykuły miały w przystępny sposób opisywać badania naukowe, w których młodzi naukowcy uczestniczyli lub które samodzielnie prowadzili. Spośród nadesłanych prac jury wybrało najlepiej napisane i najbardziej przekonujące artykuły, przyznało trzy nagrody oraz cztery równorzędne wyróżnienia.
Jedną z osób wyróżnionych została dr Edyta Charzyńska z Zakładu Teorii Wychowania Uniwersytetu Śląskiego, autorka artykułu "Pisz do mnie jaśniej!". Jak czytamy w uzasadnieniu, jest to "dobra, dowcipnie napisana popularyzacja z pogranicza psychologii i językoznawstwa. Jak badać poziom czytelności tekstów o funduszach europejskich lub serwisów internetowych o tematyce medycznej? Do tego właśnie służy Jasnopis, nowe narzędzie komputerowe służące usprawnieniu komunikacji".
Jasnopis to narzędzie informatyczne, które potrafi zmierzyć zrozumiałość tekstu, wskazać jego trudniejsze fragmenty i zaproponować poprawki. Projekt powstał pod kierownictwem prof. dr. hab. Włodzimierza Gruszczyńskiego, językoznawcy i filologa, a zespół tworzyli badacze z dziedzin lingwistyki, psycholingwistyki i informatyki. W projekcie dr Edyta Charzyńska odpowiadała za prowadzenie badań psycholingwistycznych.
Pozostałe trzy wyróżnienia przyznano:
mgr Oldze Kielak (doktorantka w Zakładzie Tekstologii i Gramatyki Współczesnego Języka Polskiego UMCS w Lublinie) za artykuł "Jak zdefiniować zwierzę?",
mgr. inż. Akselowi Kobiałce (doktorant fizyki na Uniwersytecie Marii Curie-Skłodowskiej w Lublinie) za artykuł "Świat pełen majoran"
oraz mgr. Tomaszowi Skawińskiemu (doktorant w Zakładzie Biologii Ewolucyjnej i Ochrony Kręgowców Uniwersytetu Wrocławskiego) za artykuł "U zarania ery dinozaurów".
Laureatem trzeciego miejsca w konkursie został dr Dominik Szulc z Instytutu Historii im. T. Manteuffla PAN w Warszawie, autor pracy "Tajemnice cudownej broni Hitlera". Drugie miejsce zajęła mgr inż. Magdalena Kłodowska – doktorantka Międzynarodowych Studiów Doktoranckich w Instytucie Fizyki Jądrowej PAN w Krakowie, za artykuł "O małym symulancie Monte Carlo". Pierwszą nagrodę zdobyła natomiast mgr Katarzyna Pańczyk – doktorantka Akademii Pomorskiej w Słupsku, za pracę "Poszukiwania naukowo-detektywistyczne".
Konkurs zorganizowany został przez Fundację Forum Akademickie. Szczegółowe informacje dostępne są na stronie: forumakademickie.pl.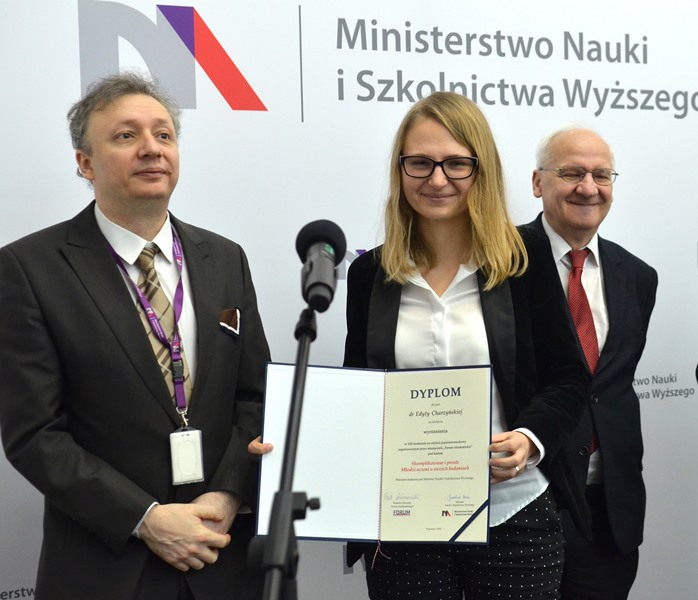 fot. Stefan Ciechan / mat. "Forum Akademickiego"
Wręczenie nagród zwycięzcom XIII edycji konkursu odbyło się 8 lutego 2018 roku w Warszawie. Dyplomy laureatom wręczył podsekretarz stanu w Ministerstwie Nauki i Szkolnictwa Wyższego Nauki Sebastian Skuza.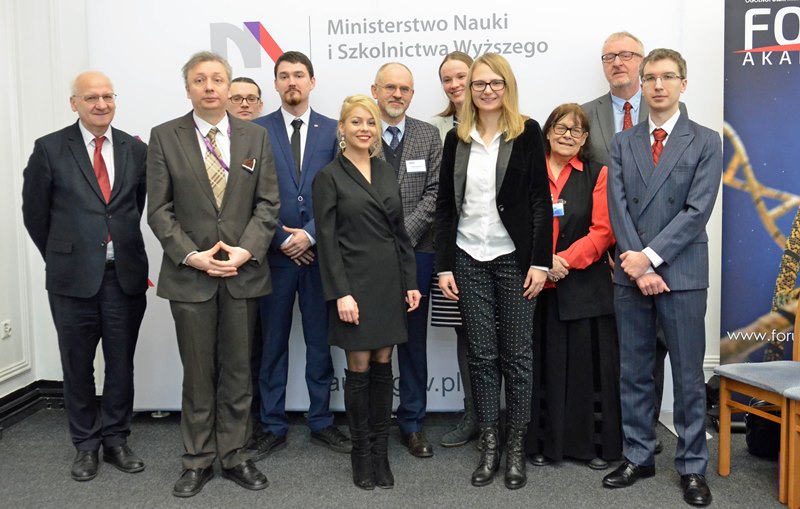 fot. Stefan Ciechan / mat. "Forum Akademickiego"