Od 13 do 16 lipca 2018 roku dr hab. Katarzyna Węsierska z Instytutu Języka Polskiego im. Ireny Bajerowej jako jedyna reprezentantka polskiej logopedii brała udział w pierwszym inauguracyjnym kongresie pt. "One World, Many Voices: Science & Community", który odbywał się w Hiroszimie w Japonii i został zorganizowany przez the International Fluency Association (IFA), the International Cluttering Association (ICA) oraz the International Stuttering Association (ISA). Podczas kongresu dr hab. Katarzyna Węsierska prezentowała następujące wyniki badań prowadzonych w międzynarodowych zespołach:
"Early Intervention in Children Who Stutter around the World: International Survey",
"Personal Appraisals of Support from Stuttering Adults in Lebanon, Poland, Slovakia, and the Czech Republic",
"Normative and psychometric investigation of the Behavior Assessment Battery for Children Who Stutter in Poland",
"Stuttering and Typical Disfluencies in Polish-English Bilinguals: Cross-Linguistic Correlates".
Uczestniczyła ponadto w corocznym zebraniu ICA, podczas którego ogłoszono wyniki wyborów do zarządu ICA. Dr hab. Katarzyna Węsierska została wybrana na kolejną kadencję do pełnienia funkcji sekretarza ICA i redaktora newslettera. Wzięła również udział w pokonferencyjnych warsztatach z zakresu terapii krótkoterminowej (Solution Focused Brief Therapy – SFBT).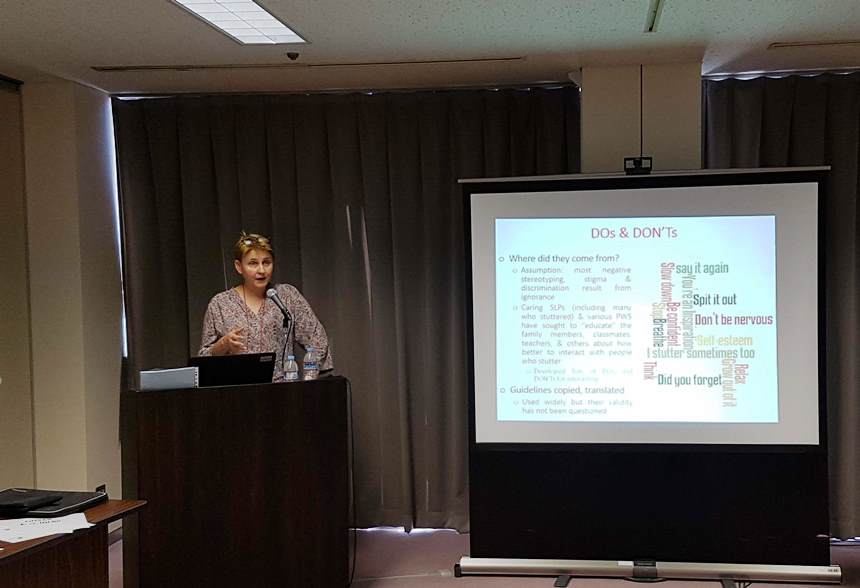 Dr hab. Katarzyna Węsierska podczas wygłaszania odczytu na kongresie pt. "One World, Many Voices: Science & Community" w Hiroszimie
Fot. archiwum prywatne
Dr hab. Katarzyna Węsierska jest adiunktem w Instytucie Języka Polskiego im. Ireny Bajerowej Uniwersytetu Śląskiego; założyła i prowadzi Centrum Logopedyczne w Katowicach, jest kierownikiem Studiów Podyplomowych: Zaburzenia Płynności Mowy. Jest absolwentką Europejskiej Klinicznej Specjalizacji Zaburzeń Płynności mowy; jako pierwsza polska logopedka uzyskała prestiżowy tytuł Europejskiego Specjalisty Zaburzeń Płynności Mowy. Jest autorką i współautorką wielu publikacji o tematyce logopedycznej. W działalności badawczej i praktyce logopedycznej koncentruje się przede wszystkim na zagadnieniach związanych z zaburzeniami płynności mowy. Współpracuje z polskimi i międzynarodowymi placówkami akademickimi i badawczymi. Uzyskała akredytację ośrodka terapii jąkania im. Michaela Palina w Londynie do szkolenia polskich logopedów w zakresie stosowania w praktyce logopedycznej w jąkaniu wczesnodziecięcym podejścia interakcyjnego – Palin PCI. Jest sekretarzem Międzynarodowego Stowarzyszenia Mowy Bezładnej (Giełkotu). Podczas 11th Oxford Dysfluency Conference (2017) została uhonorowana nagrodą im. Dave'a Rowleya przyznawaną za podejmowanie międzynarodowych inicjatyw w zakresie jąkania.