11 grudnia 2017 roku w Starej Oranżerii w warszawskich Łazienkach Królewskich odbyła się uroczysta gala wręczenia nagród Ministra Nauki i Szkolnictwa Wyższego. Wśród wyróżnionych znalazł się dr hab. Mirosław Kwaśniewski z Katedry Genetyki Wydziału Biologii i Ochrony Środowiska Uniwersytetu Śląskiego, który został laureatem nagrody za osiągnięcia naukowe I stopnia.
Dr hab. Mirosław Kwaśniewski jest genetykiem, biologiem molekularnym i bioinformatykiem. W swojej pracy wykorzystuje najnowsze, wysokowydajne, globalne metody analityczne z zakresu genomiki i biologii systemowej. Jest jednym z pionierów i światowych liderów badań nad procesami różnicowania i rozwoju włośników roślin jednoliściennych. Wspólnie ze swoim zespołem odkrył i scharakteryzował kilkanaście nowych, nieopisanych wcześniej genów związanych z powstawaniem włośników. Wykazał przy tym kluczową rolę peroksydaz w inicjacji tworzenia włośników i zaproponował integralny model udziału reaktywnych form tlenu w rozwoju tych specyficznych komórek roślinnych. Opisał całkowicie nową rolę włośników jako potencjalnych sensorów stanu środowiska, istotnych m.in. w adaptacji roślin do suszy glebowej. Opracował i stworzył pierwszą, szczegółową bazę danych dotyczącą genomiki włośników iRootHair. Jego prace dotyczące badań nad różnicowaniem i rozwojem włośników zostały opublikowane w prestiżowych czasopismach takich jak "Plant Physiology", "Journal of Experimental Botany", "Journal of Plant Physiology". Zdobyły również uznanie środowiska naukowego (Nagroda Główna Kapituły Polskiego Towarzystwa Biologii Eksperymentalnej Roślin jako najlepsza publikacja oryginalna dotycząca biologii roślin opracowana w polskim laboratorium w latach 2005–2006), prace zostały także ocenione jako wybitne, niezależnie przez wszystkich recenzentów w przewodzie habilitacyjnym.
Od kilku lat dr hab. Mirosław Kwaśniewski zajmuje się badaniem wpływu środowiska na ekspresję informacji genetycznej, m.in. poprzez analizę epigenomu roślin i człowieka oraz analizę mikroflory bakteryjnej w badaniach metagenomicznych. Obecnie pracuje również w Uniwersytecie Medycznym w Białymstoku jako kierownik Centrum Bioinformatyki i Analizy Danych, gdzie jest koordynatorem zadań jednego z największych w Polsce projektów z zakresu Medycyny Spersonalizowanej, dotyczącego precyzyjnej diagnostyki i terapii raka płuca.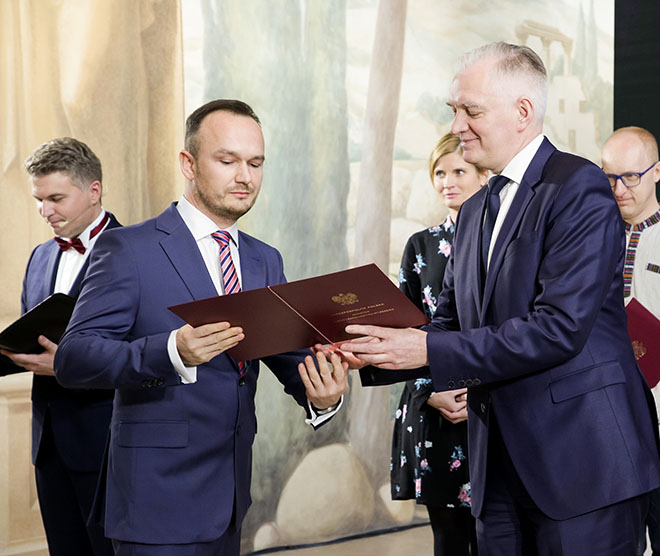 Dr hab. Mirosław Kwaśniewski odbiera nagrodę z rąk ministra nauki i szkolnictwa
​źródło: Ministerstwo Nauki i Szkolnictwa Wyższego
Prestiżowe nagrody Ministra Nauki i Szkolnictwa Wyższego przyznawane są przedstawicielom świata akademickiego – naukowcom, dydaktykom i organizatorom – za wybitne osiągnięcia naukowe, indywidualną i zbiorową działalność dydaktyczną oraz sukcesy organizacyjne w 2017 roku. Łącznie nagrodzonych zostało 60 przedstawicieli świata akademickiego.
W ocenie działalności pod uwagę brane były badania podstawowe oraz badania na rzecz rozwoju społeczeństwa i gospodarki. Szczegółowe informacje na temat wyróżnienia oraz lista laureatów dostępne są na stronie: www.nauka.gov.pl.