The EuroScience Open Forum (ESOF) is the largest international conference in Europe designed to offer the scientific community a platform for interdisciplinary and intersectional debate about scientific culture, scientific research and innovation, for and with society.  The event takes place on 12-15 June 2024 within the celebrations of the European City of Science Katowice 2024; the participants will be hosted in the International Congress Centre.
The ESOF conference has been organised every two years since 2004. The host of each edition is the city holding the title of the European City of Science. So far the hosting cities were: Stockholm, Munich, Barcelona, Turin, Dublin, Copenhagen, Manchester, Toulouse, Trieste and Leiden. In 2022, the capital city of the Silesian Voivodeship hosted ESOF 2022 Regional Site, an accompanying event to the conference organised in Leiden, the Netherlands.
Next year, the City of Katowice will organise the ESOF 2024 conference with the theme 'Life changes science;' its programme will cover the issues related to:
energy transition,
sustainable environment,
cultural identity and societal transformations,
transformations within scientific excellence,
healthy societies,
digital transformation.
The main goals of the ESOF 2024:
support the dialogue about science, technology, innovation, society, and science policies through the platform dedicated to interaction and interdisciplinary exchange,
present ground-breaking scientific and technology solutions,
a chance to establish new relations, networks and take advantage of career guidance for young scientists in the early stage of their careers,
a chance for scientists from various fields to interact and exchange thoughts,
use the full potential of Silesian universities and research carried out within the region in terms of their direct impact on the positive transformation in Silesia.
The call for proposals for speeches and posters will be launched in the summer of 2023.
The event will also feature the European Science in the City Festival – an initiative of the European Commission with a wide range of popular science activities concerning European research missions, and the EU Talent Fair – a European job fair initiative for researchers.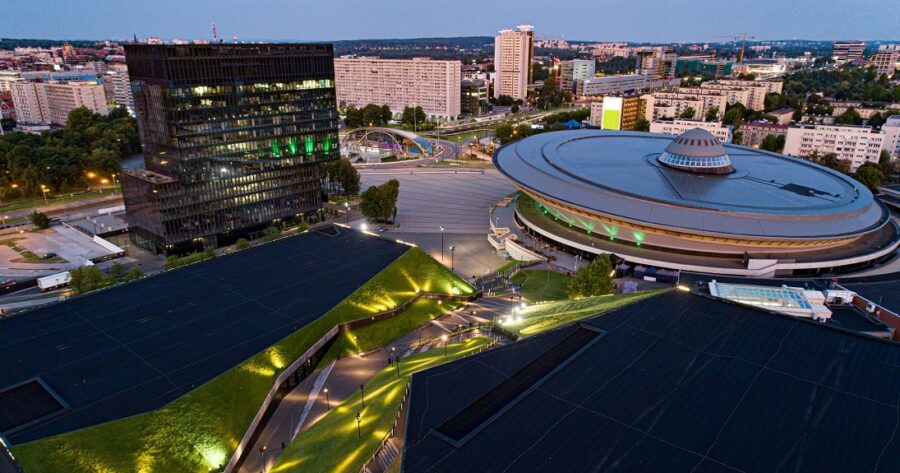 Bird's eye view of Katowice. Photo via AdobeStock