In 2022, the feast of Silesian science – the 6th edition of Silesian Science Festival KATOWICE – will take place again at the International Congress Centre on 3-5 December 2022.
The festival programme includes, like every year, hundreds of various science and art communication activities: lectures, workshops, exhibition stands, exhibitions, concerts, meetings with special guests and other initiatives. The festival space will be divided into six zones dedicated to nature, technology, humanities and social sciences, natural sciences, medicine and health, and the arts, as well as special zones. The main special zone will be dedicated to coal – the raw material on which the power of Upper Silesia was built in the past, and whose place in our future is already a great challenge for us.
Spodek Arena adjacent to the International Congress Centre will also be used for the purpose of 6th ŚFN. Drawing from the last year's experience, the organisers will also offer an open-air module to the audience.
The 6th edition of Silesian Science Festival KATOWICE will be one of the most important events as part of preparation of the capital of the Silesian Voivodeship for the title of European City of Science 2024. This prestigious title was awarded to Katowice by EuroScience.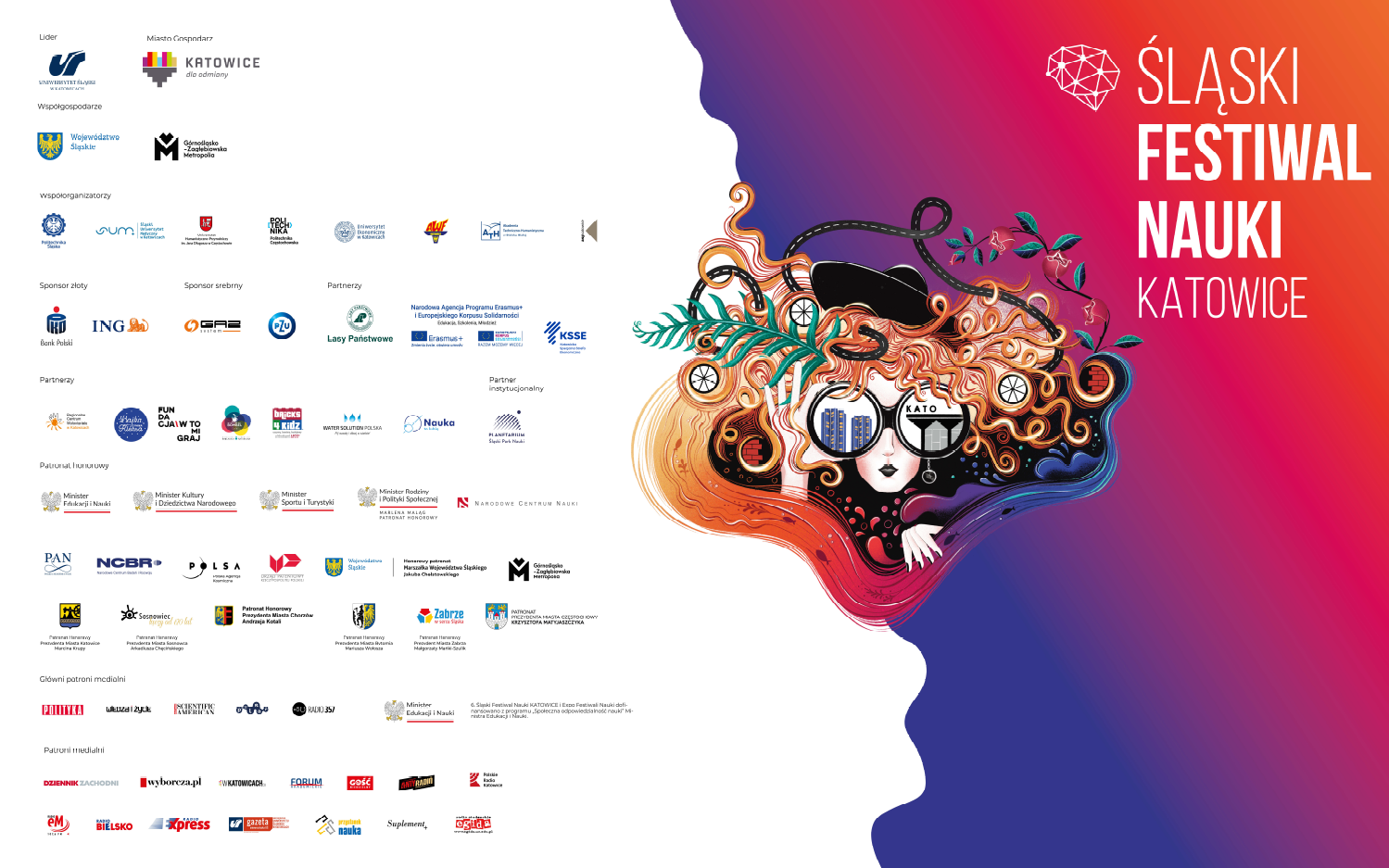 The 6th Silesian Science Festival KATOWICE is organised by: University of Silesia in Katowice (leader and originator of the event), City of Katowice (host city), Metropolis GZM and Marshall Office of the Silesian Voivodeship (co-hosts), as well as Silesian University of Technology, Medical University of Silesia, Jan Długosz University in Częstochowa, Jerzy Kukuczka Academy of Physical Education in Katowice, Academy of Fine Arts in Katowice, Częstochowa University of Technology, University of Economics in Katowice and University of Bielsko-Biała.
The gold sponsors of the Festival are GAZ SYSTEM and Group PZU.
Festival partners: Regional Directorate of State Forests in Katowice;
Polish National Agency of the Erasmus+ Programme and European Solidarity Corps, Erasmus+ Innovation Centre InnHub; To Lubię Foundation, Katowice Special Economic Zone, Regional Volunteer Centre in Katowice, Bajka Pana Kleksa, W TO MI GRAJ Foundation, Bawialnia BombelCafe, Bricks4Kidz and Water Solution Poland.
The institutional partner is the Planetarium – The Silesian Science Park in Chorzów
Silesian Science Festival KATOWICE is held under the honorary patronage of the Minister of Education and Science Przemysław Czarnek, Deputy Prime Minister, Minister of Culture, National Heritage and Sport Prof. Piotr Gliński, Minister of Sport and Tourism Kamil Bortniczuk, Minister of Family and Social Policy Marlena Maląg, President of the Polish Academy of Sciences Prof. Jerzy Duszyński, Director of the National Science Centre Zbigniew Błocki, Director of the National Centre for Research and Development Paweł Kuch, PhD, Polish Space Agency (POLSA), President of the Patent Office of the Republic of Poland Edyta Demby-Siwek, Marshal of the Silesian Voivodeship Jakub Chełstowski, Chairman of the Board of Metropolis GZM Kazimierz Karolczak, Katowice Mayor Marcin Krupa, Sosnowiec Mayor Arkadiusz Chęciński, Chorzów Mayor Andrzej Kotala, Bytom Mayor Mariusz Wołosz, Zabrze Mayor Małgorzata Mańka-Szulik, Częstochowa Mayor Krzysztof Matyjaszczyk, and the Katowice Special Economic Zone.
The main media patronage over the event has been assumed by: 'Polityka', 'Wiedza i Życie', 'World Zone', Pulsar, Radio 357.
Media patrons: Dziennik Zachodni, Gazeta Wyborcza, wKatowicach.eu, Forum Akademickie, Gość Niedzielny, Antyradio, Radio Katowice, Radio eM, Radio Bielsko, Radio Express, Gazeta Uniwersytecka UŚ (USil Magazine), Science Station, Suplement Student Magazine, and Egida Student Radio.
6th Silesian Science Festival KATOWICE and Science Festivals EXPO has been co-financed under the Social Responsibility of Science programme of the Minister of Education and Science.