Od 15 do 18 stycznia 2018 roku w Kalkucie (Indie) odbywał się Bengalski Globalny Szczyt Biznesowy – wydarzenie mające wielosektorowy charakter. Wśród poruszanych zagadnień znalazły się między innymi takie kwestie, jak: sektor motoryzacyjny, hutnictwo, inżynieria, energetyka, górnictwo, transport, przemysł chemiczny, garbarski, włókienniczy, rolno-spożywczy, a także usługi finansowe i telekomunikacyjne, infrastruktura miejska, ochrona zdrowia, edukacja, turystyka i rozrywka.
Udział w szczycie wzięła delegacja z Polski, której przewodniczył Marek Magierowski – podsekretarz stanu w Ministerstwie Spraw Zagranicznych i Grzegorz Tobiszowski – sekretarz stanu w Ministerstwie Energii. W skład delegacji weszli reprezentanci regionu: Małgorzata Ochęduszko-Ludwik – członek Zarządu Województwa Śląskiego oraz Kazimierz Karolczak – przewodniczący Zarządu Górnośląsko-Zagłębiowskiej Metropolii, a także reprezentanci Regionalnej Izby Gospodarczej w Katowicach, Indyjsko-Polskiej Izby Gospodarczej, przedstawiciele świata nauki i sektora gospodarczego.
Uniwersytet Śląski reprezentowali JM Rektor prof. dr hab. Andrzej Kowalczyk oraz prorektor ds. współpracy międzynarodowej i krajowej dr hab. prof. UŚ Tomasz Pietrzykowski. Wizyta była okazją do umacniania relacji biznesowych i naukowych, nawiązania nowych kontaktów oraz podjęcia rozmów na temat dalszej współpracy.
15 stycznia JM Rektor prof. dr hab. Andrzej Kowalczyk i prorektor dr hab. prof. UŚ Tomasz Pietrzykowski wzięli udział w spotkaniu z przedstawicielami University of Calcutta. Umowa dotycząca współpracy pomiędzy uczelniami została zawarta w 2017 roku. Delegatów podjęli: prof. Sonali Chakravarti Banerjee – wicekanclerz, prof. Dipak Kumar Kar – wicekanclerz ds. naukowych oraz dr. Rajagopal Dhar Chakraborti – sekretarz. W programie wizyty zaplanowano również spotkanie na West Bengal National University of Juridical Sciences. Z przedstawicielami UŚ spotkali się dr. Ishwar Bhat – wicekanclerz oraz dr. Sarfaraz Ahmed Khan – sekretarz.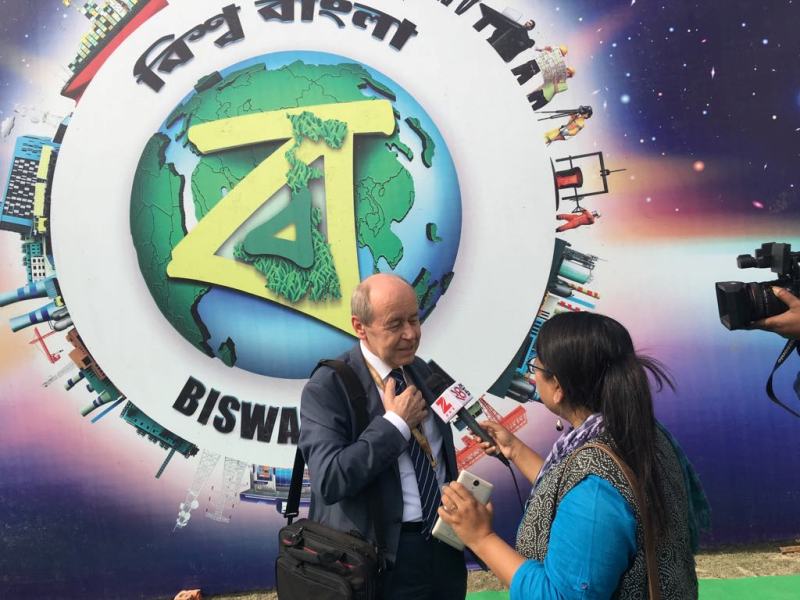 Wywiadu udziela JM Rektor UŚ prof. Andrzej Kowalczyk
fot. dr hab. prof. UŚ Tomasz Pietrzykowski
Szczegółowe informacje na temat Bengalskiego Globalnego Szczytu Biznesowego dostępne są na stronie: https://bengalglobalsummit.com.