Mikołajki to czas obdarowywania się drobnymi upominkami. Dla studentów i pracowników Uniwersytetu Śląskiego członkowie Międzywydziałowego Zespołu Folkowego "FolkUŚ" oraz studenci z Wydziału Artystycznego (Instytut Muzyki) przygotowują niecodzienne wydarzenie. 6 grudnia odtworzą dawny zwyczaj z Beskidu Śląskiego, tzw. "chodzyni mikołajów".
Rektorat oraz wybrane sale wykładowe na Wydziale Nauk Społecznych odwiedzą dwie grupy mikołajów – biali i czarni (symbolizujący dobro i zło). Negatywne postaci będą psocić, pozytywne – naprawiać szkody, a obie grupy poprowadzi wojok, czyli żołnierz. Przyjęcie mikołajów ma zapewniać dobrobyt i szczęście.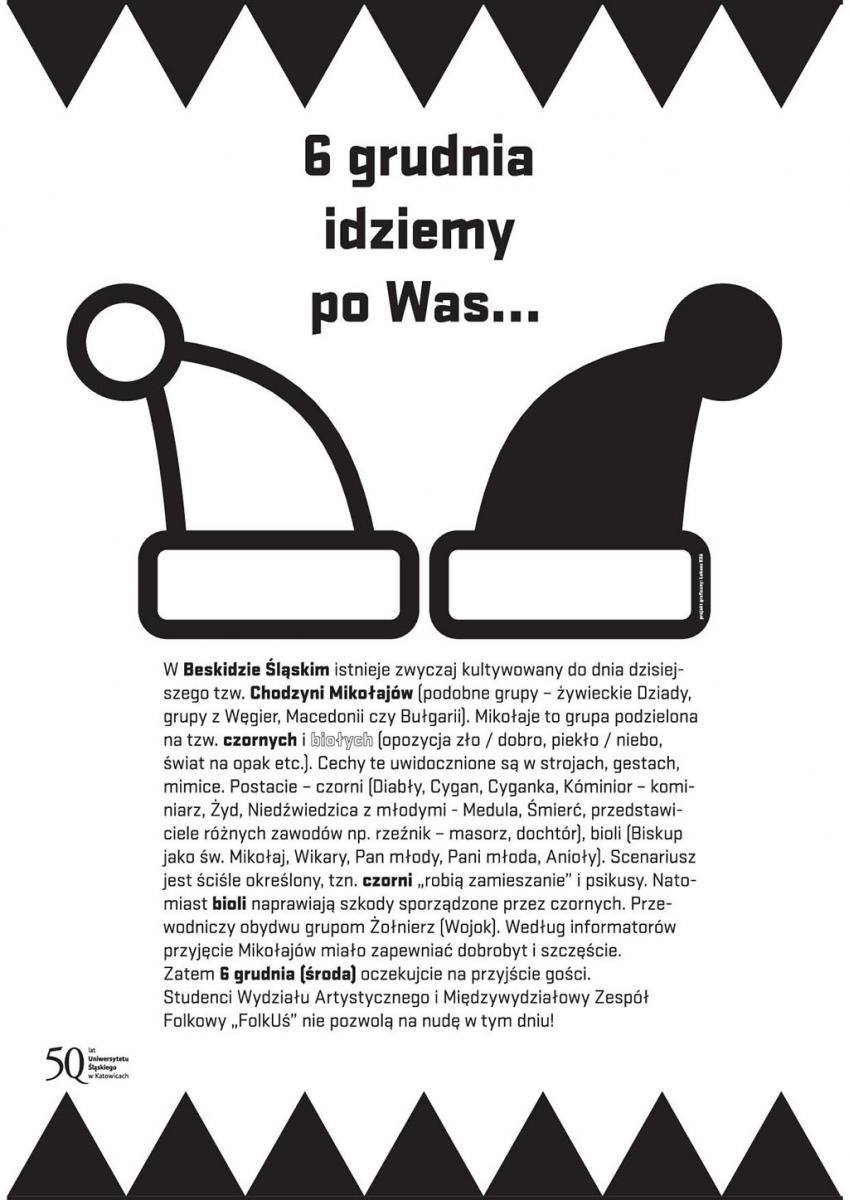 Opis zwyczaju:
W Beskidzie Śląskim istnieje zwyczaj kultywowany do dnia dzisiejszego, tzw. chodzyni mikołajów (podobne grupy — żywieckie Dziady, grupy z Węgier, Macedonii czy Bułgarii). Mikołaje to grupa podzielona na tzw. czarnych i białych (opozycja zło/dobro, piekło/niebo, świat na opak etc.). Cechy te uwidocznione są w strojach, gestach, mimice.
Postacie – czorni (diabły, cygan, cyganka, kóminior – kominiarz, żyd, niedźwiedzica z młodymi – medula, śmierć, przedstawiciele różnych zawodów, np. rzeźnik – masorz, dochtór), bioli (biskup jako św. Mikołaj, wikary, pan młody, pani młoda, anioły).
Scenariusz jest ściśle określony, tzn. czarni ,,robią zamieszanie" i psikusy. Natomiast biali naprawiają szkody wyrządzone przez czarnych. Obydwu grupom przewodniczy żołnierz (wojok). Według informatorów przyjęcie mikołajów miało zapewniać dobrobyt i szczęście.