W maju 2019 roku Studencki Zespół Pieśni i Tańca "Katowice" Uniwersytetu Śląskiego świętować będzie jubileusz 50-lecia działalności. Z tej okazji zaplanowano trzy wyjątkowe wydarzenia: koncert galowy (24 maja), koncert jubileuszowy (25 maja) oraz jubileuszowy bal (25 maja).
W obchodach udział wezmą przedstawiciele władz rektorskich uczelni – JM Rektor UŚ prof. dr hab. Andrzej Kowalczyk oraz prorektor ds. współpracy międzynarodowej i krajowej dr hab. prof. UŚ Tomasz Pietrzykowski. Wydarzenie będzie okazją do uhonorowania członków Zespołu okolicznościowym medalem, przyznawanym osobom lub instytucjom, które w szczególny sposób przyczyniły się do rozwoju i kreowania wizerunku uczelni. Odznaczenie, stanowiące dowód uznania społeczności akademickiej za długoletnią pracę oraz zaangażowanie, wręczy JM Rektor Uniwersytetu Śląskiego.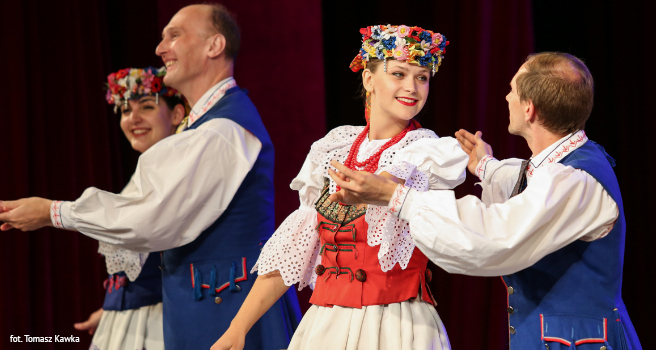 Tancerze ze Studenckiego Zespołu Pieśni i Tańca "Katowice". Fot. Tomasz Kawka
Studencki Zespół Pieśni i Tańca "Katowice" powstał w 1969 roku z inicjatywy grupy studentów naszej Alma Mater. Jego założycielami byli Józef Zielina (choreograf), Władysław Byszewski (chórmistrz, kompozytor) oraz Stanisław Wodnicki (kierownik kapeli). Członkowie zespołu to studenci Uniwersytetu Śląskiego oraz innych śląskich uczelni (m.in. Uniwersytetu Ekonomicznego, Politechniki Śląskiej i Śląskiego Uniwersytetu Medycznego), a także osoby zainteresowane tańcem i śpiewem ludowym.
Grupa od lat promuje folklor oraz uczelnię, uczestnicząc w wielu zagranicznych festiwalach oraz zdobywając liczne nagrody i wyróżnienia, m.in. w Hiszpanii, Niemczech, Rosji, Litwie, Portugalii, Syrii, Turcji, Tunezji, Cyprze, Francji, Białorusi, Mołdawii, Brazylii, Algierii, Zjednoczonych Emiratach Arabskich, Meksyku, Stanach Zjednoczonych, Czechach, Holandii, Argentynie, Szwajcarii i Sycylii. W 2010 oraz 2015 roku zespół został uhonorowany złotym oraz platynowym Laurem Umiejętności i Kompetencji w dziedzinie kultury. Wyróżnienie przyznawane jest przez Regionalną Izbę Gospodarczą w Katowicach. SZPiT "Katowice" jest także gospodarzem Międzynarodowego Studenckiego Festiwalu Folklorystycznego, który w tym roku odbędzie się po raz 32. To jedyna tak duża impreza folklorystyczno-kulturalna w regionie.
Najbliższe jubileuszowe koncerty odbędą się:
24 maja o godz. 18.30 – koncert galowy w katowickim Pałacu Młodzieży,
25 maja o godz. 16.00 – koncert jubileuszowy w Pałacu Młodzieży w Katowicach,
25 maja o godz. 20.00 – bal jubileuszowy w Starochorzowskim Domu Kultury w Chorzowie.

Szczegółowe informacje na temat obchodów znajdują się na stronie: katowice.us.edu.pl. Bilety do nabycia: www.ticketportal.pl.

Aktualizacja: 24.05.2019