Od 21 do 22 stycznia 2016 r. w Gdańsku trwać będzie konferencja "Studenci zagraniczni w Polsce 2016", której gospodarzem będzie Gdański Uniwersytet Medyczny. Podczas konferencji odbędą się następujące sesje tematyczne:
"Współpraca polskich uczelni z krajami Ameryki Łacińskiej";
"Jak promować szkolnictwo wyższe za granicą – marketing nowej generacji";
"Umiędzynarodowienie – jak to robimy w Gdańsku";
"Rekrutacja studentów zagranicznych – kluczowe rynki, nowe inicjatywy";
"Umiędzynarodowienie w praktyce";
"Partnerzy umiędzynarodowienia";
"Wyzwania internacjonalizacji szkolnictwa wyższego w Polsce – w zmieniającym się krajobrazie europejskim i globalnym".
W uroczystym otwarciu konferencji udział wezmą: JM Rektor Uniwersytetu Śląskiego, przewodniczący Konferencji Rektorów Akademickich Szkół Polskich, członek zarządu European University Association prof. zw. dr hab. Wiesław Banyś, JM Rektor Gdańskiego Uniwersytetu Medycznego prof. dr hab. Janusz Moryś, prezydent Gdańska Paweł Adamowicz oraz prezes Fundacji Edukacyjnej "Perspektywy" Waldemar Siwiński.
Spotkanie poświęcone aktualnym kwestiom umiędzynarodowienia polskiego szkolnictwa wyższego, rozwojowi mobilności studentów i pracowników naukowych, a także promocji potencjału intelektualnego miast i regionów, stanowi okazję do zapoznania się z najlepszymi praktykami w tym zakresie. W spotkaniu uczestniczyć będą rektorzy, prorektorzy, specjaliści z biur współpracy międzynarodowej i biur promocji, przedstawiciele miejskich i wojewódzkich władz samorządowych, a także ambasadorzy – JE Ambasador RP w Brazylii Andrzej Braiter i JE Ambasador Republiki Argentyńskiej w Polsce Patricia Beatriz Salas. Ze strony Uniwersytetu Śląskiego udział wezmą: prorektor ds. umiędzynarodowienia, współpracy z otoczeniem i promocji dr hab. prof. UŚ Mirosław Nakonieczny, kierownik Działu Współpracy z Zagranicą Agata Wójcik oraz kierownik Biura Rekrutacji Studentów Międzynarodowych Joanna Laskowska.
Wśród wydarzeń towarzyszących znajdą się m.in. prezentacja publikacji zatytułowanej "Czas internacjonalizacji. Wyzwania dla polskich uczelni" oraz seminarium pt. "Working with Agents" przeznaczone dla uczelni uczestniczących w programie "Study in Poland". Konferencja połączona będzie z galą konkursu na najlepszego studenta zagranicznego w Polsce 2015 – Interstudent.
Organizatorami konferencji są: Konferencja Rektorów Akademickich Szkół Polskich, Gdański Uniwersytet Medyczny, Urząd Miasta Gdańsk oraz Fundacja Edukacyjna "Perspektywy".
Szczegółowe informacje i program dostępne są na stronie: www.studyinpoland.pl/konferencja2016.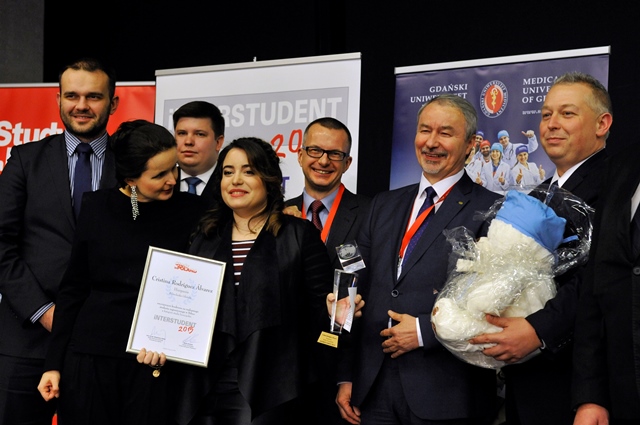 Uczestnicy gali konkursu na najlepszego studenta zagranicznego w Polsce 2015 – Interstudent
Fot. Zbigniew Wszeborowski / Gdański Uniwersytet Medyczny