Od 11 do 13 grudnia 2018 roku JM Rektor Uniwersytetu Śląskiego prof. dr hab. Andrzej Kowalczyk przebywał z wizytą na Uniwersytecie im. Aldo Moro w Bari, z którym katowicka uczelnia współpracuje od 16 lat. Pobyt stanowił okazję do udziału w uroczystości inauguracji roku akademickiego 2018/2019 i wręczenia pamiątkowego medalu przyznanego za wkład w rozwój i promocję naszej uczelni. Wizyta miała przyczynić się do wzmocnienia i pogłębienia współpracy pomiędzy uniwersytetami.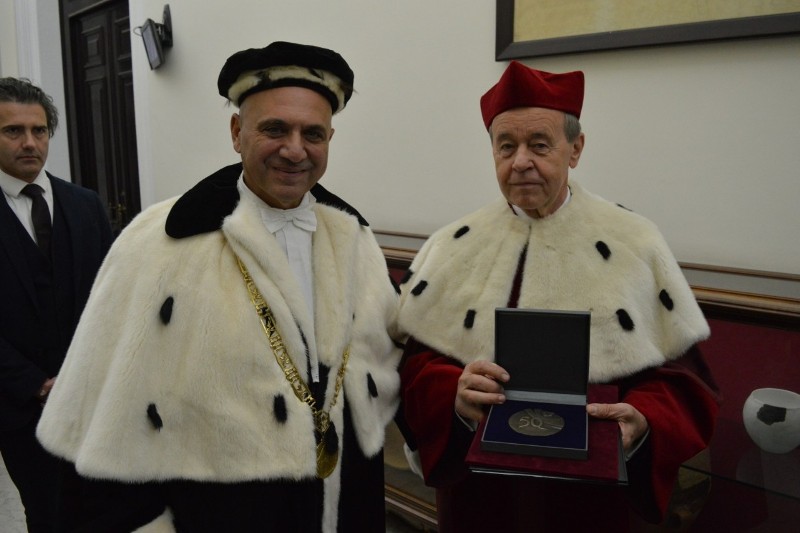 JM Rektor Uniwersytetu Śląskiego prof. Andrzej Kowalczyk
oraz JM Rektor Uniwersytetu im. Aldo Moro w Bari prof. Antonio Felice
fot. prof. Janina Janas
Uniwersytet im. Aldo Moro w Bari to jedna z 58 włoskich uczelni państwowych, kształcąca obecnie około 60 tys. studentów. Inauguracja 93. roku akademickiego, w której udział wzięli m.in. minister edukacji, szkolnictwa wyższego i badań naukowych Marco Bussetti oraz przewodniczący krajowej konferencji rektorów prof. Gaetano Manfredi, została zaplanowana na 12 grudnia. Podczas uroczystości okolicznościowe wystąpienie wygłosił JM Rektor Uniwersytetu Śląskiego prof. Andrzej Kowalczyk, który wręczył również rektorowi włoskiej uczelni prof. Antoniowi Felicemu Uricchiowi medal z okazji jubileuszu 50-lecia Uniwersytetu Śląskiego. Wyróżnienie zostało ustanowione w 2018 roku przez Senat UŚ i może zostać przyznane osobie lub instytucji, która w szczególny sposób przyczyniła się do rozwoju i kreowania wizerunku uczelni. Medal stanowi dowód uznania społeczności akademickiej za długoletnią pracę oraz zaangażowanie.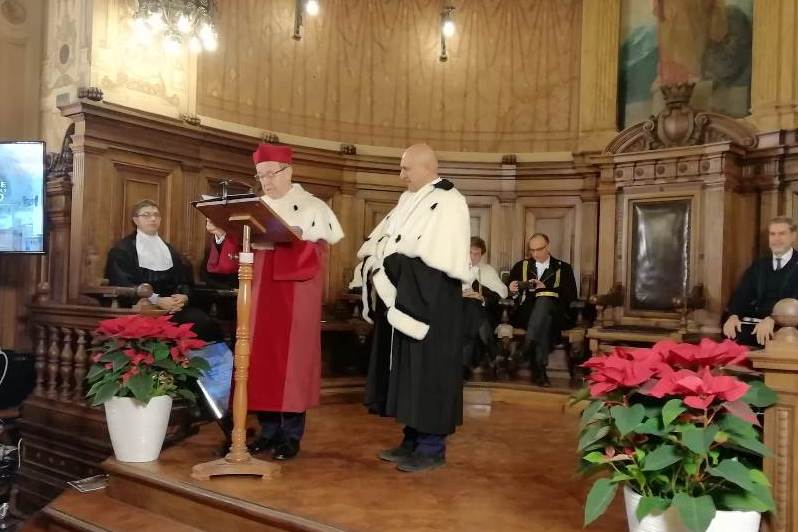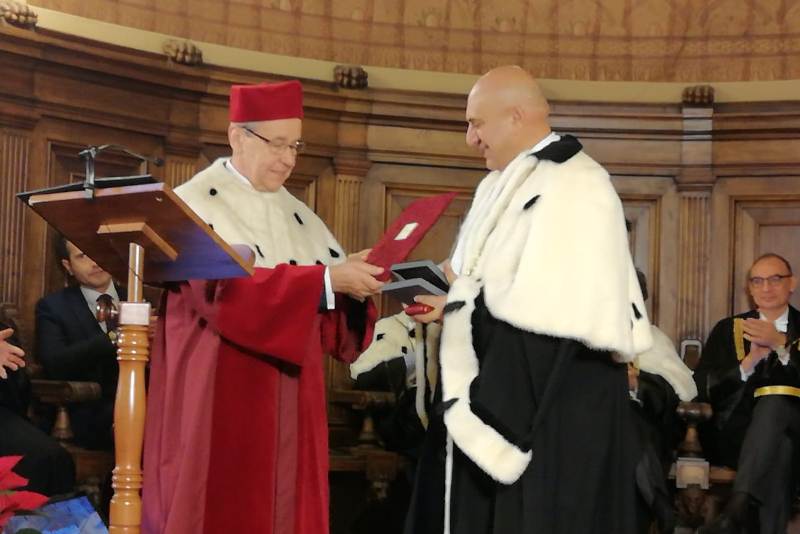 Wystąpienie JM Rektora UŚ prof. dr. hab. Andrzeja Kowalczyka oraz wręczenie medalu
fot. prof. Janina Janas
Uniwersytet Śląski i Uniwersytet im. Aldo Moro w Bari łączy zarówno współpraca naukowa, jak i dydaktyczna. Pierwszą umowę regulującą zakres wspólnie podejmowanych działań uczelnie partnerskie zawarły w 2002 roku. Od tego czasu współpraca intensywnie się rozwija.
W ciągu 16 lat zrealizowanych zostało wiele wizyt badawczych i dydaktycznych oraz wymian studenckich, w tym w ramach programu Erasmus+ oraz wymiany międzyrządowej. Oprócz wymiany akademickiej wzajemne wizyty studyjne i szkoleniowe odbywają również pracownicy administracyjni. Przynosząca wiele korzyści współpraca stanowi jeden z kluczowych elementów umiędzynarodowienia obu uczelni.
W ramach programu Erasmus+ z Uniwersytetem im. Aldo Moro współpracuje obecnie 6 jednostek UŚ, a każdego roku kilkunastu polskich i włoskich studentów odbywa na uczelni partnerskiej część swoich studiów. Większość z nich to studenci italianistyki i filologii polskiej.
Ważnym elementem współpracy jest też prowadzona na uniwersytecie w Bari polonistyka, którą od wielu lat kieruje związana z Uniwersytetem Śląskim prof. Janina Janas. Wśród lektorów języka polskiego delegowanych przez MNiSW na Uniwersytet im. Aldo Moro było wielu pracowników z naszej uczelni. Obecnie dwie studentki z Włoch, które ukończyły filologię polską w Bari, piszą dysertacje doktorskie na UŚ.

Nagranie z uroczystości
---
Fot. DRAGONHEART3
[CC BY 2.0 (https://creativecommons.org/licenses/by/2.0)],
Wikimedia Commons