W czwartek 16 maja 2019 roku z wizytą na Uniwersytecie Śląskim przebywał prof. Mingzhe Zhu – przedstawiciel China University of Political Science and Law (CUPL), wiodącego ośrodka akademickiego w Chinach. W rektoracie uczelni delegata podjął prorektor Uniwersytetu Śląskiego prof. dr hab. Ryszard Koziołek. Wizyta stanowiła okazję do rozmów na temat rozwoju współpracy i zawarcia umowy dotyczącej m.in. wymiany akademickiej, realizacji wspólnych projektów oraz badań naukowych.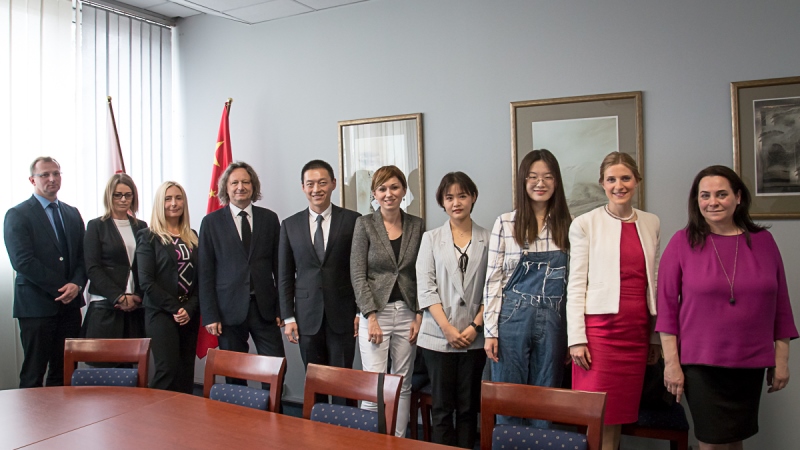 Spotkanie w rektoracie uczelni
Fot. Sekcja Prasowa UŚ
Na Wydziale Prawa i Administracji UŚ odbyło się z kolei spotkanie delegata z przedstawicielami władz dziekańskich. Prof. Mingzhe Zhu wziął również udział seminarium "New legal philosophy for the climate governance" poświęconym m.in. zmianom klimatycznym. Tematyki tej, głównie w zakresie ochrony środowiska i energetyki, dotyczą ostatnie badania prawnoporównawcze, które prowadzi prof. Mingzhe Zhu.
Rozmowy na temat współpracy z China University of Political Science and Law podjęte zostały w kwietniu 2019 roku w trakcie pobytu reprezentantów Wydziału Prawa i Administracji UŚ w Pekinie. Wizyta związana była z udziałem polskiej delegacji w IV Chińsko-Polskim Seminarium Prawa Porównawczego oraz w spotkaniach z władzami pekińskich uczelni. Uniwersytet Śląski reprezentowały wówczas: prof. dr hab. Ewa Rott-Pietrzyk, działająca jako pełnomocnik dziekana WPiA ds. współpracy międzynarodowej, dr Anna Lichosik oraz dr Małgorzata Pohl-Michałek.

Spotkanie delegacji Uniwersytetu Ślaskiego,
Uniwersytetu Warszawskiego i Uniwersytetu Jagiellońskiego
z przedstawicielami China University of Political Science and Law
(siedziba CUPL, Pekin, 26 kwietnia 2019 roku)
Fot. Dangyi Shu, Program Officer, CUPL International Office
Efektem rozmów ma być zawarcie umowy bilateralnej między Uniwersytetem Śląskim a China University of Political Science and Law. Plany sformalizowania współpracy z nowymi chińskimi partnerami dotyczą także Instytutu Prawa Chińskiej Akademii Nauk Społecznych (China Academy of Social Sciences – CASS) w Pekinie – gospodarza IV Chińsko-Polskiego Seminarium Prawa Porównawczego. W tym przypadku katowicka uczelnia nawiąże wielostronną współpracę – zarówno z CASS, jak i Uniwersytetem Jagiellońskim oraz Uniwersytetem Warszawskim.