W poniedziałek 20 listopada 2017 roku o godz. 15.00 w auli im. Kazimierza Lepszego w rektoracie Uniwersytetu Śląskiego rozpocznie się uroczystość wręczenia dyplomów najlepszym absolwentom roku akademickiego 2016/2017 oraz nagrody w piątej edycji plebiscytu "Absolwent z Pasją".
Wyróżnieni absolwenci zostali wybrani przez władze poszczególnych jednostek Uniwersytetu Śląskiego: dziekanów wydziałów oraz dyrektora Kolegium Indywidualnych Studiów Międzyobszarowych. Studenci zostali wyróżnieni między innymi za: bardzo wysoką średnią ocen z całego okresu studiów, celującą lub bardzo dobrą ocenę na dyplomie, osiągnięcia naukowe lub artystyczne. Wielu z nich to stypendyści. Najlepszym absolwentom JM Rektor Uniwersytetu Śląskiego prof. dr hab. Andrzej Kowalczyk wręczy dyplomy, listy gratulacyjne oraz zestawy upominków. Ponadto absolwenci zostaną uhonorowani listami rekomendacyjnymi od prezesa Stowarzyszenia Absolwentów UŚ Tadeusza Donocika. Otrzymają również gratulacje od prezydentów, burmistrzów i wójtów miast, z których pochodzą.
Podczas uroczystości zostanie oficjalnie ogłoszony laureat piątej edycji uniwersyteckiego plebiscytu "Absolwent z Pasją", który ma na celu promocję osiągnięć i niezwykłych pasji absolwentów wszystkich roczników od początku istnienia uczelni. Tytuł "Absolwenta z Pasją" jest wyróżnieniem przyznawanym za zainteresowania, którym osoba wyróżniona oddaje się z pełnym zaangażowaniem, za aktywną i znaczącą działalność społeczną oraz za osiągnięcia indywidualne w działalności kulturalnej, naukowej lub w sporcie.
O tytuł "Absolwenta z Pasją 2017" ubiegają się: Ewelina Bachul, Marta Barcik, Agnieszka Chudzik, Mirosław Cichy, Łukasz Drążek, Martyna Gwóźdź, Sławomir Kaczor, Martyna Kawka, Agata Kołodziejczyk, Monika Kosińska, Marcelina Kruż, Michał Kurka, Aleksandra Kwiatkowska, Monika Maciaszek, Alicja Mainusch, Aneta Mlaś, Anna Retoruk-Sowa, Jakub Saniternik, Michał Simiński, Agata Stronciwilk, Łukasz Tudzierz, Rafał Warchulski, Dorian Zakrzewski, Marta Zdanowska, Krzysztof Zebrucki oraz Jakub Żemła.
Na wybranego kandydata można zagłosować do 19 listopada za pośrednictwem strony internetowej "Gazety Wyborczej": katowice.wyborcza.pl. Na podstawie oddanych głosów komisja plebiscytowa wyróżni jednego z absolwentów tytułem "Absolwenta z Pasją Roku 2017". Nagrodę główną w plebiscycie ufundowała firma Future Processing. Nagrody przekaże również Tauron Polska Energia, Muzeum Powstań Śląskich, Muzeum Historii Katowic i Opel Mucha sp.j.
Szczegółowych informacji na temat uroczystości oraz plebiscytu udziela Dział Promocji Uniwersytetu Śląskiego (tel. 32 359 13 21, e-mail: absolwent@us.edu.pl).
Uroczystość wręczenia dyplomów najlepszym absolwentom roku akademickiego 2016/2017 oraz nagrody w piątej edycji plebiscytu "Absolwent z Pasją" to wydarzenie wpisujące się w obchody jubileuszu 50-lecia istnienia Uniwersytetu Śląskiego.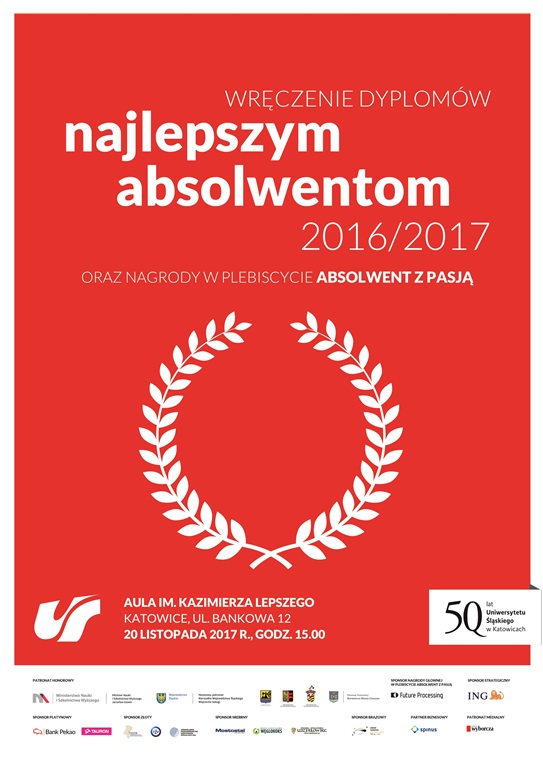 Obchody jubileuszu 50-lecia Uniwersytetu Śląskiego zostały objęte honorowym patronatem: ministra nauki i szkolnictwa wyższego dr. Jarosława Gowina, marszałka województwa śląskiego Wojciecha Saługi, prezydenta Katowic dr. Marcina Krupy, prezydenta Chorzowa Andrzeja Kotali, prezydenta Sosnowca Arkadiusza Chęcińskiego oraz burmistrza Cieszyna Ryszarda Macury.
Sponsorem Strategicznym jubileuszu jest ING Bank Śląski, Sponsorem Platynowym – Bank Pekao SA oraz TAURON Polska Energia, Sponsorem Złotym jubileuszu są: Katowicka Specjalna Strefa Ekonomiczna, Górnośląskie Przedsiębiorstwo Wodociągów SA, PZU Życie SA, Sponsorem Srebrnym: Mostostal Warszawa SA, Grupa Kapitałowa Węglokoks oraz Firma Poligraficzno-Introligatorska UDZIAŁOWIEC. Sponsorem Brązowym jest Zakład Systemów Komputerowych ZSK Sp. z o. o., a Partnerem Biznesowym – SPIN-US Sp. z o.o.