Gra "Weakless" tworzona przez studentów i absolwentów Uniwersytetu Śląskiego zdobyła nagrodę publiczności podczas odbywającej się 24 i 25 maja 2019 roku w Brnie "Game Access Conference". To kolejne wyróżnienie dla zespołów Cubeish Games i Punk Notion.
"Weakless" jest grą z gatunku puzzle-adventure przedstawiającą relację dwóch bohaterów: osoby z dysfunkcją wzroku oraz osoby z dysfunkcją słuchu, które dzięki wzajemnej pomocy mogą pokonać napotkane przeszkody. – Trzonem rozgrywki w "Weakless" jest rozwiązywanie zagadek logicznych oraz eksploracja otoczenia przy pomocy wizji i umiejętności bohaterów. W danym momencie gracz steruje tylko jedną z postaci, przez co nie może równocześnie korzystać ze zmysłu wzroku i słuchu – mówi Anna Kowalczyk, jedna ze współautorek projektu. Gra wyróżnia się autorską grafiką, za którą Anna Kowalczyk otrzymała nagrodę główną w kategorii Game Art Design podczas Festiwalu Animacji ANIWOW! w Pekinie.
W grze charakterystyczna jest także muzyka. Do jej stworzenia wykorzystano głównie instrumenty perkusyjne, wśród nich marimbę i rav vast. – Obiekty oraz elementy środowiska, które są wyraźnymi źródłami dźwięku, pokazują przestrzeń dookoła osoby z dysfunkcją wzroku. Postać posiada zdolność echolokacji, która pozwala na poszerzenie zakresu rozpoznawania otoczenia w miejscu, w którym wzbudzi falę dźwiękową – mówi Agnieszka Wlazły, autorka dźwięku.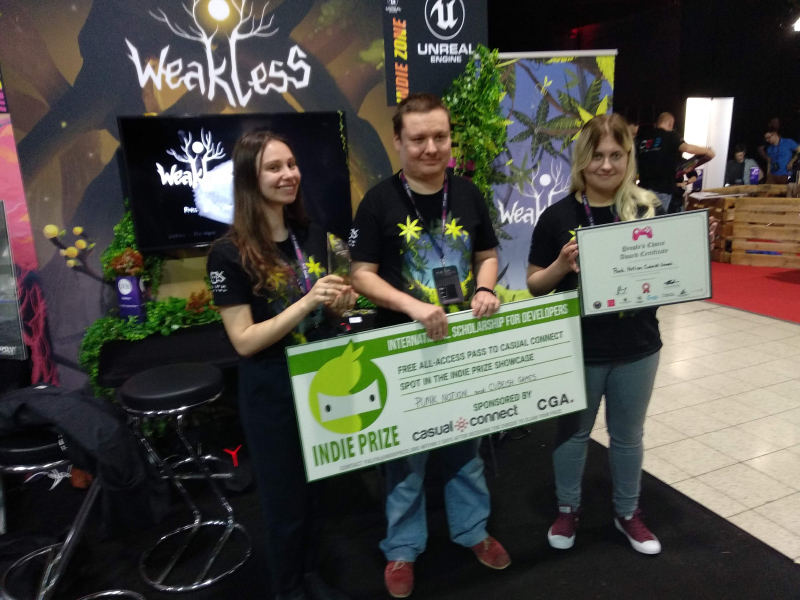 Laureaci odbierają nagrodę
fot. mat. ARP Games
Pomysł na utworzenie gry zrodził się już jakiś czas temu, ale intensywne prace nad projektem trwają dopiero od roku. Umożliwił je udział w programie akceleracyjnym realizowanym przez ARP Games. Gra pomyślnie przeszła pierwszy etap. Otrzymała wsparcie finansowe, mentorskie i szkoleniowe. Zespół uczestniczył także w targach i wydarzeniach branżowych. Kolejnym etapem było założenie spółki i rozwijanie projektu, dzięki inwestycyjnemu wsparciu akceleratora. – Jeśli wszystko pójdzie zgodnie z planem, finalny efekt prac nad grą "Weakless" zobaczymy jeszcze w tym roku. Przed nami najtrudniejszy etap. Grę trzeba wyprodukować, a następnie sprzedać – podkreśla dr Remigiusz Kopoczek z Wydziału Etnologii i Nauk o Edukacji Uniwersytetu Śląskiego, prezes zarządu ARP Games.
Akcelerator gier ARP Games to spółka założona przez Agencję Rozwoju Przemysłu, Spin US – spółkę celową Uniwersytetu Śląskiego i Powiat Cieszyński. Każdego roku w naborach ogłaszanych do programu wyłanianych jest kilkanaście najlepszych projektów. Ocenie podlega ich oryginalność, wartość artystyczna oraz model biznesowy. Aktualnie trwa nabór pomysłów do kolejnej, piątej już edycji programu. Termin zgłaszania projektów mija 16 czerwca. Szczegóły dostępne są na stronie: www.arpgames.pl.