Brick Award to nagroda wyróżniająca obiekty o niebanalnej architekturze, w których zastosowano materiały ceramiczne. Międzynarodowy konkurs od ponad 14 lat organizuje firma Wienerberger, produkująca tego typu materiały. Tegoroczna czwarta polska edycja konkursu została rozstrzygnięta 12 marca 2019 roku. Grand Prix oraz nagrodę w kategorii sharing public spaces otrzymał budynek Wydziału Radia i Telewizji im. Krzysztofa Kieślowskiego Uniwersytetu Śląskiego, autorstwa pracowni Baas Arquitectura, Grupa 5 Architekci i MAŁECCY biuro projektowe.
Przyznając Grand Prix, jury doceniło walory nowej siedziby katowickiej filmówki jako budynku współczesnego, a jednocześnie ponadczasowego, subtelnie wpisującego się w lokalny kontekst i łączącego doświadczenia kultur północnej oraz południowej Europy. Znaczenie miało również kreatywne wykorzystanie materiałów, w tym ceramiki budowlanej w wielu odmianach. Komisja konkursowa brała pod uwagę zarówno obiektywne walory projektu, jak i kryteria, według których budynek będzie oceniany w międzynarodowej edycji. Wyróżnione konkursowe realizacje trafią bowiem do światowej edycji Wienerberger Brick Award 2020, jako kandydaci reprezentujący polską architekturę.
To nie jedyna nagroda w tegorocznej edycji konkursu, Wydział Radia i Telewizji Uniwersytetu Śląskiego zwyciężył również w kategorii sharing public spaces. Siedziba doceniona została za stworzenie przyjaznej przestrzeni edukacyjnej w centrum miasta. Jury zwróciło także uwagę na front budynku – wykorzystanie fragmentów poprzedniej konstrukcji i umiejętne zastosowanie elementów ceramicznych w elewacji frontowej, tworzących wyrafinowaną grę światła i cienia.
Do tegorocznej polskiej edycji konkursu Brick Award zgłoszono 74 obiekty w pięciu kategoriach: feeling at home, living together, working together, sharing public spaces oraz building outside the box. Wyniki konkursu zamieszczone zostały na stronie: wienerberger.pl.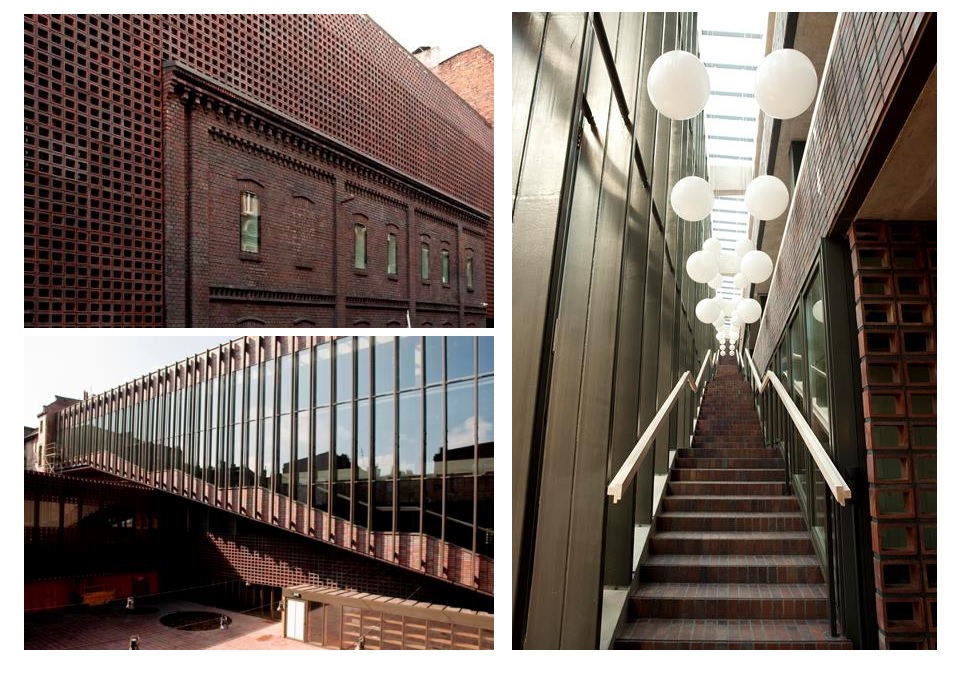 Siedziba Wydziału Radia i Telewizji im. Krzysztofa Kieślowskiego Uniwersytetu Śląskiego
Fot. dr hab. Ryszard Czernow