Ladies and Gentlemen,
walking on 1 September through the still less-than-crowded city and empty campus in Katowice to begin my term in the honourable office of the Rector of the University of Silesia, I was wondering about how delusional all plans are, including my own. Ever since I started my efforts towards being chosen by you, I have been guided by two strong convictions. The first is that the University is an exceptionally good (the best in my view) place in the public space for research work, teaching, but mostly for living together as a knowledge-based community. The second is that the University should never be reduced to a smartphone application.
The ongoing epidemic has deprived our community of our home, whereas the omnipresent distance learning technologies are a necessity that saves us from the loss of another semester of studies. Perhaps nobody is more aware of human limitations than a scientist, however, this time it was us who were particularly affected by them. The upcoming academic year will run in the shadow of the epidemic. The winter semester will be dominated by distance learning, but we want our students (especially first-year students) to be able to experience real education in the premises of our University. And first of all, to let them experience being together.
This will be our most important goal for the next few months – to maintain close and intense operation of the academic community. I strongly encourage you to keeping multiple remote contacts, to sharing with one another what we learn, what we work on as scientists, as well as what interests and enriches us as humans. Let us use technologies not only for the implementation of our teaching and administrative duties, but also to strengthen our sense community at the time of homelessness. Let us invite one another to conversations with students, presentations of our new research achievements, books, articles, artistic works, open seminars and lectures, coverages of concerts and exhibitions. Let us share in this unique way, which, paradoxically, brings us stronger together. I encourage you to demonstrate unlimited invention in this respect and I would like to assure you that you will receive from us all possible support for such activities. A significant part of them will be initiated in the "headquarters". We will soon launch the Centre for Scientific Premieres of the University of Silesia, through which we will present our latest research achievements in all fields of science. 
During the ongoing isolation days, let us give one another the sense of being together, and please give me the confidence that I do have somebody to work for. I am strengthened by the thought that sooner or later we will get back to our place with a renewed sense of the value that the real university is.
Thank you very much for your electoral decision as well as any evidence of support and understanding that I have been continuing to experience. I am filled with gratitude, sense of honour and obligation.
Stay healthy,
Ryszard Koziołek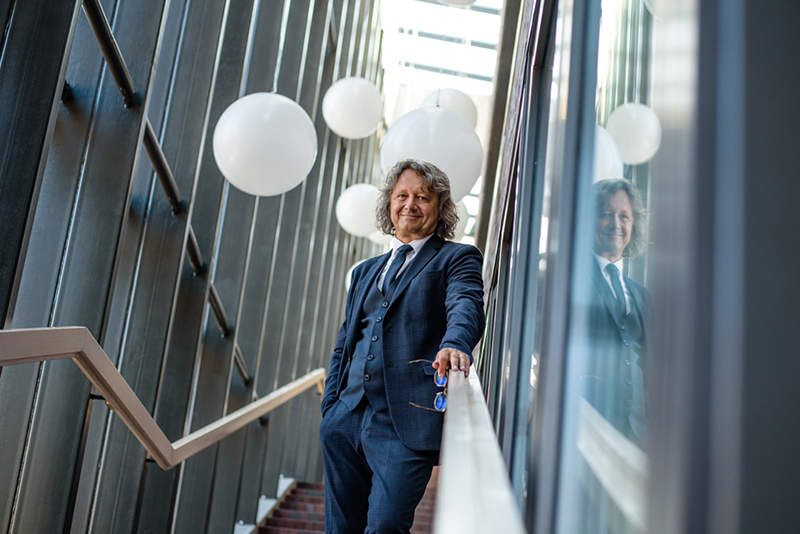 Prof. Ryszard Koziołek. Photo by Press Section