The European City of Science 2024 now has its own graphic symbol. The logo was presented on Thursday, 22 September 2022 during a press conference at the Planetarium – Silesian Science Park. The event was combined with the signing of the agreement strengthening cooperation within the European City of Science 2024. The document was signed by: representatives of local authorities and the Metropolis GZM as well as rectors of seven universities.
Sign of the European City of Science 2024
The logo, which was prepared by designers from the Academy of Fine Arts in Katowice, symbolises the universities associated in the Academic Consortium Katowice – City of Science. The sign alludes to an asterisk – a star-shaped scribal symbol used as a footnote symbol and associated with academic text. The seven elements that make up the signet show seven universities that share a common mission, as well as cooperation to strengthen research infrastructure and scientific potential.
The form of the star also refers to the shape of a cog – an industrial part important for the region, associated with progress, gradual activation of subsequent processes, and development. Each single element propels the next. It not only sets it in motion but allows to gain the momentum necessary to implement changes and modernisation.
The logo of the European City of Science is a symbol of integrity, close cooperation and mutual inspiration.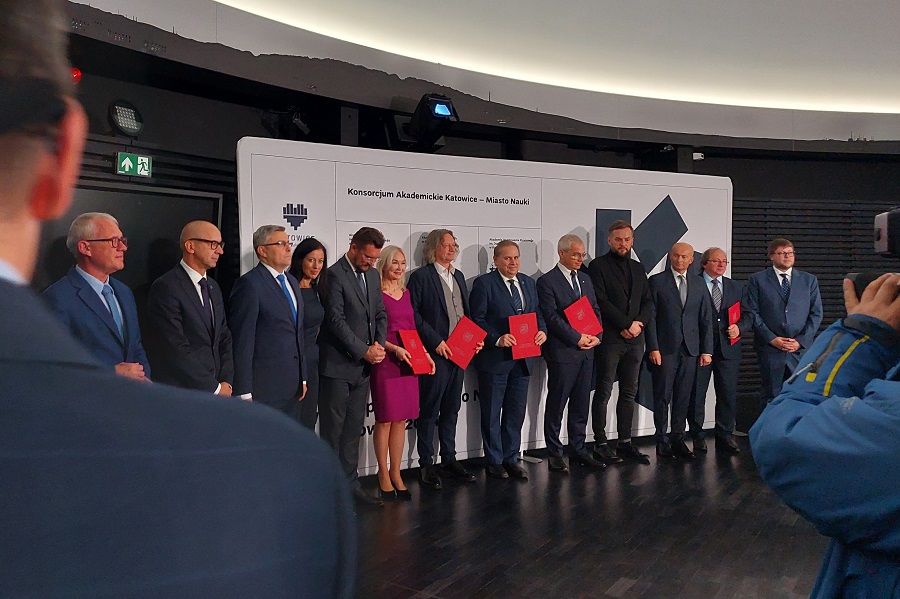 Participants of the press conference combined with the signing of the cooperation agreement as part of the tasks resulting from the title of the European City of Science 2024 for the City of Katowice. Photo by Olimpia Orządała