Na częściowo zachowanym szkielecie morskiego gada sprzed 245 mln lat naukowcy odnaleźli drobne guzkowate narośle, które zostały zidentyfikowane jako ślady infekcji oddechowej – najpewniej gruźlicy. Jest to najstarszy dowód istnienia tej choroby zakaźnej, co oznacza m.in., że jej rodowód sięga początków ery wielkich gadów.
Odkrycia dokonali: mgr Dawid Surmik, doktorant z Wydziału Nauk o Ziemi Uniwersytetu Śląskiego, prof. Bruce Rothschild z Carnegie Museum w Pittsburghu (USA), a także mgr Tomasz Szczygielski i dr Katarzyna Janiszewska z Instytutu Paleobiologii PAN.
---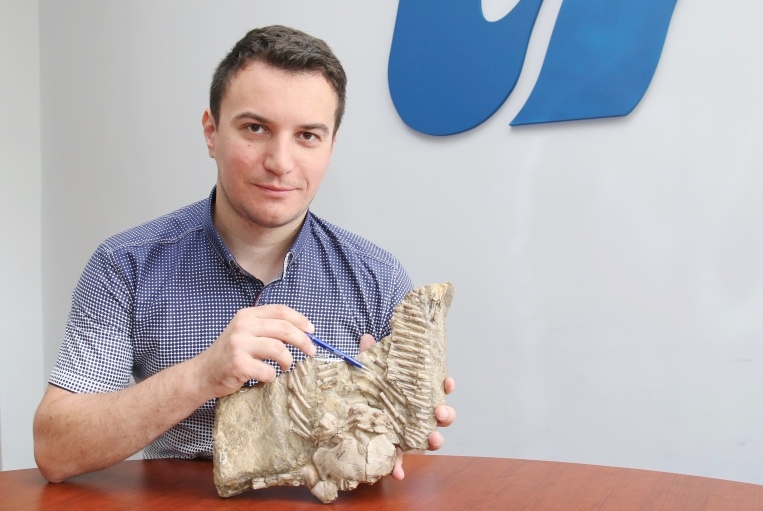 Mgr Dawid Surmik, doktorant z Wydziału Nauk o Ziemi, prezentuje częściowo zachowany szkielet triasowego morskiego gada sprzed 245 mln lat
Fot. Sekcja Prasowa UŚ

Mgr Dawid Surmik, w ramach zakończonego już projektu naukowego, analizował częściowo zachowany szkielet triasowego morskiego gada sprzed 245 mln lat – okazu pochodzącego ze zbiorów Muzeum Geologicznego Uniwersytetu Wrocławskiego. Jego uwagę zwróciły drobne guzkowate narośle dobrze widoczne na kilku żebrach. Odkrycie skonsultował z prof. Bruce'em Rothschildem, czołowym badaczem prehistorycznych patologii szkieletowych oraz z mgr. Tomaszem Szczygielskim, także pracującym na materiałach kopalnych gadów. Dzięki zastosowaniu nowoczesnych metod badawczych, w tym między innymi mikrotomografii komputerowej, naukowcy doszli do wniosku, że mają do czynienia z reakcją okostnej na przewlekłą infekcję, którą okazała się gruźlica. Wnioski te zostały potwierdzone przez badania wykonane przez dr Katarzynę Janiszewską w oddziale Krajowego Laboratorium Multidyscyplinarnego Nanomateriałów Funkcjonalnych (NanoFun).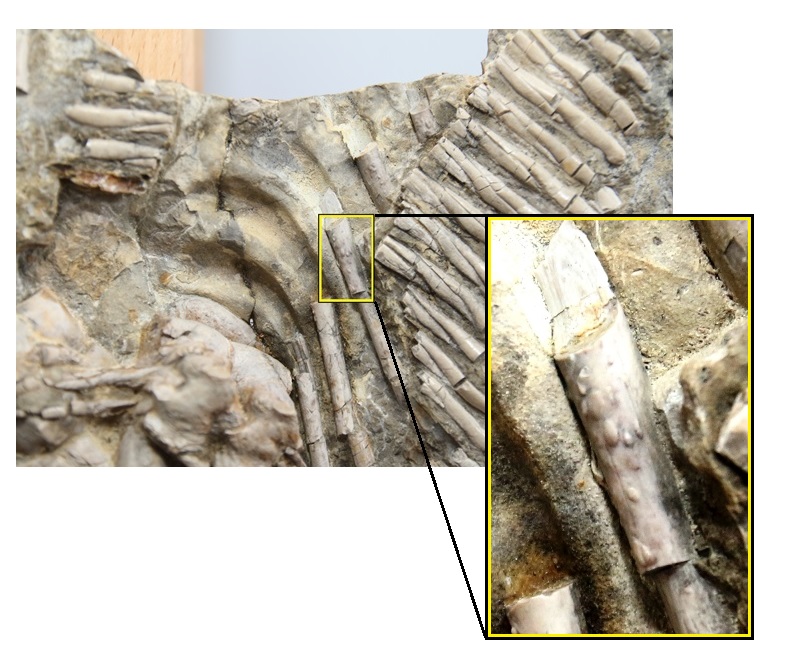 Guzkowate narośle na zachowanym fragmencie jednego z żeber prehistorycznego zwierzęcia morskiego
Fot. Sekcja Prasowa UŚ

Badany okaz został odkryty na przełomie XIX i XX wieku w Gogolinie na Opolszczyźnie. Jest to fragment szkieletu drapieżnego gada spokrewnionego ze znanymi z tego okresu notozaurami. Po raz pierwszy opisał go w 1902 roku niemiecki geolog Wilhelm Volz, przy czym naukowiec pracował na prawie w całości zachowanym materiale. Podczas II wojny światowej szkielet został uszkodzony, przetrwał jedynie fragment tylnej części ciała z kośćmi lewej łapy, żebrami, tzw. gastraliami ("żebrami brzusznymi"), częścią miednicy, licznymi kręgami i prawą kością udową – przy czym guzkowate narośle znajdują się na czterech zachowanych żebrach.
Mgr Dawid Surmik od kilku lat dokumentuje ślady schorzeń utrwalone w szkieletowych szczątkach kręgowców sprzed setek milionów lat, rozszerzając tym samym zakres znaczeniowy dziedziny paleontologii, jaką jest paleopatologia. Nauka ta dostarcza danych pozwalających zgłębiać ewolucyjną historię chorób. Jak wnioskują naukowcy, prehistoryczne gady także były narażone na różnego rodzaju infekcje. – W zeszłym roku opisaliśmy ślady infekcji stawowych u pistozaurów, nieco młodszych krewniaków notozaurów. A zatem szczątki tych prehistorycznych zwierząt morskich są niemymi świadkami jednych z najstarszych i najgroźniejszych chorób zakaźnych, które mogły mieć znaczący wpływ na przetrwanie gatunków w geologicznej przeszłości Ziemi – mówi naukowiec. Odkrycie najstarszych śladów gruźlicy jest więc kolejnym krokiem nie tylko na drodze do poznania historii organizmów patogennych i zrozumienia początków chorób zakaźnych, lecz również ich znaczenia w kontekście mniejszych i większych wymierań w geologicznej przeszłości naszej planety.
Artykuł pt. "Tuberculosis-like respiratory infection in 245-million-year-old marine reptile suggested by bone pathologies" został opublikowany na łamach czerwcowego numeru czasopisma "Royal Society Open Science" i jest dostępny pod adresem: http://rsos.royalsocietypublishing.org.
---
Napisali o tym: