| Małgorzata Kłoskowicz |
The highly urbanised area of the Metropolis GZM is a unique, extremely conducive place for modern education, research and artistic projects. This is evidenced by, among others, a large number of universities that attract young people with their attractive offers. Here, they gain knowledge and experience in order to have a real impact on shaping the future of their region. The Metropolis is also involved in these activities, argues Kazimierz Karolczak. The Chair of the board of Metropolis GZM emphasises that supporting science, innovation and development, inscribed in its DNA, will become the basis for creating a new strategy for its development, based primarily on supporting the universities located here.
Małgorzata Kłoskowicz: Metropolis GZM is one of twelve Polish metropolis which, not without a reason, are called the foundation of our economy. This means, first and foremost, excellent "capital" and the opportunities that come with it: a better quality of life, greater financial resources for development, investment attractiveness and modern infrastructure. This city "capital" also includes qualified residents who are close to the concept of a civic society. Let's try this perfect concept for our region. What Metropolis is GZM today?
Kazimierz Karolczak: Metropolis GZM is the first and so far the only institutionalised union of this type in Poland. So we blaze the trail. When we meet and talk with local government officials from other regions of Poland – Gdańsk, Poznań, Łódź, Wrocław, we see that the Metropolis, as a mechanism of cooperation between the cities actually works. If this mechanism did not work, they would not be making such determined efforts in every possible field to start using this mechanism in their regions as well.
Metropolis GZM, the centre of the Silesian Voivodeship is a highly urbanised area inhabited by over 2 million people. I would like to draw your attention to an interesting fact – the area occupied by our cities and communes constitutes less than 1% of our country. If we take into account the economic indicator, it turns out that together we produce approximately 8% of our GDP. This shows our potential for years.
Innovation and development are somehow inscribed in the DNA of our region – after all, the development of traditional industry was once the peak of vision. Today we are faced with the need to redefine our strategies in order to take advantage of what we have already achieved, and to add a whole new dimension to it. Without such actions, we will not be able to face various global challenges. It is worth mentioning, for example, the energy transformation.
M.K.: So let's look into the future. Green and clean, friendly to residents, well-connected, innovative and modern – this is what the Metropolis should be, according to the residents who took part in your survey. In order for this vision to become a reality within a dozen years, it is necessary to combine knowledge with experience and the ability to cooperate. Let's talk about these two development conditions. Let us move on to the vision of the metropolis as an important centre that strongly supports the development of science. It is here that we conduct world-class research and educate experts who will be responsible for the future of the world. What makes our Metropolis unique compared to the others in terms of educational and research opportunities?
K.K.: We don't want to be just a base where the final product is made. Our goal is to become a place where people develop innovative concepts which then become the basis for creating new quality "products". It is not possible without supporting science and constantly increasing research potential. This potential, however, is already quite large in the Metropolis GZM. In our area there are 28 universities offering their students and employees the opportunity to develop in various scientific disciplines.
Moreover, the close vicinity of many cities is an undoubted advantage of our region for potential investors who have more opportunities to profile their activities in such a way as to achieve optimal efficiency. What does it mean? Qualified specialists in many areas and the benefits of the quality of communication in the region, incl. greater choice of company headquarters locations.
Being aware of this, it was completely natural for us to focus on the development of our region through the support of universities.
M.K.: The recent period marked by the difficult experience of the pandemic has shown how important such actions are. Not only medics helped us to cope with the new reality, but also biologists, chemists, psychologists, sociologists, lawyers and mathematicians. It is then not surprising that supporting the scientific and research potential of universities operating in our Metropolis becomes the most important activity in your development strategy. Without the knowledge and commitment of scientists, our reality would look completely different today…
K.K.: I think that the coronavirus pandemic has made us very aware of how vulnerable we are without science and the progress it allows. We should develop research and development centres, engage our abilities, resources and interest.
As part of our strategy, we are creating "The Metropolis of Science" programme, which will be a source of financial and organisational tools aimed not only at the development of the academic world, but also at building the role of the Metropolis as a strong research centre. That is why two years ago we launched the Metropolitan Science Support Fund which we call the Nobel Fund. Let me remind you that thanks to the fund, universities have a chance to invite world-class scientists from universities occupying the highest positions in the world rankings to conduct classes for our students and employees. Nearly 20 projects have received funding in the amount of over 1 million PLN, 4 of which have already been completed so far. Over a thousand people have already participated in them. We still have about 7 million PLN in the budget and we are waiting impatiently for further applications which may only be limited by… imagination.
We also announced a competition for BA, Eng. and MA theses. We wanted to make the thematic scope of the works submitted to the first edition of the competition more flexible and to cover any aspects related to the development of cities. Perhaps they will become an inspiration for the future activities we organise. We will pay attention to theses connected with topics particularly close to the development of the Metropolis. These include, for example: the analysis of factors encouraging and discouraging the choice of public transport on the example of the Metropolis GZM area, open data as an element of smart city in digital public administration on the example of the metropolitan project "GZM Data Store" or water retention as an antidote to its lack – good practices in the area of GZM and development prospects.
M.K.: Activities supporting the development of science are to become the axis of the new strategy for the development of the Metropolis. We read that the document under development is to be pioneering in the country. What does it mean?
K.K.: This will be the first strategy for the development of a metropolitan union in our country, which is being developed in accordance with the amended regulations. I would like to remind you that the regulations obligated us to include the study of conditions and spatial development. We know our capability. We want to strengthen it, first of all, by the development of all 41 municipalities and cities that make up the Metropolis GZM. It is particularly important for increasing the competitiveness of our region at the national and European level. This goal can be expressed in one simple message that applies to every metropolitan area in the world: we are building a place that is comfortable and safe to live in, where you can fulfill yourself, both privately and professionally. We can achieve this goal by supporting the development of science.
M.K.: Not only research but also the transfer of knowledge is of key importance. We do not have to convince anyone that the future of the Metropolis lies in the hands of future generations. What steps are you taking to encourage young people not only to choose universities located here, but also to live, work and be involved in the development of this area?
K.K.: It can be said that this is the common goal of every, even the smallest and most simple action we undertake. I think it can be only achieved in one way – by increasing the quality and comfort of life. Generally speaking, the idea is to create a place of many possibilities by overcoming various administrative barriers. A new resident, potential investor or tourist will be attracted by a metropolis where the quality of the services offered is high; a metropolis that is modern, green, safe and tailored to the needs and expectations of people. And we have the tools and instruments thanks to which we can create such a Metropolis – together with universities.
M.K.: "The Metropolis of Science" programme is thus an example of such cooperation. I think that in this context it is worth mentioning the activities undertaken by the University of Silesia. We also care about the future of the place where we live. An interesting example is being a member of the prestigious European University Transform4Europe. Together with six other universities, we are preparing joint solutions to educate the so-called knowledge entrepreneurs – people with appropriate qualifications and knowledge and willing to engage in designing the future of their region. It is difficult to imagine the achievement of this goal without close cooperation with the Metropolis…
K.K.: It is extremely important and valuable. The experience gained as part of international cooperation may contribute to the improvement of certain processes in our region or to rationalise their implementation. It won't be revealing when I say that we all create a communicating vessel system that allows us to strengthen our global capabilities and prestige. A university with an interesting educational and scientific offer, opening up new opportunities that would be unavailable elsewhere, contributes to the growth of interest in the city and the region. I hope that thanks to this, more and more people will want to tie their future with this place and take responsibility for its future. That is why I am convinced that supporting cooperation between universities and the Metropolis, complementing each other, is so important in striving to achieve our common goals.
M.K.: I would like to mention one more good example of this cooperation. I mean the Silesian Science Festival KATOWICE. The slogan of this year's edition of the event led by the University of Silesia was "Science will bring us future". A rich programme of activities popularising knowledge and prepared primarily for the inhabitants of the region, partially took place by the Rawa river. I mean the open-air City of Science stretching over a distance of almost one and a half kilometers in the very heart of Katowice. This is another edition co-hosted by Metropolis GZM. What significance do such initiatives have for the development of the Metropolis?
K.K.: The Silesian Science Festival KATOWICE is a fantastic event that awakens creativity, curiosity and the will to discover the world among the youngest inhabitants of our Metropolis. The thought of cooperation in its organisation always arouses a lot of positive emotions in us. We are glad that sometimes, even symbolically, we can join the event in which whole families are so eager to participate. Everyone will find something for themselves. Let's not forget that the festival is also an excellent example of cooperation between our universities. We want to support it and – if I can say so – co-create a friendly research and development space for GZM cities and communes. In this way, we also want to get involved in promoting the scientific achievements of our metropolitan academic centres.
M.K.: Thank you for the interview.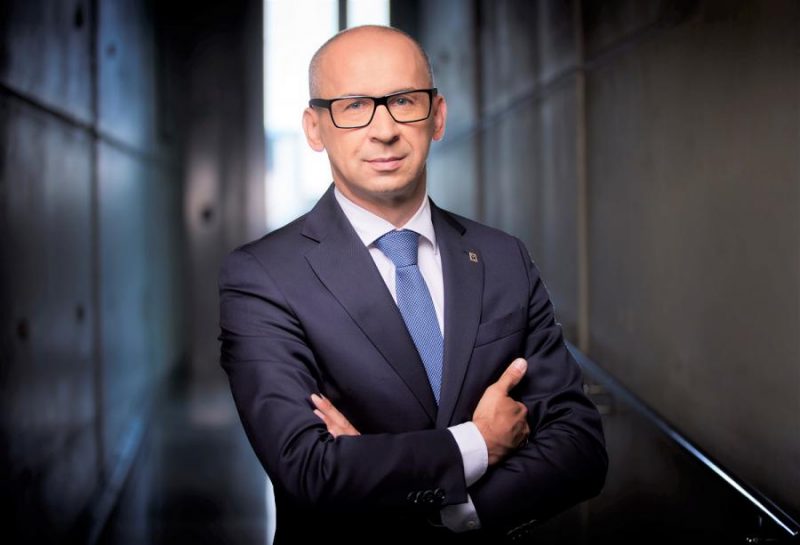 Kazimierz Karolczak, Chair of the Board of Metropolis GZM | photo: GZM press materials