Andrzej Swinarew, PhD, DSc, Associate Professor from the Faculty of Science and Technology has received the honorary badge "For Merits for Inventiveness." This prestigious award was granted by the Prime Minister of Poland, Mateusz Morawiecki, for his special merits in the field of inventiveness. The badge was handed by Robert Tomanek, under-secretary of state at the Ministry of Economic Development, Labour and Technology, and Edyta Demby-Siwek, the Chair of the Polish Patent Office.
For many years, Prof. Andrzej Swinarew has been showing his extraordinary abilities in solving technical problems in the field of materials science and biomedical engineering. The results of his works are of the high level of innovativeness which is expressed by the obtained patents. Moreover, multiple of them are used in the industry and are technologically and economically beneficial for the units using them.
The effects of Prof. Andrzej Swinarew's inventive activity are dozens of developed technological solutions, including over 70 inventions submitted to protection by the Polish Patent Office. His innovative activity includes the development of original device design, which has been approved by the registration of nine industrial designs in the European Union Intellectual Property Office (EUIPO). So far, the solutions developed by Prof. Andrzej Swinarew have seen five industrial implementations. Advanced commercialisation works are currently underway aimed at the practical use of several more protected technologies, the co-creator of which is the scientist from the University of Silesia.
Prof. Andrzej Swinarew was multiple times awarded for his scientific, educational, and organisational activities. In 2017, he was awarded the Tadeusz Sendzimir Honorary Medal by the Association of Polish Inventors and Rationalizers (SPWiR) for scientific achievements.
The ceremony of granting the badge "For Merits for Inventiveness" took place on 23 June 2021 during the 14th International Conference in the series of "Innovation and Creativity in Economy" dedicated to the topic "Business Reinforced by Design – in the COVID and post-COVID Era."
Handing the badge to Prof. Andrzej Swinarew | Photo from the archive of Prof. A. Swinarew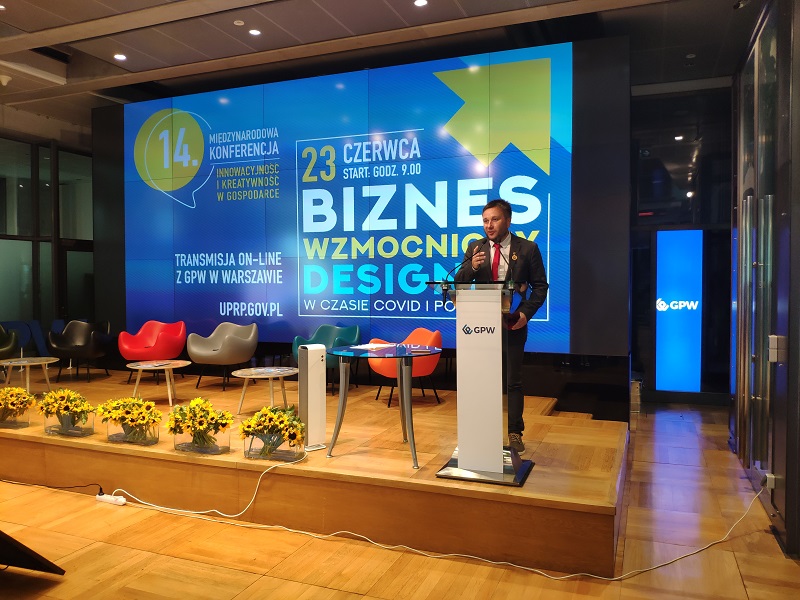 Prof. Andrzej Swinarew from the Faculty of Science and Technology | Photo from the archive of Prof. A. Swinarew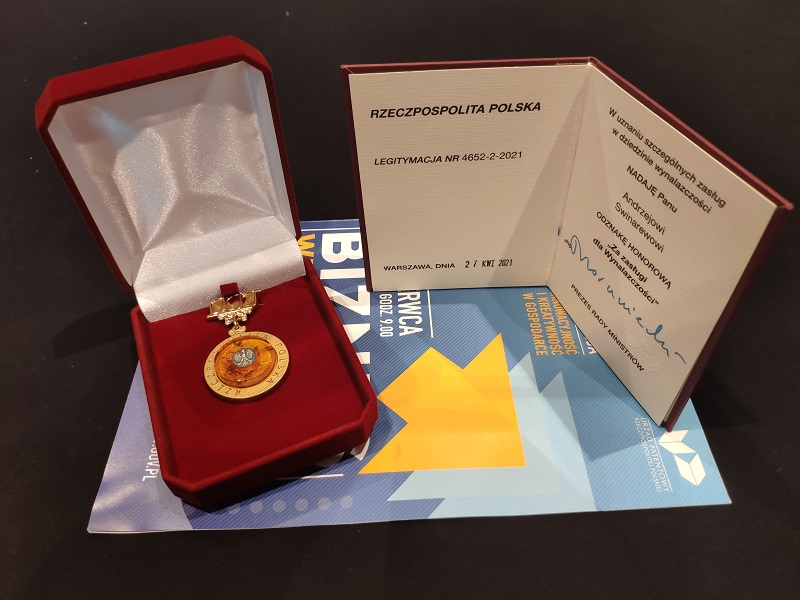 The honorary badge "For Merits for Inventiveness" | Photo by Prof. A. Swinarew