Wymiana wiedzy i doświadczeń z zakresu dydaktyki akademickiej to cel przyświecający organizowanym od 2016 roku Otwartym Spotkaniom Dydaktycznym. Do udziału w tym przedsięwzięciu zapraszani są pracownicy akademiccy, doktoranci i studenci, wiążący swoją przyszłość z edukacją. Spotkania dydaktyczne to inicjatywa realizowana przez Uniwersytet Otwarty UŚ (dawniej Centrum Kształcenia Ustawicznego).
W tegorocznej edycji przewidziano trzy rodzaje działań skierowanych do poszczególnych grup odbiorców: wykładowców Uniwersytetu Śląskiego, doktorantów oraz studentów Bloku Kształcenia Nauczycielskiego. Aktualnie dla pracowników naukowo-dydaktycznych przygotowane zostały warsztaty z zakresu doskonalenia form kształcenia. Program zajęć, które mają na celu przybliżenie modelu nauczania kompilującego nowoczesne metody dydaktyczne i narzędzia cyfrowe, opracowany został w oparciu o zgłaszane wcześniej zainteresowania. Uczestnicy mają zatem do wyboru warsztaty z ośmiu obszarów tematycznych, w tym szkolenia poświęcone zagadnieniom związanym z "odwróconą dydaktyką", neurodydaktyką w procesie uczenia się i nauczania, tutoringiem czy skutecznym uczeniem. Harmonogram spotkań dla wykładowców oraz formularze rejestracyjne dostępne są na stronie: osd.us.edu.pl/warsztaty.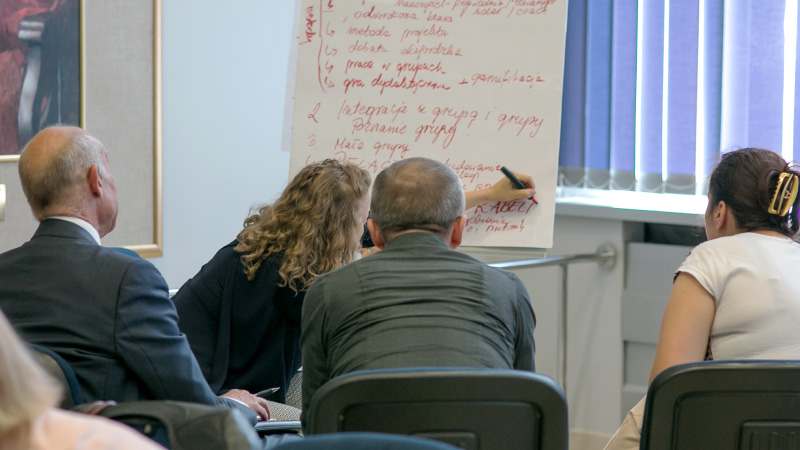 Otwarte Spotkania Dydaktyczne, uczestnicy ubiegłorocznej edycji
fot. Sekcja Prasowa UŚ
Dla doktorantów przewidziano osobny cykl warsztatów, mających na celu przede wszystkim przygotowanie młodych dydaktyków do pracy ze studentami. Podczas zajęć przybliżone zostaną sposoby organizacji pracy dydaktycznej oraz narzędzia wykorzystywane w nowoczesnej edukacji. Osoby zainteresowane udziałem w szkoleniach, proszone są o bezpośredni kontakt z biurem Uniwersytetu Otwartego.
Informacje na temat warsztatów publikowane są również na portalu Facebook: www.facebook.com/OtwarteSpotkaniaDydaktyczne oraz www.facebook.com/UniwersytetOtwartyUS.