The first Landscape Reading Station in Poland was launched at the Faculty of Natural Sciences of the University of Silesia in Sosnowiec. The official opening will take place on 21 April 2023 during the 'GeoPiknik at Żyleta'.
The station was built on the roof of Żyleta on the initiative of the Landscape Research Team, led by Urszula Myga-Piątek, PhD, DSc, Associate Professor. The investment was funded by the POWER II project by OPTOKOM Outdoor Media. Employees of the Landscape Research Team (Anna Żemła-Siesicka, PhD Eng., Katarzyna Pukowiec-Kurda, PhD, Michał Sobala, PhD, Jerzy Nita, PhD, DSc) developed the substantive and graphic concept of the Station. Panoramic boards describe the structure and physiognomy of the landscape visible from the roof of the Faculty building. Coloured glass panes were also installed, on which various methods of observation and interpretation of the landscape were presented.
The Station also has a laboratory part. Room 1414 houses a specialised landscape analysis studio, intended for people studying geography with a specialisation in monitoring landscape changes, but also serving a wide range of students who improve their competences in modern cartography and Geographic Information Systems (GIS) in degree programmes offered at the Faculty of Natural Sciences of the University of Silesia. Ultimately, the station will be equipped with spherical cameras, thanks to which it will be possible to transmit the image online in the entire visibility band. Supplemented with an appropriate verbal commentary, it can be used by the inhabitants of the region, including people with special educational needs.
The Landscape Research Team, which deals with landscape analysis on a daily basis, plans to develop investments and create the first Landscape Observatory in Poland, as well as to include the Sosnowiec Station in the European Network of Observatories, which are already successfully operating in Western European countries. Their operation scientifically and didactically supports the processes of harmonious shaping of space.
Zagłębie Dąbrowskie and Upper Silesia are regions that are currently undergoing a dynamic spatial transformation. Our region needs well-educated researchers specialising in multi-faceted landscape analyses (e.g. structure, functions, physiognomy). When designing the investment, employees of the Landscape Research Team used the architectural values ​​of the Faculty building (nearly 100 m relative height and excellent view openings to the four sides of the world) to create a unique didactic product of the University of Silesia and strengthen its modern potential. The Landscape Reading Station is also an expression of the social responsibility of science. The facility can become a showcase of our University and a tourist attraction. From the roof of Żyleta, you can clearly see how green the Metropolis GZM is.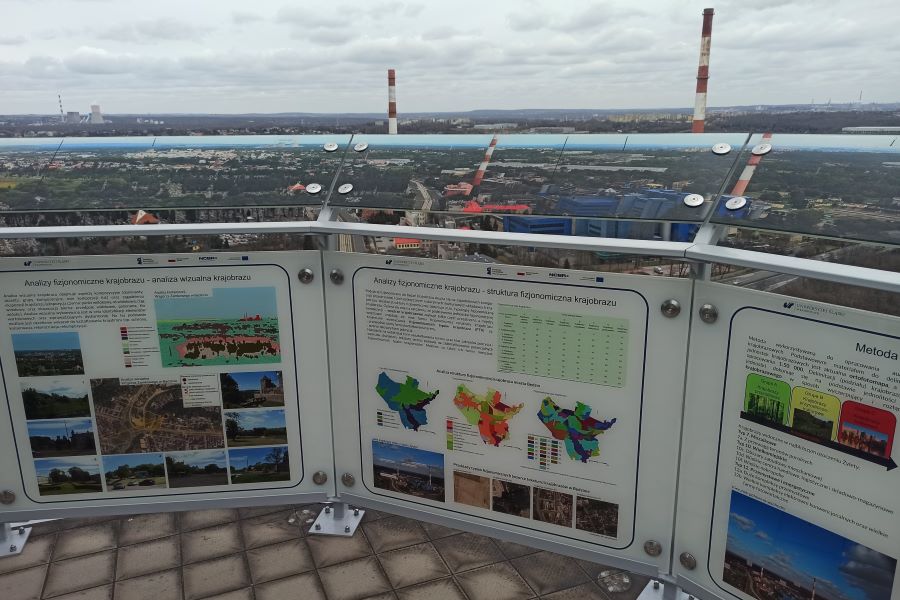 Panoramic boards describing the landscape | Photo by Prof. Urszula Myga-Piątek