Od 10 do 12 maja 2017 roku w Marrakeszu odbywało się 17. Walne Zgromadzenie Agence universitaire de la Francophonie (Agencji Uniwersyteckiej ds. Frankofonii, AUF), w którym ze strony Uniwersytetu Śląskiego uczestniczył JM Rektor prof. dr hab. Andrzej Kowalczyk. Program wydarzenia obejmował przyjęcie sprawozdań okresowych rady oraz zarządu stowarzyszenia, dyskusję na temat jakości kształcenia, polityki zatrudnieniowej, prezentację trzech flagowych projektów realizowanych przez stowarzyszenie, a także przyjęcie czteroletniej strategii AUF i wybory nowych władz.
Nowo wybranym prezydentem AUF został prof. Sorin Cîmpeanu – rektor University of Agronomic Sciences and Veterinary Medicine (Bukareszt), były minister edukacji i badań naukowych w rumuńskim rządzie, pełniący obecnie funkcję przewodniczącego Krajowej Rady Rektorów w Rumunii. Jest także aktywnym członkiem Academy of Agricultural and Forestry Sciences "Gheorghe Ionescu-Şişeşti". Zgodnie ze statutem AUF funkcję prezydenta stowarzyszenia sprawować będzie przez okres czterech lat.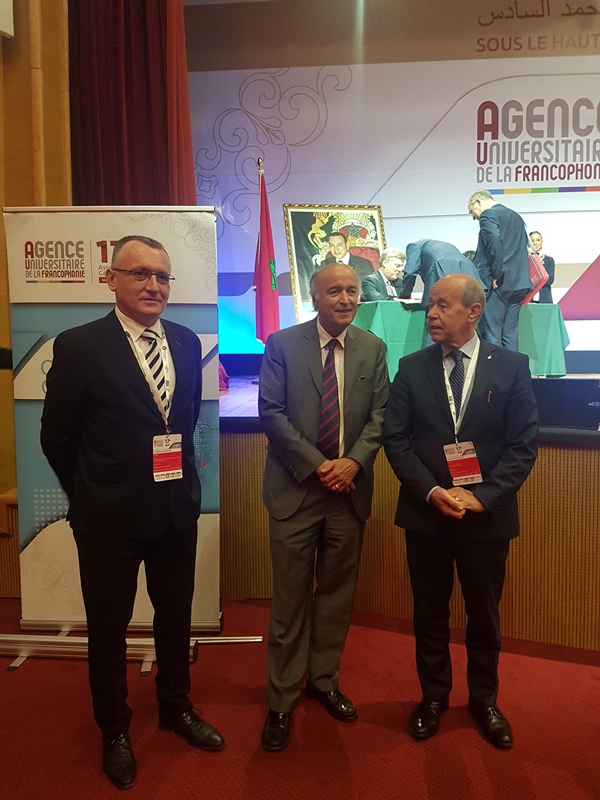 Od lewej: nowo wybrany prezydent AUF Sorin Cîmpeanu,
rektor AUF Jean-Paul de Gaudemar, rektor Uniwersytetu Śląskiego prof. Andrzej Kowalczyk
(fot. materiały uczestników)
Agence universitaire de la Francophonie jest założonym w 1961 roku w Montrealu stowarzyszeniem zrzeszającym prawie 800 instytucji edukacyjnych i badawczych ze 100 krajów, w tym 59 członków lub obserwatorów International Orienteering Federation (IOF). Celem AUF jest wspieranie badań i szkoleń w języku francuskim poprzez promowanie i tworzenie francuskojęzycznych sieci (np. zapewnianie studentom, nauczycielom i naukowcom programów mobilnościowych dzięki przyznawanym stypendiom).
Z inicjatywy organizacji na Uniwersytecie Śląskim powstało Akademickie Centrum Sukcesu (AkCeS), które jest placówką działającą w ramach Wydziału Nauk Społecznych. Centrum stanowi część europejskiej sieci Centre de réussite universitaire (CRU) liczącej 26 placówek znajdujących się w Europie Środkowej i Wschodniej. Powstanie polskiego oddziału w Katowicach jest efektem umowy podpisanej w 2014 roku przez rektora Uniwersytetu Śląskiego i dyrektora Biura Regionalnego Agencji Uniwersyteckiej ds. Frankofonii.
Akademickie Centrum Sukcesu powołane zostało z myślą o osobach, które chcą poszerzać wiedzę i podnieść kwalifikacje, a swoją przyszłość zawodową wiążą z karierą akademicką, karierą w administracji na szczeblu europejskim oraz w biznesie.