The virtual Polar Night Week event featured the promotion of the third edition of the annual State of Environmental Science in Svalbard (SESS) report series, published by the Svalbard Integrated Arctic Earth Observing System (SIOS).
The SESS report summarizes the current state of knowledge about the key parameters of the Arctic environment and their relationship. It has been recognized as a reliable source of information on the state of the environment in Svalbard (the Arctic). In addition, it provides an important platform of knowledge needed for sustainable development and protection of the Arctic environment.
The report was prepared by international and multidisciplinary teams led by scientists from SIOS member institutions. This year, employees of the University of Silesia also contributed – Elżbieta Łepkowska, PhD Eng., from the Centre for Polar Studies and Michał Laska, PhD, from the Institute of Earth Sciences.
Elżbieta Łepkowska, PhD Eng., is a co-author of the paper "From land to fjords: The review of Svalbard hydrology from 1970 to 2019 (SvalHydro)," which focuses on the Svalbard's hydrology from 1970 to 2019. Climate change has caused Svalbard to warm two to six times faster than the rest of the world. Scientists expect further increases in temperature (by 4-7 degrees Celsius) and precipitation (by 45-65%), as well as more frequent floods. One of the researchers' recommendations is long-term hydrological monitoring to better understand the consequences of warming of the Svalbard's climate.
The article "Scientific Applications of Unmanned Vehicles in Svalbard (UAV Svalbard)," co-authored by Michał Laska, PhD, focuses instead on the use of unmanned vehicles on Svalbard. Unmanned vehicles, navigating in the air, on water, and underwater, are important tools in the research of the Arctic. Aircrafts are especially helpful because of the region's lack of high vegetation and large settlements, making the Arctic an ideal location for aerial observations. Unmanned aerial vehicles (UAVs) can access glaciers and other difficult areas. In addition, they are less expensive and have less environmental impact than manned flights.
The entire SESS report can be viewed at: https://sios-svalbard.org/SESS_Issue3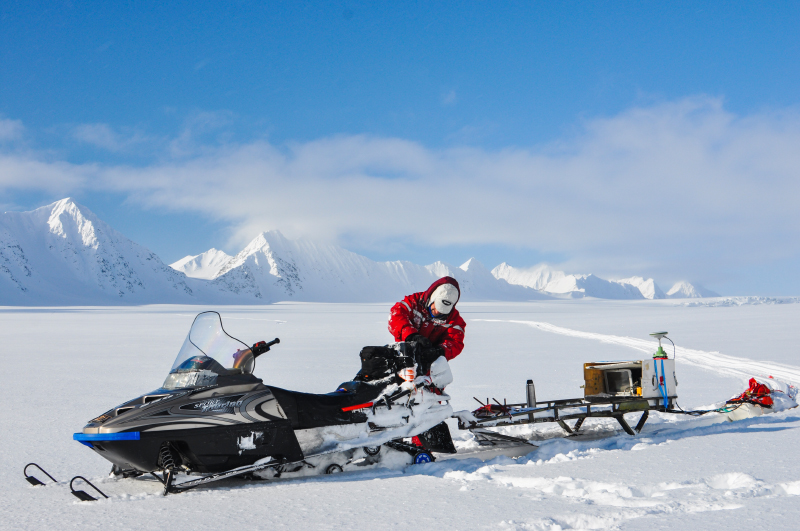 Scientist transporting research equipment on a sledge. Photo by the Centre for Polar Studies.