Admission for studies has started on 1 June 2021. You can register in the Online Application System (IRK) at: https://irk.us.edu.pl.
Online Application System
Registration in the IRK system includes:
and admission to two doctoral schools, which will start at the turn of June and July 2021:
We encourage all applicants to read the information on programmes available in the IRK system, including the details on admission criteria and limits, registration deadlines, and potential fees.
Invitation to the University of Silesia
Prof. Ryszard Koziołek, Rector of the University of Silesia, and Katarzyna Trynda, PhD, DLitt, Associate Professor, Vice-Rector for Education and Students invite you to take part in this year's admission process and to find out more about the University of Silesia and the opportunities it provides.
Sources of information
All forms of education offered by the University of Silesia are listed at: www.us.edu.pl/rekrutacja. Join our Facebook group – Rekrutacja UŚ, where you can get answers to questions about the admission process and studies.
Candidates with special needs can count on support from the Student Service Centre.
Polish language course for foreigners planning to study in the Polish language
All degree programmes conducted in Polish are open for foreigners who know Polish, and those who are just developing their language skills can start with a one-year course preparing for studies in Polish. Courses are conducted by the employees of the School of Polish Language and Culture.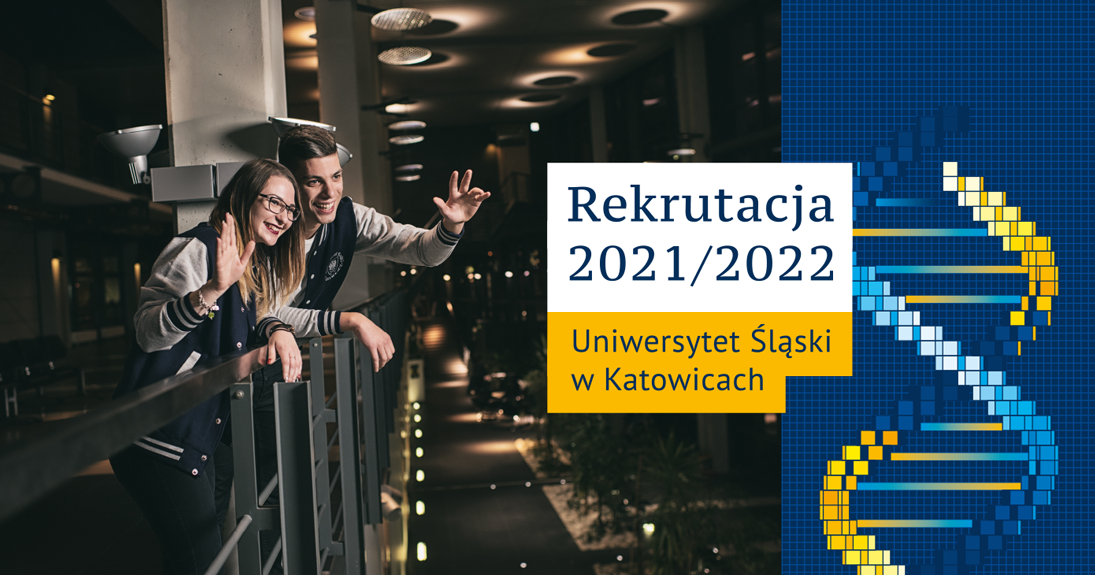 Artwork promoting the 2021/2022 admission
Programmes conducted in English
We also encourage you to apply for studies conducted in English: https://us.edu.pl/kandydat/en/studia-angielski/.
Faculty of Science and Technology
Faculty of Natural Sciences
Faculty of Humanities
Krzysztof Kieślowski Film School
Faculty of Law and Administration
Faculty of Arts and Educational Science