Ananda Devi Anenden
Award date: 22 June 2022
UŚ Senate resolution date: resolution No. 485/2020 of 28 January 2020
Applying unit: Council of the UŚ Department of Philology (currently: Faculty of Humanities)
Supervisor: Prof. Krzysztof Jarosz, reviewers: Prof. Françoise Lionnet, Prof. Julia Waters, Prof. Rajcoomaree Kumari Issur, Prof. Ryszard Koziołek
Ananda Devi Ananden – one of the most outstanding contemporary French writers, author of several novels, collections of short stories and poetry. Her works, emerging from Creole and Indian originated Mauritius are a synthesis of Eastern and Western culture that stands up for the oppressed and excluded. Her works, translated into many languages, are the subject of many scientific research projects and are well known in many countries, and for five years also in Poland. She was honoured with the Chevalier des Arts et des Lettres order by the French government and is a laureate of nine literary awards.
Video material from the ceremony
Accompanying events
The ceremony of awarding the honorary doctorate degree to Ananda Devi Anenden was preceded by several accompanying events: scientific seminar, discussion panel and meet-the-author session.
Reportage on Ananda Devi – video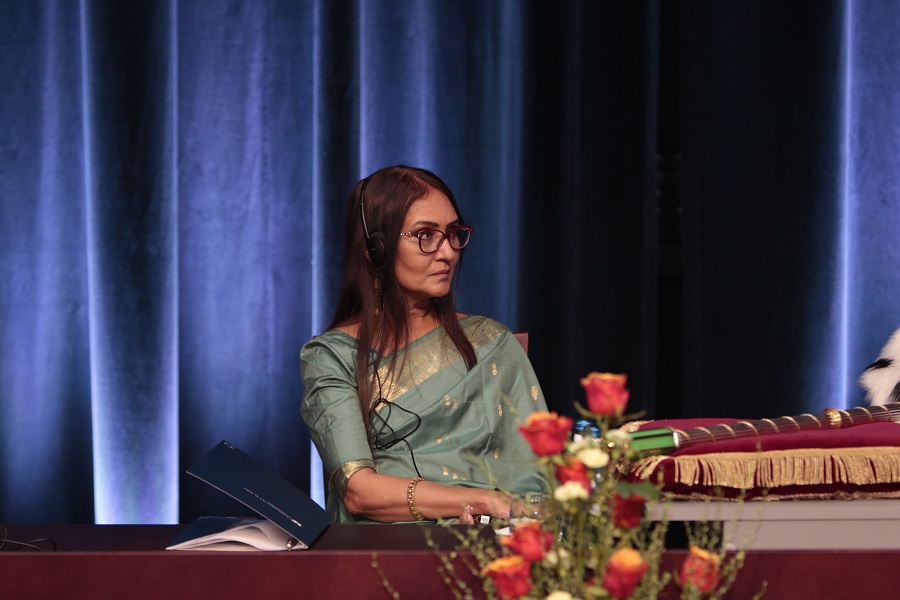 Ananda Devi Anenden during the ceremony of awarding the honorary doctorate degree | Photo by Olimpia Orządała