W niedzielę 31 marca 2019 roku w hali sportowej "Kolejarz" w Katowicach odbywać się będą VI Otwarte Akademickie Mistrzostwa Śląska w aerobiku sportowym oraz mistrzostwa dzieci i młodzieży, których organizatorem jest Uniwersytet Śląski w Katowicach.
Aerobik sportowy to połączenie gimnastyki, akrobatyki sportowej i tańca. Zawody zostaną rozegrane zgodnie z regulaminem Międzynarodowej Federacji FISAF i zmianami regulaminu technicznego AMP. Celem zawodów jest popularyzacja tej dyscypliny.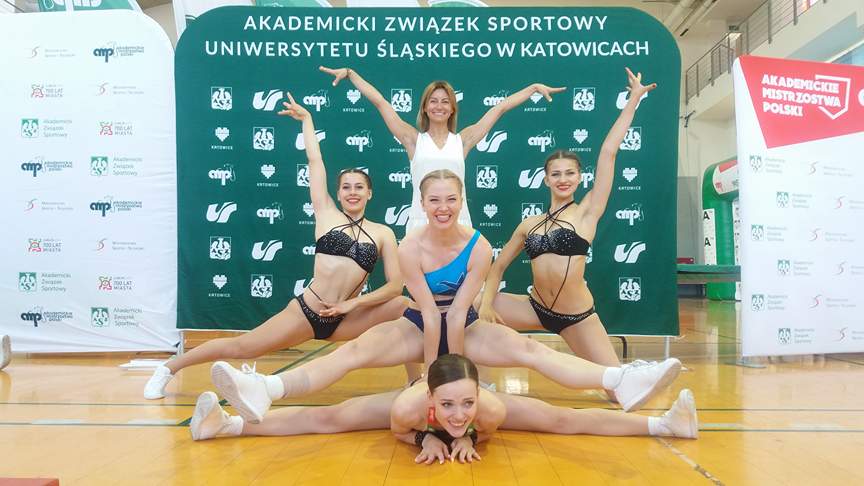 Zdjęcie z ubiegłorocznych zawodów. Mat. fot. Katarzyna Ostrowska
W aerobiku sportowym zawodnicy występują w następujących konkurencjach: solistki, soliści, pary, trójki i formacje wieloosobowe "teamy". Aerobik team to nowa dyscyplina wchodząca w skład aerobiku sportowego. W tym roku akademickim po raz pierwszy będzie odbywała się rywalizacja sportowa w tej konkurencji. W skład zespołu wchodzi od 5 do 7 zawodniczek/zawodników. Układ prezentowany przez zespół charakteryzuje brak elementów obowiązkowych gimnastyczno-akrobatycznych oraz siłowych, jest zbudowany z podstawowych kroków aerobikowych. Ocenie podlega wydolność zawodnika, trudność choreografii, koordynacja pracy ramion i nóg, jakość wykonanych ruchów, synchronizacja w zespole.
Harmonogram wydarzenia:
godz. 9.00–9.30 – weryfikacja dzieci
godz. 9.30–10.00 – rozgrzewka dzieci
godz. 10.00–10.50 – trening oficjalny mini, kadet, junior
godz. 10.00–10.30 – weryfikacja seniorzy
godz. 10.50–11.20 – rozgrzewka seniorzy
godz. 11.30–12.30 – trening oficjalny seniorzy
godz. 13.00 – otwarcie zawodów
godz. 13.30–14.30 – finały dzieci
godz. 14.45 – dekoracja dzieci
godz. 15.15–17.00 – finał seniorów
godz. 17.15 – zakończenie zawodów, dekoracja zwycięzców.