Od 31 marca do 7 kwietnia 2019 roku studentki z Wydziału Prawa i Administracji Uniwersytetu Śląskiego – Agata Zwolankiewicz oraz Olga Marcinkowska uczestniczyły w prestiżowym konkursie arbitrażu handlowego "The Willem C Vis (East) International Commercial Arbitration Moot" w Hong Kongu. W tegorocznej edycji wzięło udział 137 drużyn z całego świata. Tematyka dotyczyła międzynarodowego arbitrażu gospodarczego i handlowego oraz prawa handlowego, ze szczególnym uwzględnieniem Konwencji Wiedeńskiej o Umowach Międzynarodowej Sprzedaży Towarów z 1980 roku. Drużyna "Vis Moot Team Silesia", przygotowana przez dr Małgorzatę Pohl-Michałek z Katedry Prawa Cywilnego i Prawa Prywatnego Międzynarodowego UŚ, była jedyną polską reprezentacją i pierwszą w szesnastoletniej historii konkursu.
Zespół z Uniwersytetu Śląskiego awansował do rund finałowych i, pokonując 105 drużyn z całego świata, znalazł się w gronie 32 najlepszych reprezentacji uczelni. W kategorii indywidualnej Agata Zwolankiewicz otrzymała wyróżnienie "Honourable Mention for Best Oral Advocate".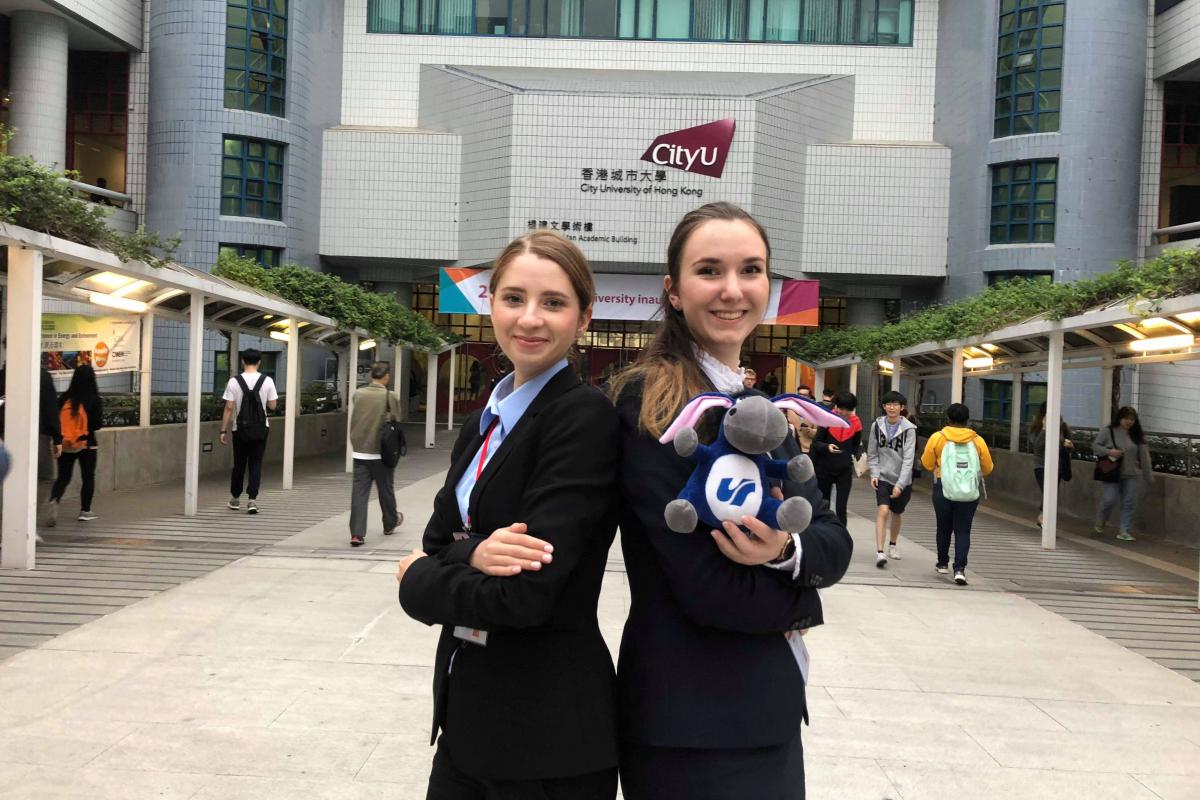 Olga Marcinkowska i Agata Zwolankiewicz
Wyjazd reprezentacji "Team Silesia" WPiA UŚ był realizowany w ramach grantu Ministerstwa Nauki i Szkolnictwa Wyższego – "Najlepsi z najlepszych 3.0" przyznanego na realizację programu "Team Silesia East – podnoszenie wiedzy oraz kompetencji z zakresu międzynarodowego arbitrażu handlowego przez zespół studentów WPiA UŚ poprzez udział w międzynarodowych konkursach i turniejach".
Drużyna "Vis Moot Team Silesia" brała udział również w 4. konkursach przygotowawczych, tzw. pre-mootach w Brnie, Słowenii, Londynie oraz Berlinie i zajęła I miejsce na międzynarodowym konkursie "V Brno Pre-Moot" w kategorii dla najlepszej drużyny ("Best Team"). W klasyfikacji najlepszych mówców ("Best Oralist") I miejsce przypadło Agacie Zwolankiewicz. Szczegółowe informacje: www.wpia.us.edu.pl.
"Vis Moot Team Silesia" znalazł się również w gronie finalistów międzynarodowego konkursu "The 4th Fox Williams Pre-Moot in association with Charted Institute of Arbitrators" w Londynie, gdzie rywalizował z Uniwersytetem im. M. Łomonosowa w Moskwie, Uniwersytetem Berneńskim w Szwajcarii oraz Uniwersytetem w Cambridge. Szczegółowe informacje: www.wpia.us.edu.pl.
Zdjęcia z konkursu arbitrażu handlowego "The Willem C Vis (East) International Commercial Arbitration Moot" w Hong Kongu: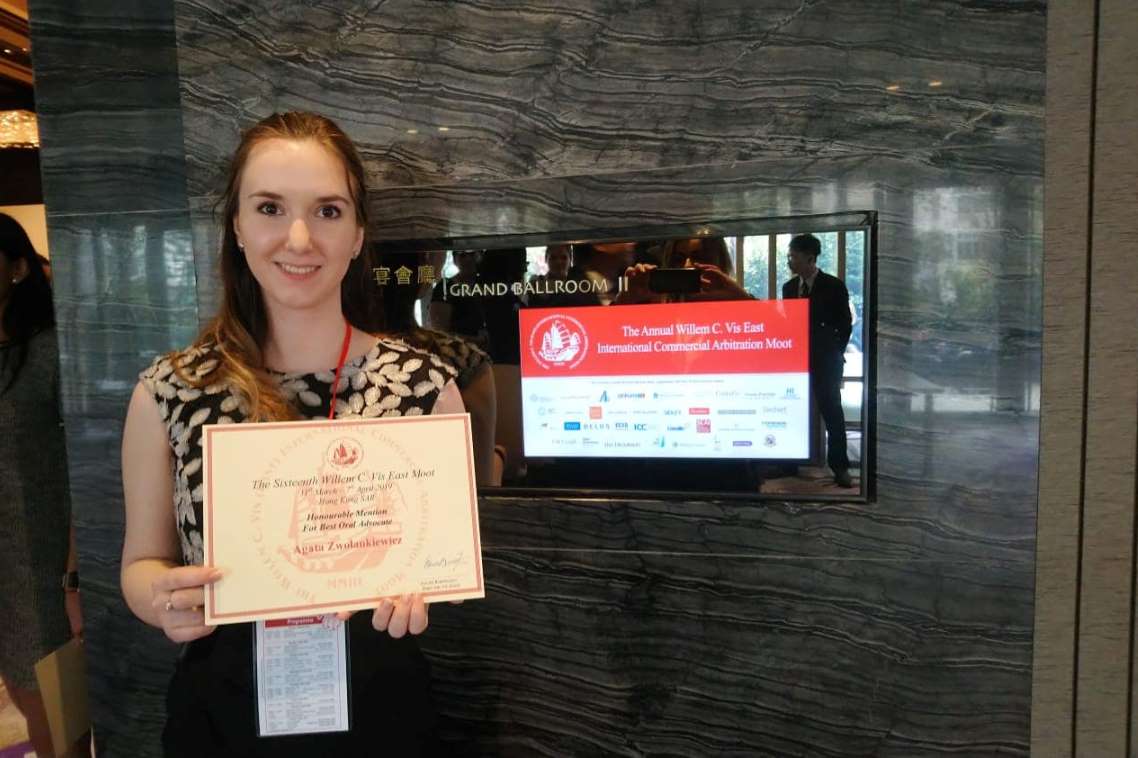 Agata Zwolankiewicz otrzymała wyróżnienie
"Honourable Mention for Best Oral Advocate"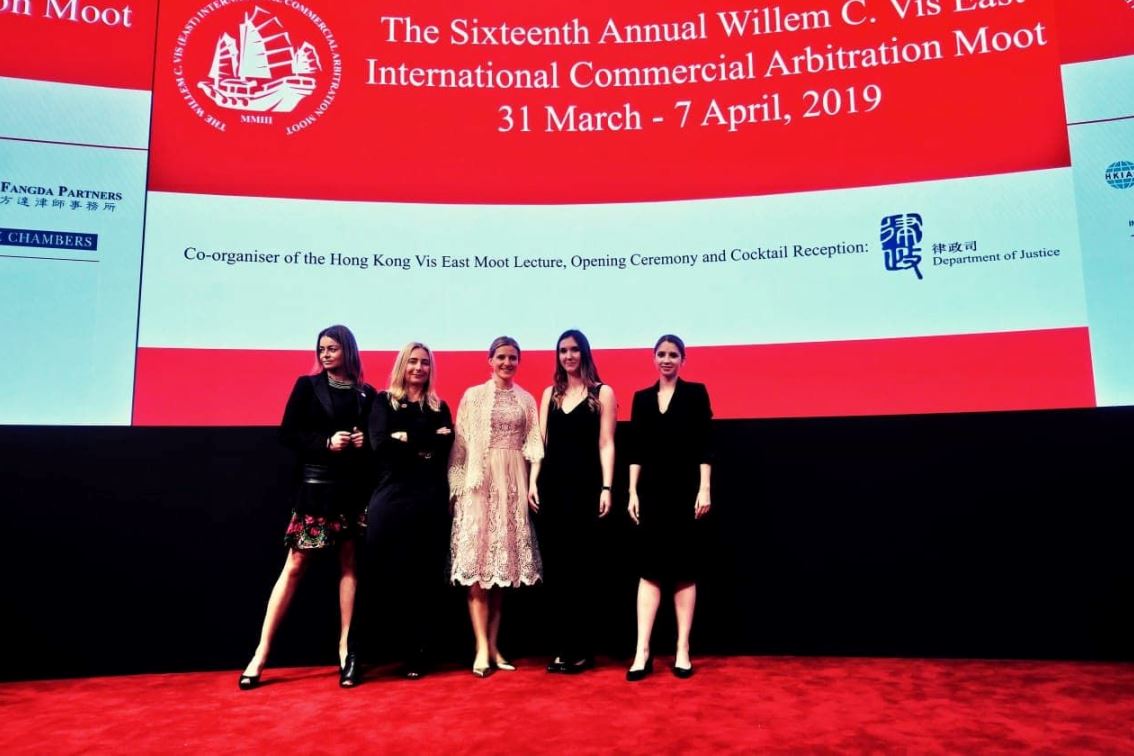 Od lewej: Magdalena Stryja, prof dr hab.Ewa Rott-Pietrzyk,
dr Małgorzata Pohl-Michałek, Agata Zwolankiewicz, Olga Marcinkowska