5 listopada 2017 roku w Katowicach na kilkanaście minut przed rozpoczęciem gali przyznania nagród Ambasadorów Polszczyzny zmarł Profesor Walery Pisarek – wybitny uczony, wielki językoznawca, wieloletni kierownik krakowskiego Ośrodka Badań Prasoznawczych, przewodniczący, a potem honorowy przewodniczący Rady Języka Polskiego, autor wielu artykułów, książek, twórca słowników. Z Uniwersytetem Śląskim łączyło go mnóstwo działań. W 1965 roku rozpoczął zajęcia dydaktyczne na Wydziale Filologiczno-Historycznym Wyższej Szkoły Pedagogicznej w Katowicach (która wraz z Filią UJ dała początek Uniwersytetowi Śląskiemu). W Katowicach Walery Pisarek uzyskał stopień naukowy doktora. Profesor przyjeżdżał do Katowic jako juror Ogólnopolskiego Dyktanda oraz jako członek kapituły Ambasadora Polszczyzny, otwierał wraz z Krystyną Bochenek pierwszą wielką śląską konferencję w sali Sejmu Śląskiego zatytułowaną "Śląsko godka – jeszcze gwara czy jednak już język". 7 grudnia 2011 roku Uniwersytet Śląski nadał Profesorowi Waleremu Pisarkowi swą najwyższą godność, jaką jest tytuł doktora honoris causa.
Profesor Walery Pisarek wielokrotnie oddawał hołd śląskiej ziemi, z którą czuł się blisko związany. W swoim wykładzie na uroczystości nadania tytułu doktora honoris causa mówił: "Trzecia melodia polszczyzny pojawiła się w moim życiu w połowie lat sześćdziesiątych. Mam ją w uszach równie wyraźnie, jak dwie poprzednie. I widzę ją też plastycznie, jak tancerza, który zmierza z partnerką w jakimś kierunku, ale się nagle rozmyślił i zawrócił, zły na siebie i niepewny swego. O, z tej złości i niepewności melodia się wznosi. Jakby chciał się upewnić, zanim zrobi krok następny, że mo recht, niy? W mojej śląskiej polszczyźnie dominuje tonacja pytająca. Może to nie tyle wyraz niepewności, ile swego rodzaju permanentnego domagania się akceptacji. A ja pewnie także może z wdzięczności za całe dobro, które ze Śląska na mnie spłynęło, ochoczo i serdecznie akceptuję słodką Karolinkę z Gogolina i żywiołową Karin, smak krupnioków i metki, rubaszny humor i zaczarowaną muzykę Kilara, podziwiam młodą a dojrzałą śląską humanistykę i medycynę, podziwiam śląski upór, trwanie, a nade wszystko serdeczny stosunek do języka, tzn. mówiąc patetycznie, do mowy ojców".
Panie Profesorze, dziękujemy za ten ciepły, serdeczny, pełen aprobaty i szacunku dla Śląska i dla nas głos. Pana Profesora odejście to niepowetowana strata dla wszystkich, dla nas w Uniwersytecie Śląskim to strata szczególna. Pozostanie Pan Profesor na zawsze w naszych sercach i umysłach.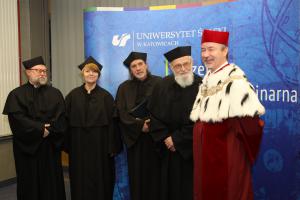 Fot. "Gazeta Uniwersytecka UŚ"