18 czerwca 2019 roku w Pałacu Młodzieży w Katowicach odbyła się konferencja podsumowująca pierwszą edycję programu "Uniwersytet Najlepszych", podczas której uczestnicy przedsięwzięcia zaprezentowali efekty całorocznej pracy pod opieką tutorów. W spotkaniu udział wzięli opiekunowie naukowi, a także rodzina i przyjaciele uczestników oraz koledzy z klas wraz z nauczycielami.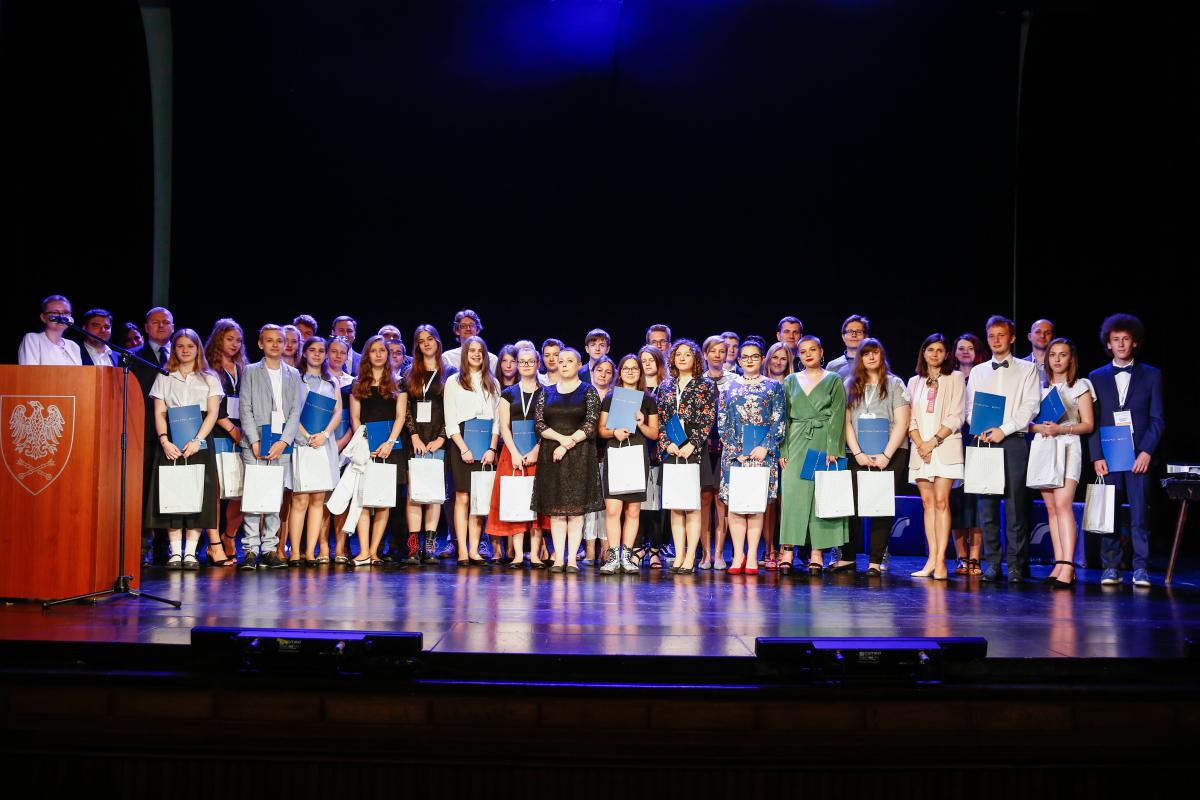 fot. Tomasz Kawka
"Uniwersytet Najlepszych" to pierwszy tego typu program w województwie śląskim mający na celu rozwijanie pasji najzdolniejszych uczniów szkół podstawowych i ponadpodstawowych, laureatów oraz finalistów olimpiad i konkursów przedmiotowych, którzy są zainteresowani rozwojem naukowym. – To unikatowa inicjatywa, realizowana w porozumieniu z miastem. Pomyśleliśmy, że trzeba zbudować ofertę programową dla najlepszych, wybitnych, wyróżniających się uczniów; także tych, którzy mogą szukać dróg swojego rozwoju w całej Polsce, a nawet na świecie. Chcemy sprawić, aby podczas namysłu nad swoją przyszłością edukacyjną, pomyśleli o Śląsku jako o miejscu, gdzie mogliby kształcić się, mieszkać i pracować – mówi o programie prorektor ds. kształcenia i studentów Uniwersytetu Śląskiego prof. dr hab. Ryszard Koziołek.
fot. Tomasz Kawka
Indywidualna edukacja oparta na tutoringu rozwija m.in. aktywność poznawczą i kreatywność uczestników programu. Tutor pomaga uczniowi znaleźć odpowiednią ścieżkę rozwoju i dostosować ją do zainteresowań ucznia, a także wspiera go w odkryciu i rozwinięciu talentów w danym obszarze nauki.
Pierwsza edycja programu cieszyła się dużym zainteresowaniem wśród uczniów katowickich szkół – zgłoszonych zostało ponad 60 kandydatów, spośród których komisja wybrała 30 osób mogących podjąć pracę pod opieką pracowników naukowych.

Aktualizacja: 25.06.2019