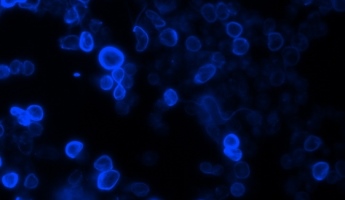 Patenty Uniwersytetu Śląskiego
Naukowcy z Uniwersytetu Śląskiego i Politechniki Śląskiej opracowali nowe związki organiczne z grupy kwasów chinolinowych, które znajdą zastosowanie w wytwarzaniu leków przeciwnowotworowych. Decyzją Urzędu Patentowego RP wynalazek oraz sposób jego otrzymywania zostały objęte ochroną patentową.
Badania prowadzone w warunkach in vitro – na materiale komórkowym wyizolowanym ze zmienionych chorobowo oraz zdrowych ludzkich tkanek – wykazały, że pewne pochodne kwasów chinaldynokarboksylowych wykazują aktywność przeciwnowotworową, nie uszkadzając jednocześnie zdrowych komórek. Połączenie tych układów z jednostkami cukrowymi przyczyniło się do poprawienia biozgodności i parametrów farmakokinetycznych nowych związków, a także ich aktywności. Efektem owego połączenia są objęte ochroną patentową glikokoniugaty kwasów chinolinowych.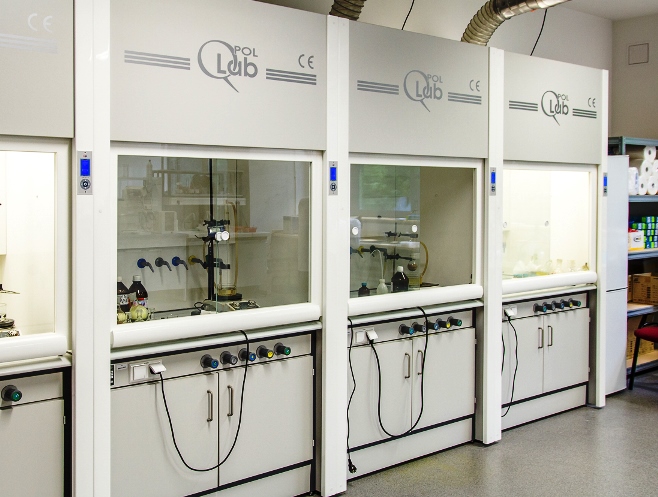 Pracownia badawcza Zakładu Chemii Organicznej UŚ w Centrum Nauk Stosowanych w Chorzowie
Fot. dr hab. Robert Musioł
Zespół naukowców z Uniwersytetu Śląskiego badał pod kierunkiem dr. hab. Roberta Musioła pochodne chinoliny. Są to ksenobiotyki, co oznacza, że nie występują naturalnie w ludzkim organizmie oraz nie są przez niego produkowane. W związku z tym konieczne okazało się poszukiwanie rozwiązań, dzięki którym otrzymane substancje można będzie wprowadzić do organizmu człowieka w taki sposób, aby nie zostały przez ten organizm odrzucone. Naukowcy nawiązali współpracę z dr inż. Gabrielą Pastuch-Gawołek z Politechniki Śląskiej, która zajmuje się badaniem pochodnych cukrowych. – Węglowodany podlegają procesom metabolicznym w organizmie człowieka, dlatego zdecydowaliśmy się na połączenie otrzymanych przez nas związków właśnie z jednostkami cukrowymi. Dzięki temu poprawiona została biozgodność nowej substancji – mówi dr hab. Robert Musioł z Zakładu Chemii Organicznej UŚ. Ksenobiotyk połączony z pochodną cukrową i wprowadzony do organizmu pacjenta np. w postaci tabletki pozostaje przez ten organizm "niezauważony" i dzięki temu może dotrzeć do miejsca zmienionego chorobowo.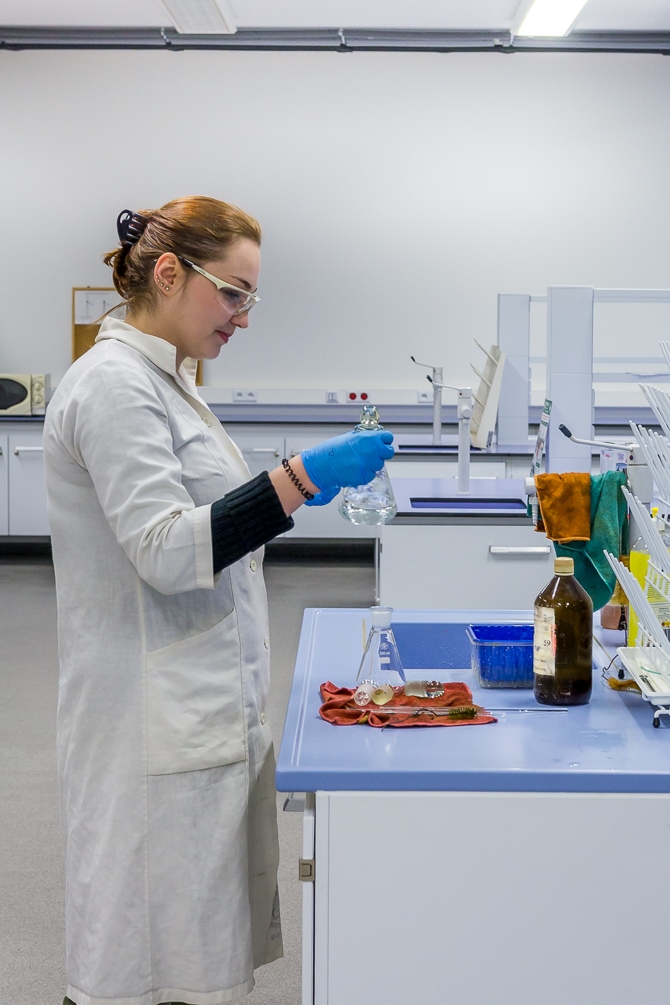 Studentka przeprowadza syntezę związków organicznych
Fot. dr hab. Robert Musioł
Otrzymane w wyniku połączenia owych związków organicznych glikokoniugaty kwasów chinolinowych cechuje również wyższa aktywność przeciwnowotworowa niż w przypadku innych badanych przez zespół substancji, a także lepsze parametry farmakokinetyczne. Wyniki badań stanowią zatem podstawę do planowania dalszych, pogłębionych analiz w środowisku in vivo. Jest to kolejny etap poprzedzający potencjalne wprowadzenie owych związków na rynek farmaceutyczny.
Glikokoniugaty kwasów chinolinowych były testowane głównie na komórkach nowotworowych znajdujących się w jelicie grubym. Występujące tam specjalne struktury białkowe, które wchłaniają glukozę z masy pokarmowej, stanowią zdaniem naukowców doskonałą przestrzeń dla związków, w których składzie występują jednostki cukrowe. Zostaną one wchłonięte przez organizm, natomiast "uwolnione" pochodne kwasów chinaldynokarboksylowych rozpoczną proces niszczenia komórek nowotworowych.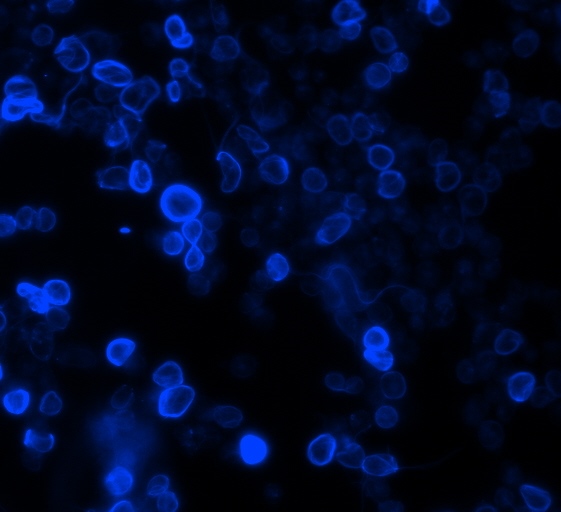 Komórki nowotworu jelita grubego poddane działaniu pochodnych chinoliny, zdjęcie wykonane przy użyciu mikroskopu fluorescencyjnego
Fot. dr Anna Mrozek-Wilczkiewicz
Naukowcy w najbliższym czasie planują również badania większej liczby związków tego typu pod kątem zwiększenia aktywności przeciwnowotworowej, usprawnienia sposobu ich otrzymywania oraz poprawienia parametrów farmakokinetycznych.
Twórcami wynalazku są: dr inż. Gabriela Pastuch-Gawołek z Wydziału Chemicznego Politechniki Śląskiej, a także naukowcy związani z Uniwersytetem Śląskim – z Zakładu Chemii Organicznej: dr inż. Maciej Serda, dr Wioleta Cieślik, dr hab. Robert Musioł i prof. zw. dr hab. inż. Jarosław Polański oraz z Zakładu Fizyki Ciała Stałego dr Anna Mrozek-Wilczkiewicz i prof. zw. dr hab. Alicja Ratuszna.