IMMOBILISED BACTERIA TO AID IN SEWAGE TREATMENT
---
Patents of the University of Silesia
This article is part of a series presenting the results of research by scientists associated with our University, who are co-authors of over 600 inventions, utility and industrial models, and trademarks.
There are many types of pollutants that enter the environment and can be harmful to organisms. They include, among others, pharmaceutical substances from the group of non-steroidal anti-inflammatory drugs (NSAIDs). For example, aspirin and diclofenac are found in many over-the-counter antipyretic and analgesic drugs under the following trade names: APAP, Gripex or Ibuprom. Not fully metabolised by the human body, they are excreted in an almost unchanged form, in which they go to sewage treatment plants. The situation is often not improved by improper disposal of expired drugs, thrown into the rubbish or flushed in toilets. Technologies used in biological treatment plants are also a problem. These often turn out to be insufficient in the process of removing NSAID substances from wastewater. As a consequence, we unconsciously ingest trace amounts of these compounds, for example when drinking the water supplied to our homes by the waterworks. There are also many indications that during the pandemic, the amount of these substances in wastewater may have increased even more due to the flu-like nature of the COVID-19 course.
Biologists from the University of Silesia, working as part of the team of Danuta Wojcieszyńska, PhD, DSc, Associate Professor, have been designing and testing various solutions for wastewater treatment plants for several years. Those solutions are specifically aimed at supporting the treatment of wastewater of these non-steroidal anti-inflammatory drugs. The scientists tested many strains of bacteria that could break down NSAIDs naturally.
However, in order for the selected microorganisms to fulfill their task, they must survive in the extremely unfavorable conditions prevailing in wastewater treatment plants, and more precisely – in the bioremediation systems used there. Firstly, bacteria are adversely affected by the toxins present in the wastewater. Secondly, in this case we are dealing with an environment with a high alkaline or acidic reaction. Thirdly, it is not an uninhabited environment, and therefore many more better adapted microorganisms are struggling to survive.
"The conducted analyses show that the bacterial strains selected by us may not survive in the sewage treatment plant", comments Anna Dzionek, PhD, co-author of the study. "That is why our task is to prepare a special carrier for selected strains, which is a kind of a protective suit. The process of creating such protection is called immobilisation", she adds.
The goal is one thing. It should be ensured that as many bacteria as possible survive in bioremediation systems and can effectively degrade NSAIDs.
There can be many carriers for immobilising bacteria. The team of Anna Dzionek, PhD proposed the use of xanthan gum, and this solution is covered by patent protection. This polymer which is widely used in the pharmaceutical, cosmetic and food industries, now has a chance to prove itself in bioremediation.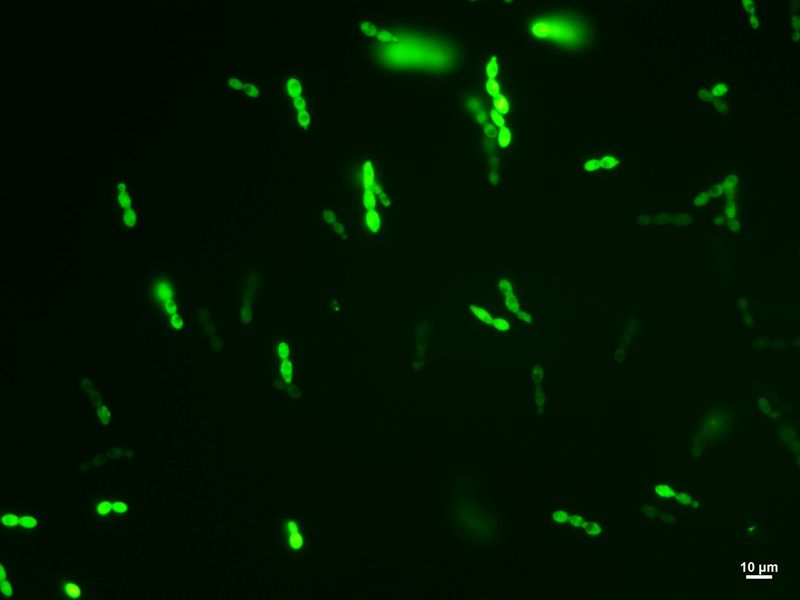 ---
Photo of live and active cells of Bacillus thuringiensis B1 (2015b) strain immobilised inside a xanthan carrier, stained with fluorescein | Photo by Anna Dzionek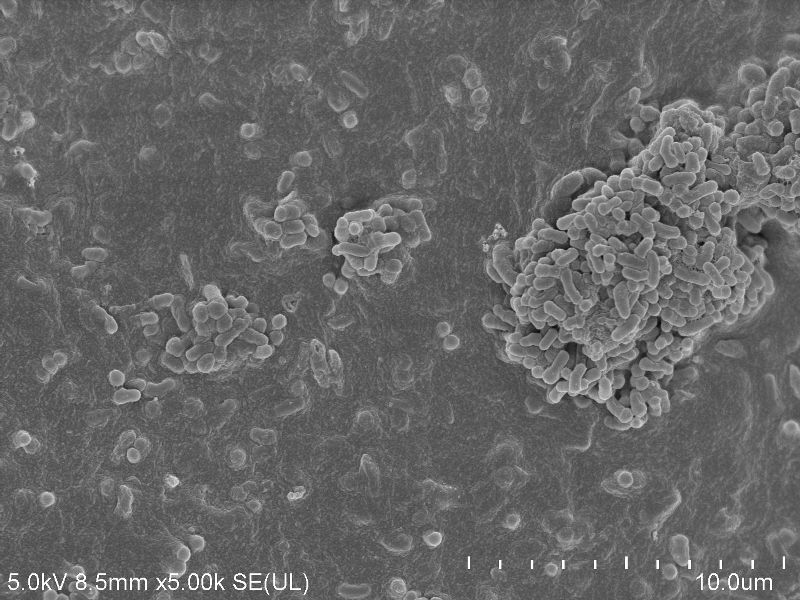 ---
Photo of Planococcus sp. S5 cells immobilised inside xanthan gum | Photo by Anna Dzionek
"The undisputable advantage of using a carrier is not only the protection of bacterial strains, but also the portioning of substances getting inside such a "suit". This, in turn, contributes to the efficiency of the entire process. The degradation of pharmaceutical substances occurs gradually, not rapidly. This is especially important in an environment where we have a very high concentration of toxic substances", comments Danuta Wojcieszyńska, PhD, DSc, Associate Professor, co-author of the invention.
It is important that the proposed polymer does not adversely affect the operation of the sewage treatment plant. "For example, if we used a medium of high density or larger sizes, it could pose a threat to the devices operating there. Our invention is durable, non-toxic to bacterial strains and cheap to produce. What is more, bacterial strains can stay in it longer, and the carrier itself can be recovered and reused", adds the researcher. It is worth adding that even a small concentration of xanthan gum is enough to create the right conditions for the protection of microorganisms.
The stage of testing the solution in laboratory conditions has now been successfully completed. Scientists are getting ready to start research in a selected wastewater treatment plant.
---
The method of immobilising microorganisms, as well as the immobilisation carrier are inventions developed by: Anna Dzionek, PhD, Danuta Wojcieszyńska, PhD, DSc, Associate Professor, and Urszula Guzik, PhD, DSc, Associate Professor from the Faculty of Natural Sciences of the University of Silesia.