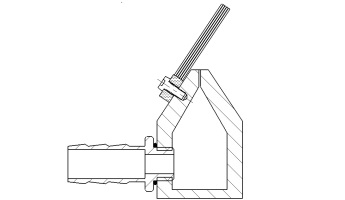 Element urządzenia
Patenty Uniwersytetu Śląskiego
Młodzi naukowcy zaprojektowali urządzenie do czyszczenia stóp, z którego korzystać będą mogły głównie osoby opuszczające plaże. Docelowo rozwiązanie, które zostało objęte ochroną patentową, umożliwi także dezynfekcję stóp osób przebywających np. w przestrzeniach basenowych.
Wynalazek został zaprojektowany przez absolwentów Uniwersytetu Śląskiego, Politechniki Śląskiej oraz Akademii Górniczo-Hutniczej w Krakowie, którzy byli uczestnikami programu pn. "Śląska Współpraca: Innowacje dla Efektywnego Rozwoju – ŚWIDER" oferującego stypendia dla doktorantów oraz staże dla pracowników naukowo-dydaktycznych i pracowników przedsiębiorstw technologicznych z województwa śląskiego. Autorami opatentowanego rozwiązania są: mgr Joanna Śróbka, mgr inż. Łukasz Cyganik, mgr inż. Paulina Cyganik oraz mgr inż. Jolanta Rajca.
– Zastanawialiśmy się, jakie praktyczne urządzenie moglibyśmy wspólnie zaprojektować, korzystając z tego, że reprezentowaliśmy różne dyscypliny naukowe. Koleżanka z zespołu wróciła wtedy z jednego z festiwali muzycznych i powiedziała, że warto byłoby wymyślić urządzenie do czyszczenia stóp z piasku i innych zanieczyszczeń – mówi mgr inż. Łukasz Cyganik, współautor wynalazku. – Doszliśmy do wniosku, że to świetny pomysł i rozpoczęliśmy projektowanie– dodaje.
Okazało się, że dostępne na rynku urządzenia wykorzystują strumień wody pod ciśnieniem, którym obmywane są stopy osób korzystających np. z plaży. Rozwiązanie to jest jednak nieekologiczne i kosztochłonne, wiąże się bowiem ze znacznym zużyciem czystej wody, wymaga też zastosowania odpowiedniej infrastruktury doprowadzającej ją do urządzenia.
Naukowcy postanowili zastosować w zaprojektowanym urządzeniu niskociśnieniowy strumień powietrza, który dokładnie oczyści stopy plażowiczów z piasku oraz innych zanieczyszczeń. Co więcej, autorzy opatentowanego wynalazku dopuszczają możliwość zastosowania w nim także środków lub materiałów bakterio- i grzybobójczych, dezynfekujących skórę człowieka opuszczającego plażę, przestrzeń basenową, bądź inne miejsca, w których dochodzi do kontaktu bosych stóp z podłożem. – Rozwiązanie wydawało się proste, ale już podczas projektowania zorientowaliśmy się, że jego efektywność zależeć będzie od wielu czynników – wyjaśnia mgr inż. Paulina Cyganik z grupy projektowej. Nie wystarczy jedynie odpowiednio ustawić prędkość strumienia powietrza, istotne jest również rozmieszczenie jego źródeł i zastosowanie dodatkowych rozwiązań technologicznych, dzięki którym piasek będzie w całości usuwany w krótkim czasie. – Tego typu zanieczyszczenia dosyć mocno przylegają do ludzkiej skóry, w związku z czym musieliśmy zmodyfikować pierwotną konstrukcję urządzenia, dodając kolejne elementy. Dzięki temu mamy pewność, że spełni swoją funkcję – dodaje mgr inż. Łukasz Cyganik.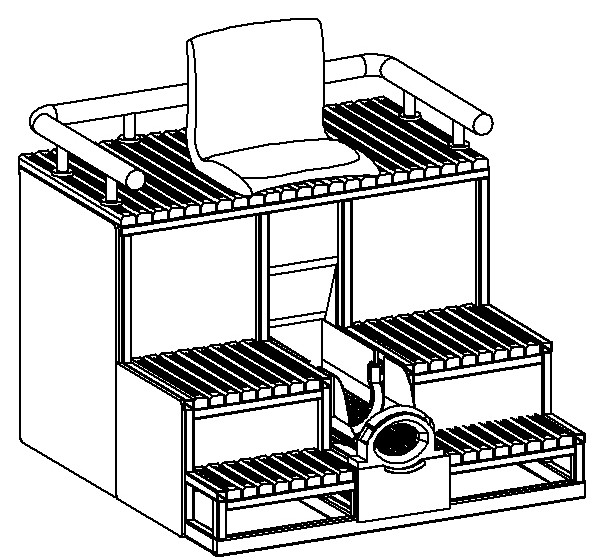 Projekt opatentowanego urządzenia do czyszczenia stóp z piasku
Rys. mgr inż. Łukasz Cyganik

Urządzenie składa się z podestu z wbudowaną komorą czyszczenia oraz siedziskiem ułatwiającym wykonanie czynności przez osobę korzystającą z tego rozwiązania. Komora czyszczenia wyposażona jest natomiast w zestaw co najmniej sześciu dysz zasilanych niskociśnieniowym strumieniem powietrza i zakończonych silikonowymi fibrylami ułatwiającymi oczyszczanie stóp.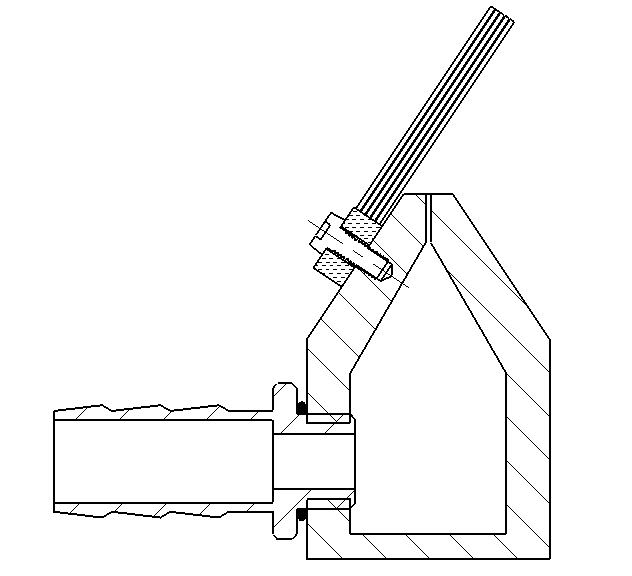 Element urządzenia: dysza z przykręcanymi fibrylami (przekrój)
Rys. mgr inż. Łukasz Cyganik
---
Napisali o tym: