The University of Silesia in Katowice hosted delegates from the Northeastern University (Shenyang, China). The meeting, which took place in the Rectorate on 16 December 2019, was an opportunity to talk about our cooperation to date and future plans.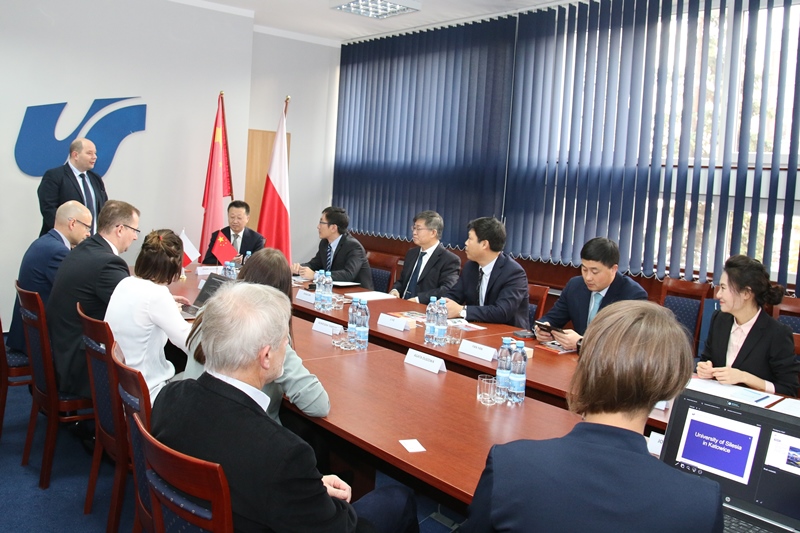 The delegation was led by Zhang Guochen. The following representatives of the Northeastern University also took part in the visit: Zhang Bin – Dean of the Software Collage, Yan Yan – Director of the Publicity Department & Culture Construction Office, Li He – responsible for relationships with graduates, as well as Li Jiannan and Wang Yingying from the International Cooperation and Exchange Department. Our foreign guests were welcomed by the Vice-Rector for Finance and Development, Prof. Michał Daszykowski. During the meeting, Assoc. Prof. Rafał Blicharz from the Faculty of Law and Administration and Dr. Agnieszka Tambor – Director of the Centre for Chinese Language and Culture summarised the previous cooperation with our Chinese partners. Deputy Dean Prof. Jerzy Dajka presented the potential of the Faculty of Science and Technology and possibilities for cooperation in the field of physics, chemistry, materials science, biomedical engineering and information technology, the last one being an area of particular importance for the Northeastern University. The meeting was also attended by Agata Olszowa – Chinese language teacher and Joanna Laskowska – Head of the International Development Office.
The University of Silesia intensively cooperates with the Northeastern University. Our common projects include law and culture of both countries, as well as promotion and teaching of languages (e.g. Polish, Chinese, English and Russian). The framework agreement signed in 2015 and detailed agreements concluded in the subsequent years enable to carry out projects such as the School of Chinese Law and Culture. The cooperation also covers joint curricula in foreign language studies. Another important element is the exchange of academic staff, including law specialists and students of translation programmes with Chinese.