On 24 and 25 May 2023, the 16th International Invention and Innovation Show INTARG® took place at the International Congress Centre in Katowice.
During the event, the University of Silesia in Katowice presented a rich technological offer concerning a wide range of disciplines. One of the presented solutions was 'Bio-Sponge – irreplaceable in removing drugs and phenol in a sewage treatment plant'. This invention received a gold medal during the event.
Bio-Sponge is a biopreparation designed to support household and municipal sewage treatment plants in removing phenol and drugs such as paracetamol or ibuprofen. Bacteria immobilised on a natural plant sponge guarantee long-term and effective elimination of impurities.
The authors of the solution are scientists from the Faculty of Natural Sciences of the University of Silesia: Anna Dzionek, PhD, Agnieszka Nowak, PhD, Danuta Wojcieszyńska, PhD, DSc, Assoc. Prof. and Urszula Guzik, PhD, DSc, Assoc. Prof. The solution was developed as part of the project 'Preparation stimulating the degradation of non-steroidal anti-inflammatory drugs based on bacterial strains immobilised on a natural carrier', financed by the National Centre for Research and Development (agreement TANGO-IV-A/0049/2019-00).
INTARG® is a networking platform for the promotion of innovative products, technologies and services from various industries and fields, which presents the potential and achievements of technological thought and science, i.e. inventions, technologies and services targeted at industry and the economy.
As part of the event, you could also take part in thematic panels devoted to the synergy of science and industry, knowledge and technology transfer, as well as models of financing scientific research and implementations in industry.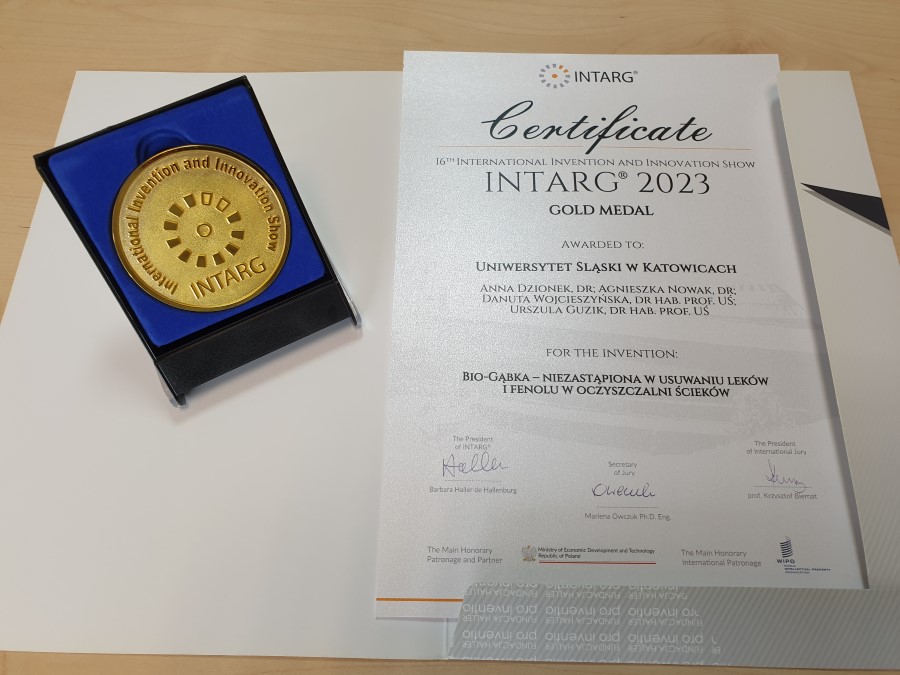 Photo by Paulina Cyganik