Photo by Dariusz Ignatiuk
The final stage of this year's research conducted by scientists from the University of Silesia on Svalbard has come to an end. The expedition of the Institute of Earth Sciences and the Centre for Polar Studies, consisting of Malgorzata Błaszczyk, PhD Eng., Dariusz Ignatiuk, PhD, and Michał Laska, PhD, completed almost three weeks of activities in the area of Wedel Jarlsberg Land and Torell Land.
The first phase of research under the leadership of Michał Laska, PhD, involved the implementation of the National Science Centre's OPUS Re-LOAD project in Hornsund fjord. Extensive sampling of marine and terrestrial sediments, oceanic, terrestrial and glacial waters and ice cores was carried out in cooperation with teams from the Institute of Geophysics and the Institute of Oceanology of the Polish Academy of Sciences to determine the content and migration pathways of heavy metals into the fjord. The responsibilities of the University of Silesia expedition members included drilling ice cores on Storbreen and Flatbreen glaciers and collecting ablation from supraglacial flows, glacial lakes and crevasses, as well as providing technical supervision of the glacier mass balance monitoring system and automatic meteorological stations, and preparing the measurement infrastructure for the polar night period.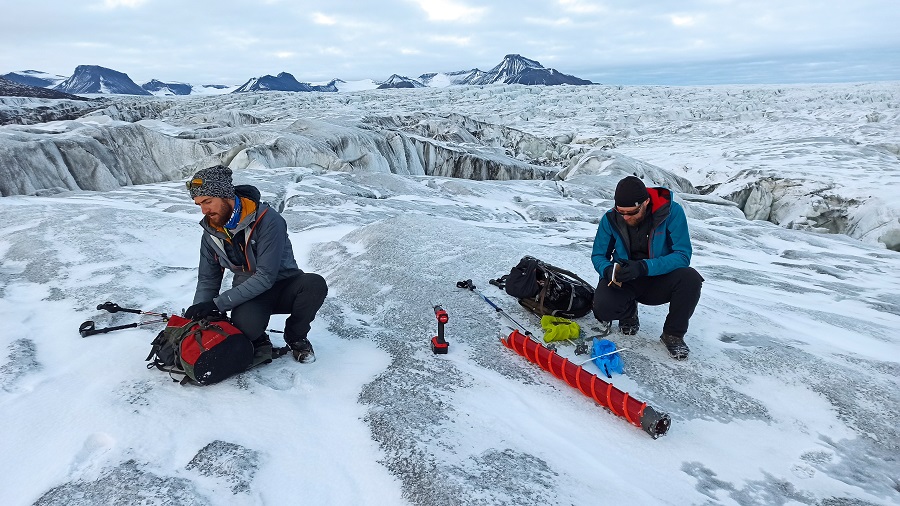 Photo by Małgorzata Błaszczyk
The next stage of the expedition under the supervision of Dariusz Ignatiuk, PhD, concerned glaciological activities on the Hansbreen and Werenskioldbreen glaciers, where permanent monitoring by the University of Silesia has been carried out for decades. The long-term meteorological monitoring on Hansbreen was significantly affected due to the COVID-19 pandemic. During this year's expedition, the team was able to begin the process of rebuilding the pre-pandemic infrastructure, starting with setting up a new automatic meteorological station at the head of Hansbreen, to be used in the coming years by, among others, doctoral students of the International Environmental Doctoral School at the Centre for Polar Studies. Similar activities along with glacier mass balance monitoring, which is part of the World Glacier Monitoring System, were carried out on the Werenskioldbreen glacier.
The final stage of the research, coordinated by Małgorzata Blaszczyk, PhD Eng., involved geodetic measurements complementing the European Space Agency and SIOS projects she led.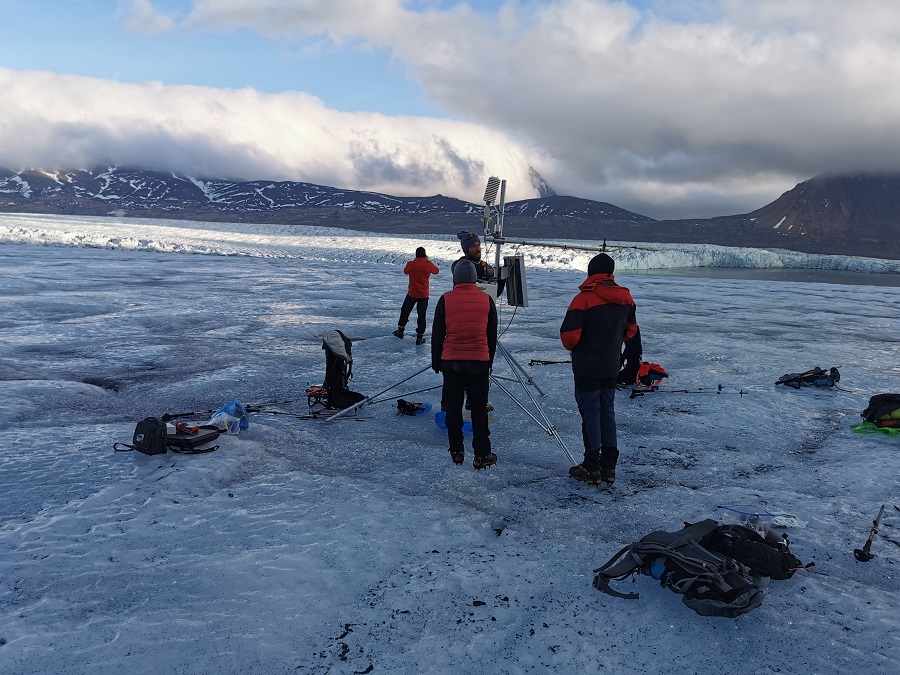 Photo by Dariusz Ignatiuk
The expedition was financially supported and implemented as part of the 'Visibility of Research Centres' call for proposals run under the Research Excellence Initiative and from the reserve of the director of the Institute of Earth Sciences.  The conducted research was a field reconnaissance for the preparation of next year's international field workshop within the project 'Interdisciplinary Polar Studies (IPS-2023) Modular Meeting: Arctic Amplification-Glaciers-Environment', implemented thanks to a grant from the Ministry of Education and Science under the 'Excellent Science' programme. The fieldwork was based at the Stanislaw Siedlecki Polish Polar Station in Hornsund and the Stanisław Baranowski Spitsbergen Polar Station.